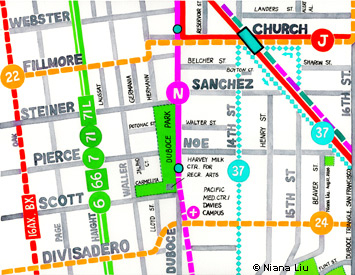 artwork by Niana Liu



Lower Haight

Home to a diverse crowd of young artists and post-college vagabonds who spend altogether too much time waiting for tables at Kate's Kitchen and downing pints at Mad Dog, Lower Haight has hosted an off-center night life for years. Although infamous housing projects like the "Pink Palace" are now dismantled, the neighborhood's reputation hasn't fully recovered and rent is still relatively low.

The small stretch is bounded by Webster and Divisadero but residents don't seem need much more than the small strip of shops, restaurants and bars, conveniently wedged between Market Street and Alamo Square. There's a distinct neighborhood feel here as people gather around impromptu tag sales or pack it in for a night at Nickie's. Unlike nearby Hayes Valley, Lower Haight doesn't seem to be rushing toward gentrification, but that suits the locals just fine.


San Francisco Districts

» Bernal Heights
» Castro
» Chinatown
» Cole Valley
» Downtown
» Embarcadero
» Hayes Valley
» Lower Haight
» Lower Polk/Van Ness
» Marina
» Mission
» Nob Hill/Russian Hill
» Noe Valley
» North Beach
» Pacific Heights
» Potrero
» Richmond
» SOMA
» Sunset
» Upper Haight
» Upper Polk/Van Ness
» Western Addition/Japantown