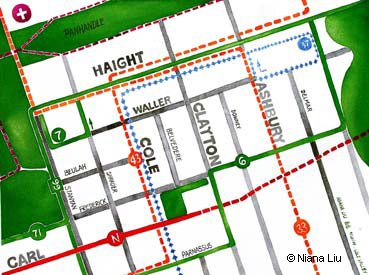 artwork by Niana Liu



Upper Haight

Today's Haight is comprised of a multitude of free thinkers and specialty shops, sprung from the days when the Grateful Dead ruled and hippies took to the streets spreading love and drugs in their wake. Golden Gate Park, designed in 1871 as the city's biggest patch of green, is everyone's favorite weekend escape. Whether you're after a romantic walk through the gardens, a tour of the De Young museum, or some disco-inspired roller skating, the Park promises an endless supply of free fun.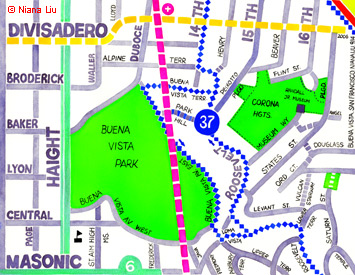 artwork by Niana Liu

Although the novelty of flower power has faded, today's progressive subcultures add a changing style to the Haight. You'll still find head shops, grungy teens and other historical artifacts (like the Red Vic Theater, Haight-Ashbury Free Clinic and Anarchist Bookstore) but now the Haight offers a fusion of old and new. While the chic set that now frequent Cha Cha Cha and Club Deluxe mumble and roll their eyes at the well-pierced pan handlers who harangue them outside, they can't ignore the legacy of this classic neighborhood of loose living and high times.


San Francisco Districts

» Bernal Heights
» Castro
» Chinatown
» Cole Valley
» Downtown
» Embarcadero
» Hayes Valley
» Lower Haight
» Lower Polk/Van Ness
» Marina
» Mission
» Nob Hill/Russian Hill
» Noe Valley
» North Beach
» Pacific Heights
» Potrero
» Richmond
» SOMA
» Sunset
» Upper Haight
» Upper Polk/Van Ness
» Western Addition/Japantown