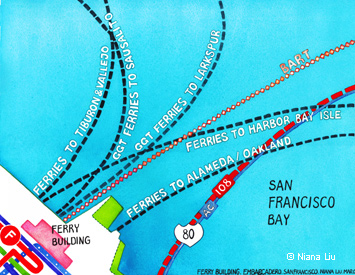 artwork by Niana Liu



Embarcadero

Lining the bay along the Port of San Francisco is the Embarcadero, a historic thoroughfare. On its north end is the tourist dominated Fisherman's Wharf, which has little notable dining (most are overpriced, undistinguished seafood restaurants or chains) and only vague hints of night life (The Buena Vista Cafe). Still, there are a few tourist traps which even locals might enjoy, such as Ripley's Believe It or Not Wax Museum.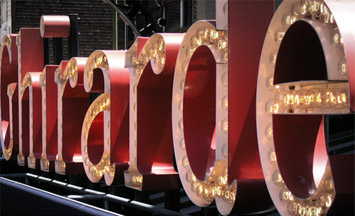 photograph by Heart Patrick

Further south, near downtown San Francisco the Embarcadero caters more to the businessman than to the vacationer. Restaurants like One Market and Waterfront serve beautifully executed power lunches and dinners with an emphasis on seafood. Other restaurants, such as the Gordon Biersch Brewery, serve heartier fare more suited to a younger, after work clientele. On Tuesdays, Saturdays and Sundays, Bay Area restaurants, fruit and vegetable growers and fisherman set up stands at the Ferry Plaza Farmer's Market. Chain store shopping is available at the four block long Embarcadero Center mall, but on weekends local craftspeople set up stands across from the Farmer's Market in Justin Herman Plaza.

Transportation leaving the Embarcadero and Warf includes the Alcatraz bound boats from the Warf area and the commuter ferries that head to various locations throughout the Bay Area leave from the Ferry Building. The F line and the cable car also pass through the Embarcadero & Warf areas.


San Francisco Districts

» Bernal Heights
» Castro
» Chinatown
» Cole Valley
» Downtown
» Embarcadero
» Hayes Valley
» Lower Haight
» Lower Polk/Van Ness
» Marina
» Mission
» Nob Hill/Russian Hill
» Noe Valley
» North Beach
» Pacific Heights
» Potrero
» Richmond
» SOMA
» Sunset
» Upper Haight
» Upper Polk/Van Ness
» Western Addition/Japantown