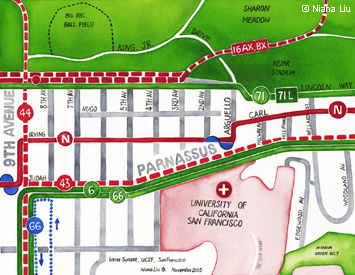 artwork by Niana Liu



Sunset

In part due to the heavy fog which blankets the area through most of the year, much of the Sunset District has developed a distinctly quiet and residential character. The vast size of the district, however, has fostered the development of several varied and vibrant neighborhoods. The west end of the Sunset (abutting the Pacific Ocean) bears a closer resemblance to a beach town than a suburb; surfers and nature lovers brave the cool sea spray in order to combine the convenience of city living with a raw outdoor lifestyle. The San Francisco Zoo borders the Sunset to the south, as does the Stonestown Galleria, a large mall complex.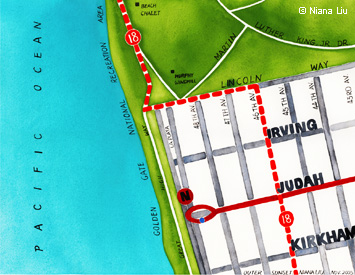 artwork by Niana Liu

Along the northeastern border, the Upper Haight meets the Sunset to produce a quieter and more upscale neighborhood with a 1960s influenced mindset, including the requisite cafes and poetry readings. The southeastern corner runs up to the western side of Twin Peaks and the neighborhoods of Forest Hill and West Portal. This area around 8th Avenue and Irving Street is filled with local but well regarded restaurants such as The House (Asian fusion) and Cafe For All Seasons (French Bistro), in addition to a wide array of Chinese restaurants and Japanese noodle parlors and sushi bars.


San Francisco Districts

» Bernal Heights
» Castro
» Chinatown
» Cole Valley
» Downtown
» Embarcadero
» Hayes Valley
» Lower Haight
» Lower Polk/Van Ness
» Marina
» Mission
» Nob Hill/Russian Hill
» Noe Valley
» North Beach
» Pacific Heights
» Potrero
» Richmond
» SOMA
» Sunset
» Upper Haight
» Upper Polk/Van Ness
» Western Addition/Japantown