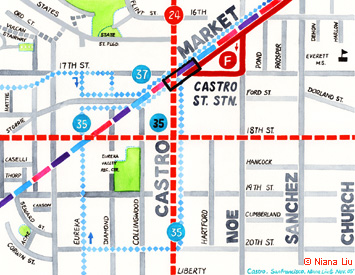 artwork by Niana Liu



Castro

Located in the Eureka Valley on the eastern base of Twin Peaks, the Castro is often blessed with sunshine while the Sunset, Richmond and Haight districts are overcome with summer fog. But, more than temperate weather, the Castro district is internationally known for its large gay, predominately male, population. Castro Street, between 20th on the Northern slope of Sanchez Hill and the upper end of Market Street, is blanketed with gay bars and restaurants (Twin Peaks, The Midnight Sun, Daddy's, The Cafe, Harvey's) and gay (male) targeted merchandising like A Different Light Bookstore, Worn Out West (leather clothing) as well as upscale houseware stores and specialty gifts.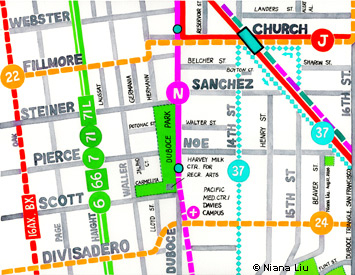 artwork by Niana Liu

Along Market Street, from Castro to Laguna, the neighborhood maintains a more tempered and less overwhelmingly gay flavor. Restaurants along Market find expression in a variety of different cuisines including Mexican (La Pozole), Californian (Ciao!, Mecca, Josie's Cabaret and Juice Joint), Asian fusion (Tin-Pan) and American (Sparky's, Baghdad Cafe). Bars remain predominantly gay male along Market (The Detour, Cafe Flore, The Mint, Pilsner Inn, Martuni's) though there are exceptions (Lucky 13, Orbit Room).


San Francisco Districts

» Bernal Heights
» Castro
» Chinatown
» Cole Valley
» Downtown
» Embarcadero
» Hayes Valley
» Lower Haight
» Lower Polk/Van Ness
» Marina
» Mission
» Nob Hill/Russian Hill
» Noe Valley
» North Beach
» Pacific Heights
» Potrero
» Richmond
» SOMA
» Sunset
» Upper Haight
» Upper Polk/Van Ness
» Western Addition/Japantown