San Francisco Districts

With breathtaking views and a reputation for eccentricity, San Francisco has long been one of the top tourist destinations in the United States. Boasting hundreds of top-quality restaurants, gigantic retail megastores, and internationally known dance clubs - as well as great intimate caf■s, boutiques, and art spaces - it's no wonder so many people find it impossible to leave.

Though the dot-com boom at the end of the twentieth century brought a wave of financially motivated people to this little corner of Northern California, the creative community has always represented the true character of San Francisco. It seemed for a moment that the march of the big chain store through every quaint little neighborhood was inevitable. But now the veil has been lifted, things are settling down, and the city is beginning to more closely resemble the economically diverse San Francisco of the past. Bay Area residents seem to be forgetting about stuffing their wallets, and are instead refocusing on the need for community.

Several years ago, dance clubs, live music venues, galleries, restaurants, and stores were being closed down at an alarming rate. Increased rent charges, political pressure from neighborhood groups, and the bursting of the internet bubble caused many people's burgeoning capitalist dreams to crash and burn. Now in the new millennium, with local business owners taking a more cautious approach, it seems that every weekend ushers in the introduction of another low-key concert hall, cafe, or boutique. The national media might have shifted it's focus to another part of the country, but the true revival of San Francisco culture is happening right now - and SF Station is taking notes.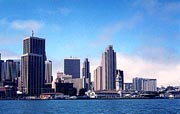 » Bernal Heights
» Castro
» Chinatown
» Cole Valley
» Downtown
» Embarcadero
» Hayes Valley
» Lower Haight
» Lower Polk/Van Ness
» Marina
» Mission
» Nob Hill/Russian Hill
» Noe Valley
» North Beach
» Pacific Heights
» Potrero
» Richmond
» SOMA
» Sunset
» Upper Haight
» Upper Polk/Van Ness
» Western Addition/Japantown