Caribou, Dan Deacon, Giraffage to Perform at Noise Pop 2015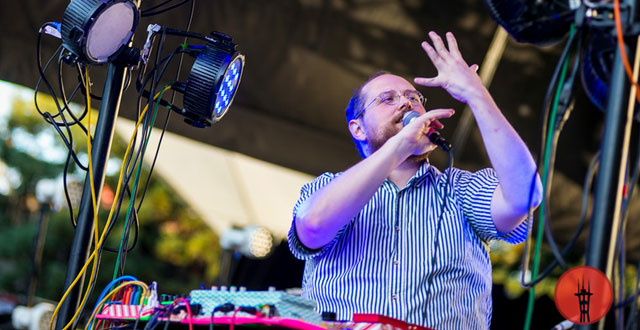 FEBRUARY 20 UPDATE: Noise Pop organizers announced that Death Cab for Cutie frontman Ben Gibbard, also of Postal Service, will perform at Noise Pop's opening party at the tiny Swedish American Music Hall. Zach Rogue, of Rogue Wave, will also perform. The show is free for badge holders and $35 for non-badge holders. Tickets go on sale here at 11am today (feb. 20).
JANUARY 15 UPDATE: Noise Pop organizers announced more acts for the festival this year, including LA surf pop group Best Coast, Australian disco house duo Flight Facilities, Les Sins (the side project Chaz Bundick of Toro y Moi), and British electro musician Kindness. Visit here to see the complete list.
DECEMBER 9 UPDATE: The second phase of the Noise Pop festival lineup announcement includes Canadian indie rock group The New Pornographers and San Francisco favorites Geographer and K.Flay.
Noise Pop Festival Lineup, Dec. 9 announcement:
The New Pornographers
Geographer
Sales
Kevin Morby
K.Flay
Lindsay Lowend
Empires
The Bilinda Butchers
Bestie
The Shivas
Nude Beach
Bells Atlas
Devon Williams
Vaniish
Cold Beat
Carroll
Cotillon
Talk in Tongues
Two Sheds
Chasms
Hot Flash Heat Wave
Balms
Initial Noise Pop Festival Lineup:
Caribou
Dan Deacon
Surfer Blood
Slow Magic
Giraffage
The Church
Craft Spells
Cherry Glazerr
No Joy
Jessica Pratt
The Black Ryder
Cathedrals
Six Organs of Admittance
Tony Molina
Spazzkid
NOV. 20 UPDATE: Noise Pop announced the initial lineup for its 23rd annual festival, which runs next February 20 through March 1, led by electronic psychedelia artist Caribou, avant-garde performer Dan Deacon, and Fool's Gold's latest signee, San Francisco local Giraffage.
Other noteworthy headliners for the 2015 music festival include indie rockers Surfer Blood, chillwave act Slow Magic, and Aussie alt-rockers the Church.
MORE: Noise Pop Festival Highlights 2014
Early Bird festival badges are on sale now for $125, while individual show tickets going on sale tomorrow at noon. Beyond music, the festival showcases a film series exploring the intersection of music and art, art gallery shows, and happy hours.
Giraffage recently completed a Bay Area takeover with three consecutive shows. Meanwhile, the Exploratory recently announced a special performance by Dan Deacon taking place on December 11.
Noise Pop 2015 technically concludes on March 1 with Caribou at the Fillmore, but due to popular demand a second show was added on March 2.
Established in 1993, Noise Pop Festival is an annual indie music, arts and film festival. Organizers for Noise Pop are also responsible for Treasure Island Music Festival and 20th Street Block Party. Notable acts who have previously played Noise Pop include the White Stripes, Modest Mouse, The Flaming Lips, and Death Cab for Cutie.