SF Producer Giraffage Prepares for Fool's Gold Debut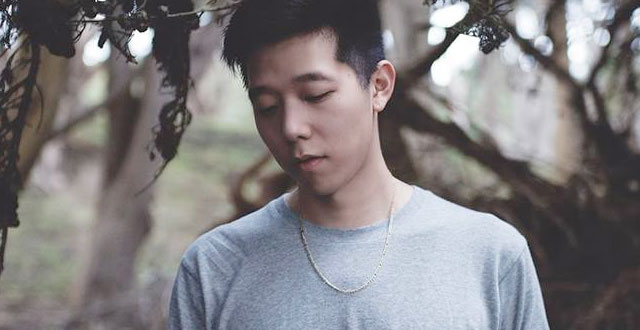 San Francisco-based dance music producer Giraffage, a.k.a. Charlie Yin, is deeply rooted in the Bay Area.
He was raised in San Jose, graduated from UC Berkeley with a degree in political economy and now lives near Lake Merced in San Francisco.
This past June, the full-time beat maker joined Fool's Gold Records, founded by A-Trak. His label debut EP No Reason is due for release on November 18.
Fresh off supporting Porter Robinson's lengthy 42-date 'Worlds' tour, Giraffage plays at Leo's Music Club in Oakland on Nov. 6 and a sold-out show in San Francisco at Brick and Mortar Music Hall on Nov. 7.
We asked Giraffage what he enjoys most about his SF neighborhood, his most likely destination on an off-day and his advice for aspiring producers.
What led you to pursue music after you graduated from UC Berkeley with a political economy degree?
Music was definitely something I was doing before college. I was in band in high school. Music has always been a really big part of my life. It's definitely something I would prefer to be doing than something a political economy degree could offer me. I was able to segue straight from graduating college into doing music full time. My heart was always in music rather than political economy.
Do you consider yourself a political person and could you ever see yourself someday putting that degree to use by getting more involved with politics?
Not at all, dude [laughs]. I was originally going to go with a marketing degree. Marketing is kind of a broad major. It was essentially me being a dumbass and picking a major that I was thought would be easiest so I could be in my room and make music. I guess it has paid off.
What genre has most influenced your style and who are your biggest influences?
My tastes are always changing. My favorite band right now is different than my favorite band last week. Generally, I grew up listening to a lot of pop.
There was CMC that played music videos all the time on like a public access channel for the Bay Area. I think Chuy Gomez was the host or something. Literally, in elementary school and middle school and shit, after class I would go home and watch that. I definitely grew up influenced by pop, R&B and hip hop to some respect.
What do you like most about living in the Lake Merced area of San Francisco?
I just moved here probably six months ago from San Jose. I like this area because it's really quiet especially compared to downtown San Francisco.  It's definitely considered the suburbs of San Francisco, to some respects, and that's why I like it. I moved out from my parents place to here. It's a good transition as opposed to immersing myself in a full-blown city environment.
Where would we most likely to find you on an off-day
Probably at Chipotle. I get Chiptole three or four times a week. That's kind of my extent of being outside.
Having played Treasure Island Music Festival, Low End Theory, and Boiler Room in the past two years, do you want to conquer any other local venues or festivals?
I think Outside Lands, for sure. BFD was a big one for me because it was the first festival I ever went to as a kid. I was there the year Jimmy Eat World was headlining.
I think Outside Lands is the main one for me. I went to Outside Lands this year because I was supposed to meet up with A-Trak because I'm on Fool's Gold now. It just didn't happen because the reception was so shitty at the festival, as it is at every major festival.
What was the craziest moment you have had so far on tour or performing?
Definitely a wild night for me was playing Bill Graham with Porter Robinson. I never, ever in a million years thought I would be performing in a venue that size. Just being on stage seeing that many people—I think it was like 7,000 people—it was fucking insane to me.
How has your life changed since signing to Fools Gold?
Being on a label is definitely a little more structured than being an independent musician. There's contracts, there's essentially a whole team behind you, which is cool. Before I just had my managers and booking agent and that's about it. Now I have publicists, people that run social media and push things for me. It adds a whole element of a team in a way. That's the major thing.
The EP has still yet to be released, so I guess I'll probably see more of what Fool's Gold has to offer once it's been released. For now, it's definitely a lot more organized and cohesive.
Did you find it challenging to create your new EP, No Reason, without using samples or remixing?
It was definitely a little challenging. It started as a sample-based project, inherently. So it was a little out of my comfort zone. I've had experience writing music before but it definitely did pose a challenge.
What inspired the album?
I guess I want to keep that a little vague. I feel like people should interpret music differently. It's cool that people can listen to my songs and form their own story as to what it's about. And everyone has their own story. I want to keep that vague intentionally.
Do you have any advice for aspiring bedroom producers?
I would definitely say try to find your own sound rather than trying emulate people. There was definitely a period where I would hear a song and think it's really tight and try to make a song that sounds exactly like it. That honestly doesn't work out because it has already been done.
It's great to replicate to improve your production skills, but in terms of creativity, you have to make something unique. Especially nowadays, there's so many people out there trying to do the same thing. That's exactly how I started. I just pirated a copy of software and went to town.