Review: Kanye Gets Weird at Outside Lands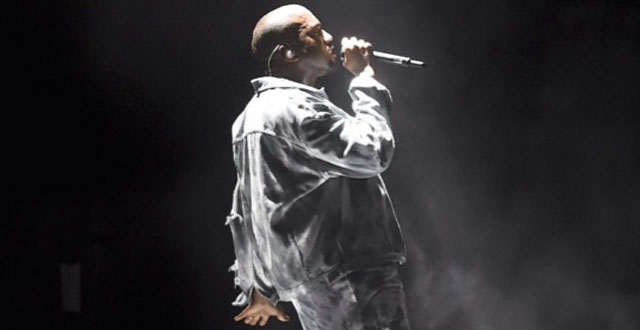 Kanye West drew the largest crowd the first day of Outside Lands this year—and the controversial headliner delivered with mixed results.
After a lackluster first 20 minutes of his set, which bottomed out when he asked the crowd to "make some circles" for a mosh pit while he performed "Blood on the Leaves," most of the skeptics took off for Arctic Monkey on another stage.
Those who stayed—and there were many—were treated to a little more Kanye weirdness, but also some of his best songs. Unfortunately, the massive screens on stage were turned off mid-way through his performance, so only a few thousand people near the front could see him.
The "Kanye rant" that many were hoping for never materialized, but he did take a moment for an extended stream-of-conscious, auto-tune enhanced vocal riff over a sparse piano. He started first with why he still uses that technology: "Same thing Andy Warhol [said], it's easier."
Poking a little fun at himself, he continued: "By the way, I'm Kanye and I can do whatever I want, and it's gonna be cool again."
And why do people still go to your shows, Mr. West? "Everyone's a star. I promote self-confidence. If you're a fan of me, you're just a fan of yourself; and if you have a dream to follow, you won't listen to anyone else."
ALSO SEE: Review: Beyonce and Jay Z Mostly Stick to the Script at AT&T Park
He followed with a dedication to his wife, Kim Kardashian, who apparently was watching in the wings: "This is my baby mama's first show since we got married."
Beyond that, and a couple more failed attempts to start a Metallic-style mosh pit, it was a fairly standard rap show, covering most of his hits from the past 10 years.
Despite his numerous flaws, it's hard to deny his contribution to the genre, and he showcased that with a strong run late in the set: "Run This Town," "Diamonds From Sierra Leone," "Heartless," "Jesus Walks," "All Falls Down," "Touch The Sky," "All of the Lights" and "Good Life."
Unfortunately, it ended with yet another attempt to force a mosh pit with "Leaves"—the audience opted to save that for the exit lines.
ALSO SEE:
Outside Lands Photos From Day 1
Outside Lands Photos From Day 2