Chuy Gomez Returns to Radio With Hot 105.7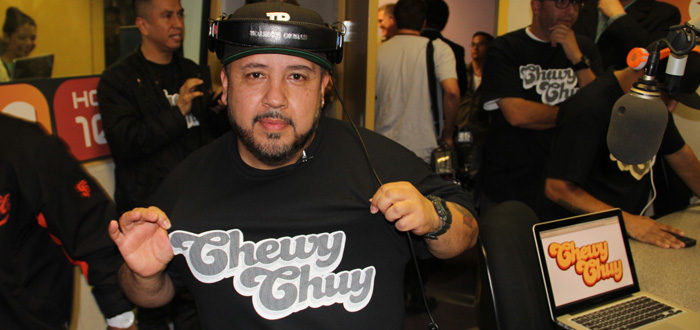 After streaming Nelly's "Hot in Here" constantly for the last few days, local radio station 105.7 (100.9 in Santa Clara) revealed today that it switched formats from "Latino Mix" to pop and hip-hop as Hot 105.7 with Chuy Gomez and DJ Mind Motion working the weekday afternoon commute shift.
The announcement marks the return of Gomez to the airwaves after he was fired in August from local hip hop/R&B station KMEL with no public explanation from the station. Gomez's morning show partner DJ Mind Motion was also dismissed in November. The duo now reconvene weekdays on Hot 105.7 from 3pm to 7pm.
"Time change is the only difference," Gomez said at the station today. "Everything else is high quality Chuy Gomez and Mind Motion."
Makr Arias, content director at the station, said 105.7 made the switch after seeing a need in the market for a station that mixes an urban music format similar to KMEL with more Top 40, similar to Wild 94.9 and Now 99.7.
"We just feel like the Bay Area has been asking for something new and fresh," Arias says. "It's a format they call CHR Rhythmic with a little bit of hip hop, R&B and Top 40 crossed-over."
With more than 20 years of experience on air in the Bay Area and a regular at local parties, Gomez will likely bring a loyal following with him to the station.