Q&A: Porter Robinson Loves SF, His Dogs and Japan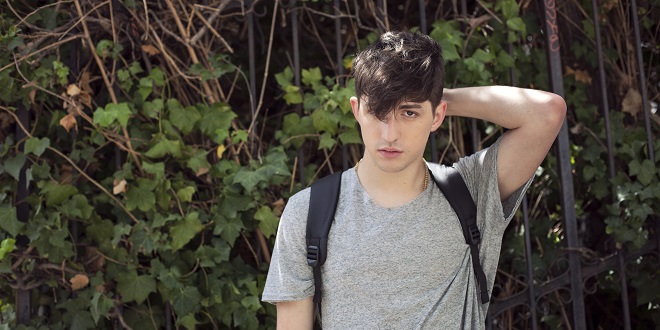 22-year-old electronic producer Porter Robinson arrives at Bill Graham Civic Center tonight in support of his debut album, Worlds, where attendees can expect more of an artist concert filled with own singing and less of a DJ party.
We spoke with Robinson to find out why San Francisco is one of his favorite cities in the world, where you can find him when he is in town and how the Japanese video game Dance Dance Revolution helped jump-start started.
What are your top five craziest moments from shows this past year?
Damn, I don't know if I can even think of one crazy moment. These aren't really crazy, hectic party shit shows in my mind. In my opinion, it's supposed to be a very sweet, almost sensitive, pretty beautiful thing. I haven't been tallying the crazy moments yet.
How were you able to start producing electronic music at age 12?
Well, I think it's because the barriers to entry for musicians are incredibly low these days. Anyone can just download software off the internet and starting writing music right away. I was inspired by hearing electronic music in the video game Dance Dance Revolution and that made me want to write music. I did what a lot of artists are doing today. I did it from my computer for fun. It was my favorite hobby.
In what way do you incorporate Dance Dance Revolution sounds into your style?
First, I come from a pretty remote part of North Carolina where there's just no electronic music culture. It's formative because that's the very first place I even heard electronic music. That has it's talons in everything that I've done.
Furthermore, I've spent a lot of time very interested in Japanese media, anime and games. There's a certain kind of quality, a certain timbre that the music in those games has. There's a way they write their cords and certain melodies that will always sound like Japanese video games music to me. The closer you are to those things, the more evident they become.
I know a lot of people who also grew up with Nintendo as a big focus in their lives. I'll play a melody for them and they'll say that's so Animal Parade. It's kind of hard to articulate, but it's very Japanese inspired.
Why do you still live in your hometown of Chapel Hill, North Carolina?
The fact that my dogs are there, basically, and my family. I like seeing my dogs and I like seeing my family. It's a pretty relaxing, comforting place to write music.
I have a Petit Basset Griffin Vedeen, which is just a long way of saying a mutt. She's like a half Terrier, half Basset Hound, and her name's, Lainey. I have a Corgi Chihuahua mix, who [laughs] is the real trophy wife. He's the one I show off. He isn't smart but he's pretty. His name's Zorro.
What do you enjoy most about visiting San Francisco?
San Francisco is one of my favorite places in the world, man. A lot of my best friends live there. My brother lives there. It's the most futuristic, and in a lot of ways, the most convenient city for me. I love the vibe and I absolutely love San Francisco.
I don't have a particular memory. I like Phillz Coffee, that place is dope. You can catch me there anytime I'm in San Francisco.
Any plans for after your tour at the end of his year?
I'm not really sure. I think I'll do the same thing I always do—resume writing music. I have a tour in Australia planned, Europe planned and probably Asia next year. I want to keep writing. I love going to Japan. It's like my favorite thing ever.
Do you have a girlfriend?
Yeah, I have a girlfriend. She lives in Las Vegas. I have a residency there at Marquee, where I play there 12 times a year. I'm actually seeing her tomorrow.
You sang backup vocals on Zedd's "Clarity." Do you expect to do more vocal work?
Yeah, probably the biggest thing on my album is this song called, "Sad Machine." I do vocals on that song and it's way more up front, it's not just backup vocals. I'm dueting with a Japanese computer program called Vocaloid, which is basically a text to speech program.
It's basically a robot girl voice, mixing a duet with her. I'm doing live shows and singing at many points during the set, playing keys, I'm not DJing anymore.
What specific live elements have you incorporated into your tour supporting your debut album?
I'm playing with a lot of lead melodies. I have synthesizers on stage and I have a drum pad to do little fills and certain bass tones I can hit. I'm usually in there on every song, singing on basically every track.
It's also all exclusively original music. That's the other major difference. I'm not playing anyone else's tracks. It's really a live show. It's like an artist's show, more of a concert rather than a DJ set.