What's Featured on 'The Layover: San Francisco'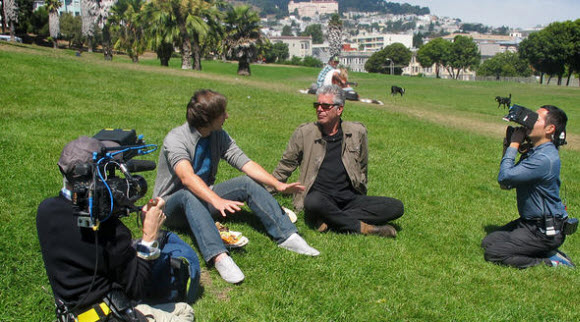 Missed the Monday night premiere of The Layover: San Francisco? Attempting to avoid the category of cursed foodie bloggers that Anthony Bourdain (lovingly, I'm sure) refers to in the episode, I'll go with a simple list of the eateries he visits and mentions in the episode.
Places Bourdain Visits in The Layover: San Francisco
Swan Oyster Depot: Fish Market & Oyster Bar, Nob Hill
To Hyang: Korean Restaurant, Inner Richmond
Tonga Room: Hawaiian Restaurant & Bar, Nob Hill
Toronado: Bar, Lower Haight
Rice Paper Scissors: Vietnamese Pop-Up, All Over
Li Po Lounge: Dive Bar, Chinatown
Comstock Saloon:  Bar and Lounge, Chinatown
Mr. Bing's: Dive Bar, Chinatown
Sam's: Burgers and Pizza, North Beach
Chaac Mool: Yucatan Food Truck, All Over (Dolores Park etc.)
Molinari Delicatessen:  Delicatessen, North Beach
Places Bourdain Mentions in The Layover: San Francisco
Blue Bottle Coffee: Coffee, Ferry Building etc.
House of Prime Rib: Steak and Ribs, Nob Hill
King of Noodles: Chinese Restaurant, Inner Sunset
Off the Grid:  Food Truck Meet-Up, Fort Mason etc.
The Alembic: American Restaurant and Bar, Upper Haight
Mission Chinese Food: Chinese Pop-Up, Mission
La Folie:  Nob Hill, French
Bender's Bar: Bar and Grill, Mission
Yuet Lee: Chinese Restaurant, North Beach
Lucero's Bacon Hot Dogs: Bacon Hot Dog Stand, Mission
Boccalone: Meat Shop, Ferry Building
Rosamunde: Sausages, Mission and Lower Haight
El Huarache Loco: Mexican Food Truck, All Over
Video: Tony runs through the best places to grab a bite in San Francisco.
Check out the pictures from Anthony Bourdain's visit to San Francisco on TravelChannel.com.
Image from Travel Channel.
Anthony Bourdain, Bender's Bar, Best of, Blue Bottle Coffee, Boccalone, Chaac-Mool, Comstock Saloon, El Huarache Loco, King of Noodles, la folie, Li Po Lounge, Lucero's Bacon Hot Dogs, Mission Chinese Food, Molinari Delicatessen, Mr. Bing', Off the Grid, Restaurants, Rice Paper Scissors, Rosamunde, Sam's, Swan Oyster Depot, the Alembic, The Layover, To Hyang, Tonga Room, Toronado, Travel Channel, Yuet Lee