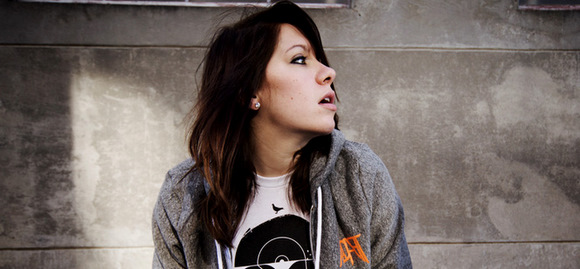 Not only does local wordsmith and producer K.Flay have chops in the studio and on stage, she's flossing duel degrees in sociology and psychology from Stanford. After grinding on the small clubs circuit she's finally getting a some breaks with summer festivals. She recently had a slot at Live 105's BFD festival and she opens Outside Lands on Friday.
We spoke withe her about her approach to production and writing lyrics, her education, and where she gets her kicks.
You produce and also rap, do you ever think about focusing your energy entirely on one area or do those roles naturally work together?
K.Flay: It's a mix for me. The forces of inspiration for those two things are really different. Some days when I'm more pensive and restless I'm super into writing lyrics and in that zone. There are other days when I'm amped up and that energy is more conducive to production.
It's nice to do both because if I'm not feeling inspired in one arena, I'm probably feeling inspired in the other. It makes me feel like I can still do remixes and production for other people while also working on solo stuff and continuing to write lyrics. I'm trying to give both equal attention.
You did SXSW, other festivals, and have been touring and performing non-stop this year. What has been your favorite moment of 2011 so far?
K: I had a show in Paris and it was my first time visiting the city. It was awesome because it was at this really interesting club that on the weekdays is electronic and DJ focused with one performer a night. There were French people who were singing along in English to what I was saying. It was a really cool cross-cultural experience.
From the shows that I've done in the UK as well, I've found that Europe is very open to a lot of leftist-centered music. Not to say that pop music isn't popular all over the world, but it's cool to be in a place where people are really open minded and into the mixing of genres. It's okay to be doing electronic music with a lot of elements of classic hip hop.
Is this your first time playing Outside Lands? What are you most looking forward to about your performance?
K: Well I went up on stage and did a song with Zion I a couple years ago, but other than that haven't officially played Outside Lands, it's a huge honor. San Francisco has been a really wonderful and supportive place to come up as an artist. It's cool to have my first real major festival be something local. I'm stoked to be a part of it.
Earlier in the summer, I played Live 105's BFD summer festival and had a live drummer with me. I've always been a one woman show and there's some comfort in that, but it's been really positive energy having that live percussion element. For Outside Lands, we've been practicing and it should be a really fun show. Having another person contribute to the rhythmic essence going on, it creates this energy that I can feed off too. I'm really excited to unveil what we've been working on.
Do you think your duel degrees in sociology and psychology from Stanford help you as an artist?
K: I think so because school was always important for me and I think the skills and tools that I needed for that are applicable to anything. More than anything, it's really about a work ethic, willingness to learn, being open to criticism, and being open to dissenting opinions. In order to succeed at whatever you're doing, you have to be open to new experiences and information that could shake up your whole world.
You're into sneakers big time, what are your favorite spots for shoes in the Bay and elsewhere?
K: I'm on the road a lot in super random places that always happen to have outlet stores. I see the swoosh on the side and head to the back row with the super clearance shoes. In the city, I go to True and Huf. All Nike, nothing else.
Any other artists you're into right now?
K: The group Metronomy, I just like the vibe they have going on. I really like their sense of groove which can be underrated.
I've also been listening a lot to Kids & Explosions, it's kinda like a glitchy version of Girl Talk. Something he does is have a really good sense to chop vocals and use the syllables that are already existing in the song.
Check out K.Flay's song "Elle Fanning" off her recent mixtape I Stopped Caring in '96.
K.Flay performs August 12 at 12:45pm on the Twin Peaks stage at Outside Lands.