Modest Mouse, Of Monster and Men to Headline Live 105's BFD Concert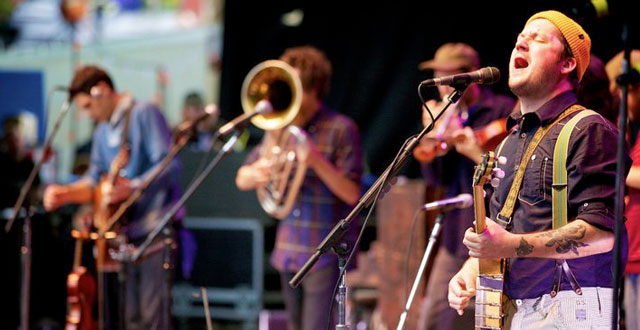 Radio station Live 105's annual summer bash at Shoreline Amphitheater, BFD, will return this June with Modest Mouse and Of Monsters and Men headlining.
The concert returns Jun 6 with Panic! At The Disco, Cold War Kids and Atlas Genius also performing on the main stage.
The festival marks the first Bay Area performance Modest Mouses since 2010 at the Bridge School Benefit 2013 at the Fox Theater. The band is preparing for the March 17 release of its first album in eight years, Strangers to Ourselves.
Attendees will have plenty of other options with a second festival stage that will feature Twentyone Piolts, Death From Above 1979 and an emphasis on dance music in the Subsonic Tent with GTA, Robert Delong and Vicetone.
The Soundcheck local band stage will feature Beta State, the Family Crest, Picture Atlantic and Eyes on the Shore, winners of the SF Station's The Lineup competition last year.
The Complete lineup:
Main Stage:
Modest Mouse
Of Monsters And Men
Panic! At The Disco
Cold War Kids
Atlas Genius
Festival Stage:
Twenty One Pilots
Death From Above 1979
Best Coast
The Kooks
YelaWolf
MisterWives
Sheppard
The Orwells
Cathedrals
Meg Myers
Waters
In The Valley Below
Subsonic Tent:
GTA
Robert DeLong
Vicetone
K.Flay
Mystery Skulls
The Limousines
Aaron Axelsen
Slaptop
Dyloot
MyKill
Soundcheck Local Band Stage:
Beta State
The Family Crest
Picture Atlantic
Panic Is Perfect
Eyes on the Shore
Andrew St. James
Dangermaker
Silent Pilot
Curious Quail
Tickets go on sale March 16 at 10am HERE.