Review: Noise Pop Festival Highlights 2014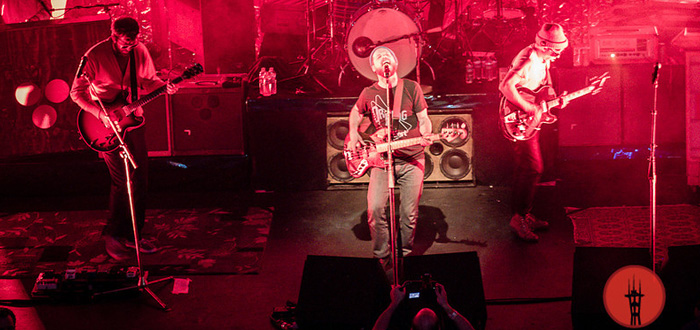 The first of major San Francisco music festival for 2014, Noise Pop wrapped last night after six days of concerts, screenings and events. While it's impossible for one person (or even a few people) to catch every moment of every event in it's entirety, we're pretty sure we caught some of the best moments of the festival.
What were your Noise Pop highlights? Share them in our comments section.
"Our Vinyl Weighs a Ton" Film @ Noise Pop Headquarters
Noise Pop continued its annual film series with a documentary about Peanut Butter Wolf and his record label Stones Throw called Our Vinyl Weighs a Ton, a dense documentary on the West Coast underground he helped shape in the 1990s and its journey through the rise and fall of sustainable record labels.
The average person who listens to Snoop Dog or even Madlib might not know the extent of Peanut Butter Wolf's involvement in hip-hop, or even know who he is. Once a young aspiring DJ from San Jose, Chris Manak (aka Peanut Butter Wolf) was quickly faced with harsh realities and traumas with the unexpected murder of his hip-hop partner, Charizma. Wolf stepped away from the scene for more than a year and moved to Los Angeles, where his new journey would begin.
The documentary is interesting for anyone who has aspirations in music in any capacity. Peanut Butter Wolf wasn't just a DJ, but a music collector and talent scout. He started Stones Throw Records out of his house, and through the years collaborated with acts like Madlib, Quasimoto, MF Doom, Dam-Funk, J-Dilla and most recently Snoop Dogg. What they created was a safe and inspiring environment where MC's and producers would challenge and push each other beyond new boundaries and limitations.
Peanut Butter Wolf eventually opened a headquarters in Los Angeles away from his home where he's signed a plethora of musicians from all genres, and outlasted the demise of record labels and potential buyouts from major music marketing companies.
Throughout the documentary there are interviews with Mike D of the Beastie Boys and Kanye West, who says J-Dilla's music was like "good pussy," a scene with Snoop Dogg firing a joint and jamming with Dam Funk, the discoveries of Mayer Hawthorne and Aloe Blacc, and candid confessionals from Peanut Butter Wolf. It's serious and lighthearted and really illuminates where a little integrity and passion can take someone with dream.
Cold Cave, Painted Palms, Dirty Ghosts, Happy Fangs @ Slim's
Happy Fangs kicked off the show with their excitable lead singer, Rebecca Gone Bad, running around the stage in a gold outfit and black and white striped face paint. Like a cheerleader, she rooted for her band with a giant Happy Fangs sign held high in the air over guitarist Michael Cobra's head, whom battered his guitar until breaking a string at the end of their set.
Dirty Ghosts are a three-piece band with bellowing bass lines, dirty guitars and catchy harmonies. The punk-pop sounds like a less grimy version of L7 with lead singer Allyson Baker hitting some solid guitar riffs with some groove. Not too concerned with being a certain stigma or genre, their music had people's heads bobbing in casual conversation. Apparently big in Canada, they could catch fire in the states with a new album dropping in 2014.
Painted Palms, originally a recording project from cousins Reese Donohue and Christopher Prudhomme, took the stage as a full band. Guitars, bass and drums really brought their songs to life, a little bit faster and harder the recorded material. The song "Too High" had people dancing while their first single, "Forever," included an extended guitar solo. Painted Palms seemed determined to impress for their upcoming trip to Austin's SXSW.
Cold Cave was the headliner, though they followed a tough act in Painted Palms. Wesley Eisold stood on stage in dark uniform, circling around his DJ in enigmatic fashion. Their style of dark synth-pop was everything expected with a lot of pressure on Eisold to keep the show interesting without his band that featured members from Blood Brothers, AFI and the Melvins. Playing songs from his last effort, Cremations and Love Comes Close, a minimalist album conceived "at his desk in his apartment," the songs "A Little Death to Laugh," "God Made the World," and "Black Boots," kept the crowd involved.
The  show in its entirety was like taking a flight. A little shaky in the beginning, a smooth transition en route, some exciting turbulence, with a mildly uneventful landing.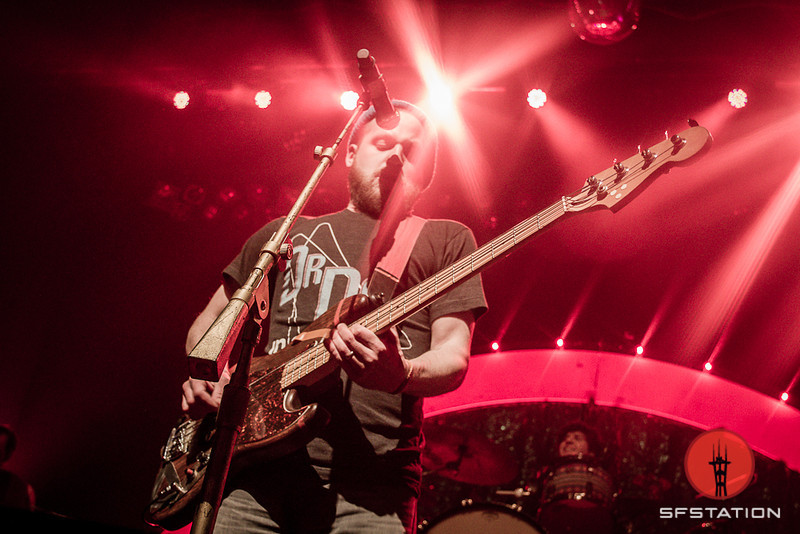 Dr. Dog @ The Warfield (view the photo gallery from the show)
Playing for more than two hours, Dr. Dog's set was loud and full of hits, with an expansive set of songs from more than 10 years as a band. The multi-instrumentalist front men, Scott McMicken and Toby Leaman, lead the way for an exciting show, periodically switching instruments and jumping up and down with every groove of their music.
There are too many notable songs to name, but songs that stood out were "Broken Heart," "Distant Light," From B-Room, "Lonesome," "These Days," "Heavy Light," From Into the Void, "Shadow People," "Stranger," from Shame, Shame 'The Ark," "The Beach," from Fate "Worst Trip," and "Die, Die, Die" from We All Belong.
Rogue Wave @ The Chapel
The small, intimate venue in the Mission was sold out for a Noise Pop closing-night show with Oakland based alt-rockers Rogue Wave. Zack Rogue took the honor in stride: "Last show of Noise Pop," He said with a smile on his face. "They wanted someone classy—they couldn't find anybody."
The band was a little different than most shows, with original drummer Patrick Spurgeon behind the keys and a temporary drummer filling in. Zack again joked: "I think I know why Pat didn't want to play drums for this show. He's been waiting to play the pheromone." They hardly missed a beat even with a new drummer, new guitarist and added pheromone.
Rogue Wave started their set with material from their latest album, Nightingale Floors, playing songs "No Magnatone," "College," "Figured It Out" and "Used to It." They added a couple of surprises, paying respects to Smashing Pumpkins with their cover of "1979" and "Publish my Love" and a punk rock, folk version of their song "Medicine Ball" from Descended Like Vultures. They also played crowd pleasers "California," "Eyes" and "Lake Michigan." It was a perfect ending to the Noise Pop Festival, staying true to their support of local music with a few national touring acts.