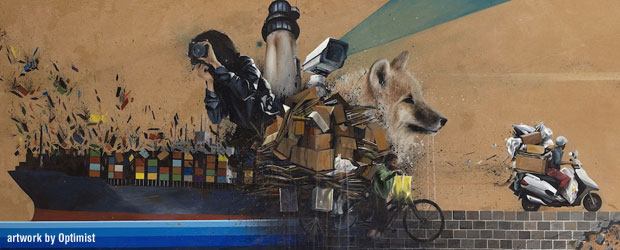 SPONSORED
Great Urban Race
Think you have what it takes?

PROVE IT.
Whips, Chains, Tech and Music
Silicon Valley finally gets an event that pairs music and technology this week with C2SV Music Festival + Technology Conference, headlined by Iggy And The Stooges, Thee Oh Sees, the Lemonheads and the Coup and featuring more than 50 acts and 70 speakers over four days. Folsom Street Fair brings the kink back to SoMA and Beyond Wonderland turns up the bass for two days at Shoreline. Oakland's popular food extravaganza Eat Real Festival is back with three days of serious eats and Brews on Block makes its debut downtown. The America's Cup is winding down, but racing on the waterfront continues with the Rolex Big Boat Series. The Superhero Festival is back with seven stages and a full lineup of DJs and Public Works hosts an Indian Summer Block Party.

Weekly Giveaway: Win Tickets to Frightened Rabbit this Monday at The Warfield. Reply with the name of a movie that has a rabbit as a key character in it for a chance to win!
Wed Sep 25 at DNA Lounge

The boys are back in town playing another amazing set of new and unreleased music!
Thu Sep 26 - Sun Sep 29
at San Jose McEnery Convention Center

Pivotal Silicon Valley innovators will converge on their home turf with some of the biggest names in music, headlined by protopunk legends Iggy and the Stooges.
Thu Sep 26 at The Fillmore

Emerging from rampant hedonism and desperate isolation is 'II', the new album from Unknown Mortal Orchestra. Behind the cartoonish colour of this collection of soulful, mind-addled psychedelia, lurks the fact that...
Sat Sep 28 at Waterfront Boardwalk Oasis

Space Flight beats on 7 stages with 17 sound camps. House to Dubstep, Downtempo to Reggae, Drum & Bass to Progressive...
Sat Sep 28 at Public Works

Three crews have come together to celebrate Summer in San Francisco the best way we know how... by assembling a myriad of our favorite djs and live acts for an extravaganza in dancing.
Fri Sep 27 - Sun Sep 29 at Jack London Square

Tacos inspired by flavors from around the world, curry, BBQ, hot dogs, ice cream, noodles, and a whole lot more of the Bay Area's awesome curbside eats...
Thu Sep 26 - Sun Sep 29 at Festival Pavilion

The sale features over 500,000 books, DVDs, CDs, books on tape, vinyl and other forms of media, in over 100 categories...
Sun Sep 29
We are sure to see the fairgrounds filled with people in their most outrageous leather/rubber/fetish attire enjoying the world's largest and best loved Leather fair...
Sun Sep 29 at Lost Weekend Video

Free Breaking Bad finale - celebrate the end of the greatest thing ever with comedy and a live recording of The Roof Pizza Chronicles: A Breaking Bad Podcast!
Sun Sep 29 at Ocean Beach

San Francisco's legendary DJ Mark Farina will play a patented two-hour "Mushroom Jazz" set to close out the day as the sun sinks into the Pacific...
Sat Sep 28 - Sun Sep 29 at Shoreline Amphitheatre

This year, Beyond Wonderland returns to the Bay Area, but this time for a 2-day experience that will truly transport you beyond the walls of Wonderland! Embark on an enchanted journey of interactive art, pyrotechnics, themed costume-clad performers...
Tue Sep 24

Wed Sep 25

Thu Sep 26

Fri Sep 27

Sat Sep 28

Sun Sep 29

Mon Sep 30

| | |
| --- | --- |
| | by Matt Crawford |
| | |
| --- | --- |
| | by Matt Crawford |
| | |
| --- | --- |
| | by Keith Mizuguchi |
| | |
| --- | --- |
| | by Philip Scott |