A Guide to San Jose's C2SV Music Festival + Tech Conference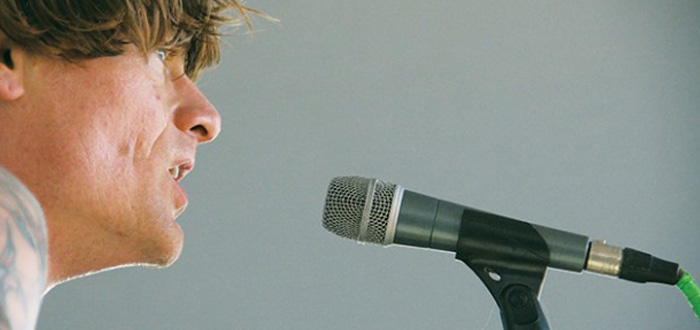 C2SV Music Festival + Technology Conference straddles Silicon Valley's technical right brain and artsy left brain, bringing both together for four days packed with conversations about technology and more than 50 bands, ranging from local acts to internationally recognized headliners.
How It Works
Similar to SXSW, the C2SV music festival takes over 12 Downtown venues with more than 50 bands and an afternoon concert at St. James Park with Iggy and The Stooges, Thee Oh Sees, Bosnian Rainbows and local retro favorites The Bang. It takes about an hour to reach the venues via car or Caltrain (all venues are within walking distance of the station) and festival organizers are offering a hotel discount for attendees looking to stay close to the action.
With a four-day wristband (the best deal for those who want to see multiple bands), attendees can walk from venue to venue to customize their own lineup. Single-day and single-show tickets are also available for those who just want to see one or two bands.
An accompanying technology conference at McEnery Convention Center features more than 70 speakers discussing a variety of topics, ranging from wearable technology and augmented reality to the first public interview with controversial technologist John McAfee.
Thursday Kickoff
C2SV starts early on Thursday with registration for the tech conference opening at 8am. Web personality and social media enthusiast Robert Scoble will deliver the first keynote of the conference, followed by panels on the latest developments with Bitcoin, social media business strategy and factors that will shape the web over the next 20 years—and that's all before lunch.
After a lunch break, panelists discuss technology's role in disruptive political change, Hollywood's emerging footprint in Silicon Valley and the next generation of artificial intelligence apps, among other topics.
After the conference, the focus shifts to music with a kick-off party at Cafe Stritch in San Jose's SoFA District featuring the Phenomenauts, E V Kain and Dinners.
Friday
The tech conference returns Friday, starting with a keynote from Jeff Stibel, author of Breakpoint: Why the Web Will Implode, Search Will Be Obsolete, and Everything Else You Need To Know about Technology Is in Your Brain. Other topics include ecommerce, the transportation sharing revolution, the next wave of digital photography, wearable technology and more.
The music lineup gains momentum with more than 20 acts performing throughout the night, including Silicon Valley's electro-rock breakouts the Limousines and headlining sets from alt-rock pioneers the Lemonheads and L.A. hardcore band Off!
Saturday
The peak day at the technology conference and music festival arrives Saturday, starting with a keynote from James Williamson and a fireside chat from John McAfee.
Williamson helped shape garage rock and early punk rock with Iggy and The Stooges before hanging up his guitar to pursue a 30-year career in Silicon Valley.
The most controversial appearance on the C2SV lineup, McAfee fled Belize in December 2012 after authorities accused him of murdering his neighbor—a charge he denies that U.S. authorities have refused to pursue. He re-emerged in Portland this year with a viral video parodying media-fueled rumors of drug use, violence and various sexual escapades. His fireside chat is his first public interview since returning to the U.S.
The music lineup starts early with a day show at Café Stritch headlined by San Francisco indie rockers Social Studies before the action moves to St. James Park with The Bang, Bosnian Rainbows (featuring Omar Rodríguez-López and Deantoni Parks from Mars Volta), San Francisco garage rock favorites and Coachella 2013 alumnus Thee Oh Sees, and Iggy and The Stooges.
That night, the party moves back Downtown with a variety of music, ranging from political hip-hop from the Coup and a DJ set from Dam-Funk to psychedelic rock from Sleepy Sun and dance parties with Party Ben, Sonido Clash and Shea Butter of BVMO.
Sunday
With the technology conference over on Sunday, the festival shifts completely to music with folk-rockers Rin Tin Tiger, local favorites the Trims and Anya and the Get Down, and Detroit emcee and producer Black Milk closing with the final performance of the festival.
Find more info on tickets and the complete schedule at the official C2SV Website.
Complete Music Lineup:
FRIDAY
Lemonheads
OFF!
Limousines
Dirty Ghosts
The Flames
Soulful Obsession
BVMO Crew
Tom, Dick and Harry
Trails and Ways
Deafheaven
Claw Hammer
Torches
The Revival featuring Julius Papp & The Selecter DJ Kirk
DLRN
The JurassiC
The Burning of Rome
The Icarus Line
DJ K-Von
Talky Tina
Containher
Amonie
SATURDAY
Iggy and The Stooges
Bosnian Rainbows
Thee Oh Sees
Fatso Jetson
The Coup
Mondo Generator
Sleepy Sun
G.F.P.
Tera Melos
Dam-Funk (DJ Set)
Vinroc of Triple Threat
The She's
Mary and the Manchild
Soft White Sixties
Haptic Synapses
Onward, Etc.
Curious Quail
Social Studies
The Bang
Brother Grand
DJ Carlos C
Occult Wisdom
Holy Child
Workout DJs
DJ Oro 11 and Deejay Theory
The New Trust
DJ Rogcon
Shea Butter of BVMO
Dirty Pillows
Finish Ticket
Party Ben
B. Lewis
Teeko of 4oneFunk
Bibles & Hand Grenades
Shinobu
Picture Atlantic
Eliquate
Sonido Clash
SUNDAY
Black Milk
Anya and the Getdown
The Trims
Cartoon Bar Fight
Raw Geronimo
The Albert Square
Rin Tin Tiger
Stumblebunny