Novela Brings 'Brews on the Block' to Annie Alley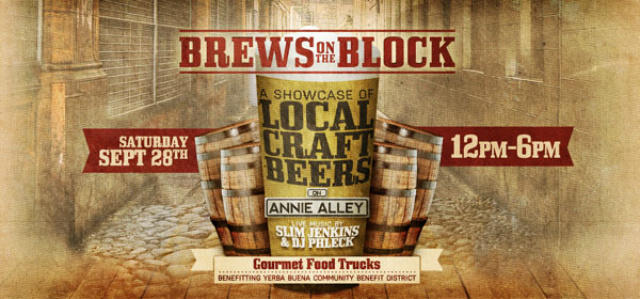 A showcase for local craft beer, food trucks, music and more arrives at San Francisco's newly minted cocktail bar Novela this weekend with Brews on the Block.
Held in Annie Alley, which sits adjacent to Novela (662 Mission Street), the event benefits the Yerba Buena Community Benefit District. Several local breweries, including Almanac, Hangar 24, Headlands Brewing, Ninkasi Brewing Co. Pacific Brewing Laboratory and Palmia, will pour drinks as Slim Jenkins and DJ Phleck provide the soundtrack. Savourie Streets and the Rib Whip will be on-site with food options.
"The Yerba Buena Community Benefit District is involved with a project to activate Annie Alley," said event organizer Michael Fitzgerald. "It's a through street that has very little automobile traffic, but lots of foot traffic, connecting Market to Mission. … The idea is to transform the alley into a pedestrian parkway."
Fitzgerald said representatives from the breweries will be on hand to talk about and educate guests about their products, along with pouring their beer. Novela Bar will also be open for those looking for a break with a craft cocktail or one of the bar's signature punch blends on tap.
An unlimited tasting with a souvenir cup is available for $25 and SF Station is offering a special $5 discount for those who enter the promo code "SFSTATION" on the event ticketing page. Leave a comment with your favorite beer and we'll randomly pick a winner Thursday.