Literary-Themed Bar Novela Now Open in SoMa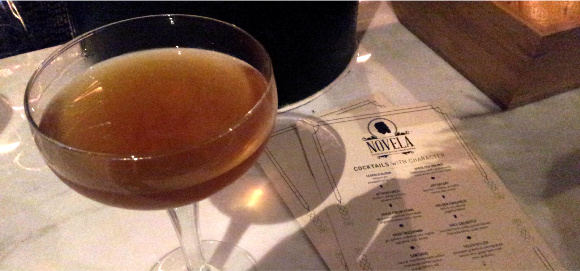 With cocktail names like Huckleberry Finn, Holden Caulfield and Sherlock Holmes, Novela, a new bar in the South of Market neighborhood of San Francisco, is a combination of classic and contemporary.
The cocktail program, courtesy of Maven's Kate Bolton and Alex Smith, formerly of Honor Bar and Gitane, features the above mentioned libations, along with a host of other classically-driven concoctions. The menu of 12 drinks is categorized by a helpful key – from spirit-driven to citrus to non-alcoholic, like the Helen Keller (Pineapple, Grapefruit, Pomegranate, Lemon, Lime, Ginger Beer and Mint).
But perhaps the most notable items are the list of punches, which will be available on tap, by the pitcher, in flights and by the glass. There will be six different punches, each featuring a different spirit. The "House Punch" will be whiskey-based, and other options include gin, rum, pisco, tequila and cognac. Each variation will be made with fresh seasonal ingredients.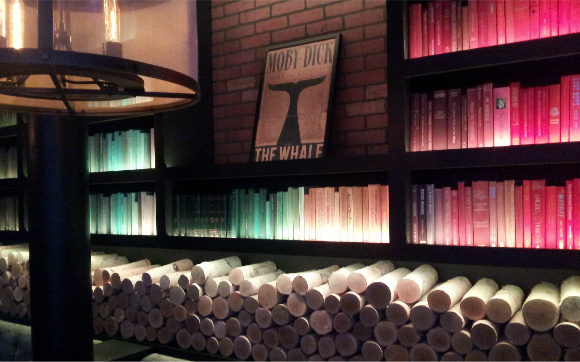 Jacek Ostoya of Los Angeles-based Gold Grenade was behind the design of the project. Books and posters fill the space, with seating at the bar and larger lounge seating throughout. The color scheme is bright and vibrant and although there is a focus on literary classics, the feel is definitely nouveau and modern. It is easy to see that each aspect of the design – from seating to light fixtures – was well thought out. Perhaps the most interesting and unique aspect is the backbar, where the various spirits are displayed. The glass design allows guests to see the bottles from either side of the bar.
Although the cocktail list is a collaboration, Bolton, who is now also a partner at Maven, will remain at the popular Haight bar and restaurant. Smith will be overseeing the day-to-day duties at Novela.
Novela is located at 662 Mission Street (between Seccond and Third). Hours are Monday-Friday from 4:00pm to 2:00am and Saturday and Sunday from 6:00pm to 2:00am.