Outside Lands Announces 2015 Night Shows, Comedy Tent, Summer Pairings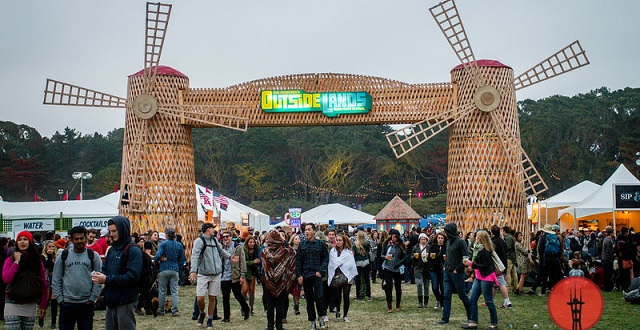 With Outside Lands less than one month away, festival organizers revealed additional activities beyond the scope of the three-day music event by announcing night shows, a full lineup for their comedy and improv tent, as well as a series of summer pairings events.
Although this year's night shows lineup does not look as robust as last year or the year prior, there are two particularly interesting performances scheduled. One is "The Notorious Wilco Brothers." Few details about the show have been revealed, but the image for the performance features every member of alt-country, indie rock band Wilco. The newly modified band name is an apparent nod to The Notorious Byrd Brothers, the fifth album by American rock band The Byrds released in 1968 that represented the pinnacle of The Byrds' psychedelic experimentation. Wilco's interpretation of this should be quite interesting.
Another more interesting night show schedule is DJ Windows 98, which is the pseudonym for Win Butler of indie rock band Arcade Fire. Butler had shared some anti-electronic music comments on stage at Coachella two years ago: "Shout-out to all the bands still playing actual instruments at this festival," Ironically, Butler has since embraced turntables and the knobs. The small, funky spaces of Rickshaw Stop combined with an opening performance by POPSCENE co-founder & resident DJ Aaron Axelsen should make for a divine combination.
See below for the full list of this year's night shows, as well as details about the comedy tent lineup and Summer Pairings event series.
Thursday, August 6
– The Notorious Wilco Brothers at The Independent
– NightLife LIFE: Alvvays and GRMLN at California Academy of Sciences
– Strand of Oaks at Brick & Mortar Music Hall
– DJ Windows 98 (aka Win Butler of Arcade Fire), DJ Aaron Axelsen at Rickshaw Stop
https://soundcloud.com/dj-windows98/jesus-walks-loser
Friday, August 7
– Leon Bridges, Langhorne Slim & The Law at The Independent
– The Drums at Brick & Mortar Music Hall
– METZ, Speedy Ortiz at Rickshaw Stop
Saturday, August 8
— Twin Peaks, DMA's, and Day Wave at Brick & Mortar Music Hall
Beyond the night shows announcement, Outside Lands organizers have also programmed an eclectic lineup for The Barbary comedy and improv tent together with popular San Francisco Comedy Festival SF Sketchfest. Named in honor of San Francisco's infamous Barbary Coast district, The Barbary provides the ideal setting for a true post-modern vaudevillian mix of stand-up, sketch comedy, music and more.
Full Lineup for The Barbary:
Tig Notaro
Pete Holmes
Andy Kindler
Jen Kirkman
Members of The Daily Show News Team: Al Madrigal, Hasan Minhaj and Jordan Klepper
Upright Citizens Brigade: Asssscat with Matt Besser, Ian Roberts, Matt Walsh,
Horatio Sanz & Danielle Schneider
Comedy Bang Bang! With Scott Aukerman and Special Guests
Uptown Showdown Debate – Teen Pop Stars vs. Grizzled Old Rockers: Which Are Better?
The Groundlings: The Black Version with Jordan Black, Danielle Gaither, Phil Lamarr, Karen Murayama, Gary Anthony Williams & Nyima Funk
Rory Scovel
Ron Funches
Joe Derosa
Nate Bargatze
James Adomian
Cameron Esposito
Hari Kondabolu
Joe Klocek
DJ Real
The third leg of the announcement is that Outside Lands will also be extending its culinary experience beyond the three-day festival with the return of the fifth annual Summer Pairings Series, which is an opportunity to indulge in intimate celebrations of good food and drink with some of the top culinary talents before the festival. Check out the details for the complete three-day series below.
Series I
Friday July 17, 5-9pm: Outside Lands Summer Pairings Series at Bluxome Street Winery with Nombe Food
New to Outside Lands, San Francisco's darling urban winery, Bluxome Street, will be hosting Outside Lands veteran, Nombe Food. A ticket includes entry and a trio of food and wine pairings: Japanese Fried Chicken with 2013 Sonoma Valley Viognier; Avocado Fries with 2013 RRV Rose of Syrah and a Pork Belly Slider with 2012 RRV Pinot Noir. The Rusty String Express will provide live music and an additional a la carte menu will be offered.
Series II
Sunday, July 19th at 2pm: Outside Lands Summer Pairings Series at Long Meadow Ranch with Cheese Lands & The Travelin' McCourys
As part of Long Meadow Ranch's (LMR) comprehensive summer concert series, and in celebration of Outside Lands, LMR will host The Travelin' McCourys on Sunday, July 19th at their Farmstead in St. Helena. The acclaimed winery is a favorite in Wine Lands year after year. For its Series, LMR welcomes The Travelin' McCourys, a progressive bluegrass band led by Ronnie McCoury on mandolin and Rob McCoury on banjo, sons of bluegrass legend Del McCoury. Guests will enjoy the Napa Valley sunshine with LMR's food-friendly wines and a Cheese Lands cheese plate curated by Culture magazine while soaking up the sounds of bluegrass on the Farmstead lawn. Doors open at 2pm; show is at 3:30pm.
Series III Wednesday, July 22nd, 7-9pm: Outside Lands Pairing Series at La Urbana with 21st Amendment
The evening kicks off with an amuse bouche and a chilled, local lager from 21st Amendment; from there guests will wander through the flavors of Mexico City with a menu of Sopes Carnitas, a La Urbana Platter with Chorizo, Porchetta & Pork Skin and an Ice Cream Sandwich. The price is $45.00 (excludes tax and gratuity). Reserve via Sosh (a new concierge app) or by calling La Urbana. Capacity is limited to 20 guests.