La Urbana Brings Unique Mexican Cuisine, Cocktails to Divisadero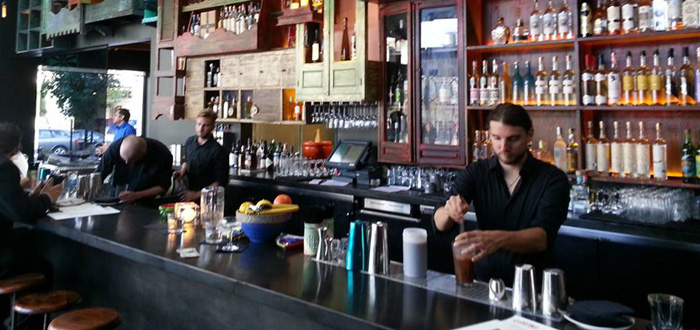 The Divisadero Corridor in San Francisco has thrived this year, with the addition of a new Bi-Rite Market, The Mill and further up on California, b. Patisserie. Now, the bustling street welcomes La Urbana, a modern and contemporary Mexican restaurant.
Led by Eduardo Rallo and architect and restaurateur Juan Garduño, the restaurant that opened this week at the corner of Divisadero and Grove streets has a rustic, yet vibrant feel to it. The dark lighting of the restaurant contrasts with the bright background of the bar area, with bottles of mezcal lining the shelves. The high wooden ceilings feel like you're sitting in an old Mexican cantina, while the chairs with beautiful pictures on the back give it a much more modern feel. There is a feeling that La Urbana could host a large, boisterous gathering or a couple sitting at the window on a date.
The kitchen is headed by Executive Chef Ben Klein and Chef de Cuisine Julio Aguilera. While La Urbana is a modern Mexican restaurant, to call the cuisine solely Mexican would be inaccurate; yes, items like the Menudo de Almejas (Manila Clams, Cabbage Tostadas, Radish) and Huevos con Chorizo (topped egg served in shell w/ chorizo, potato puree, lime crema and nasturtium leaf) are contemporary Mexican dishes, using a multitude of ingredients, each with their own bit of flair. But items like the Tierra y Mar (Dungeness crab, ribeye, pineapple puree, papalo) and Huachinango al Huitlacoche (red snapper, cauliflower, radish) have a very California feel, with a few elements from Mexico sprinkled in.
The menu is filled with an assortment of smaller plates (think ceviche, smaller veggie dishes and plenty of seafood). Larger entrees might include Costillas de Res (braised short ribs, seared bone marrow, tomatillo) and the Pollo al Horno (roasted chicken, Guajillo chile butter, summer pico de gallo). Smaller dishes are in the $7-12 range with entrees averaging about $25. With the atmosphere of the restaurant and scope of the menu, the idea is for sharing plates, many of which bring together the flavors of Mexico and San Francisco.
We would be remiss to not mention the cocktail program at La Urbana. Although mezcal rules the day, bar manager Lucas Ranzuglia is also taking guests through a number of different Mexican cocktails, from a variety of margaritas to drinks like the Mexico City in a Glass (tequila, mescal, carrot juice, citrus juices, lavender and lemon verbena smog, built upon a base of chile water capsule) or his version of a Manhattan (Rye whisky, Grahams tawny port, xocolati, chile morita tincture). The bar also features a number of Mexican wines, as well as those from Spain and Latin American countries and craft beer.
Soon, they'll also be opening the Mercado Urbano, an adjacent space that will serve food by day and act as a lounge in the evening. The area that currently serves as the private dining room will be transformed into Mezcaleria Urbana, a private mezcal tasting room, featuring a number of unique pours featuring the restaurant's collection of 30 or so mezcals and also a few cocktails as well.
La Urbana currently seats about 60 in the dining room area and another 20 in the bar and lounge. The restaurant will be open daily from 5pm to 1am. La Urbana is located at 661 Divisadero Street (at Grove).
Menu items from Urbana (courtesy of the restaurant):