SF Street Food Festival Returns this Weekend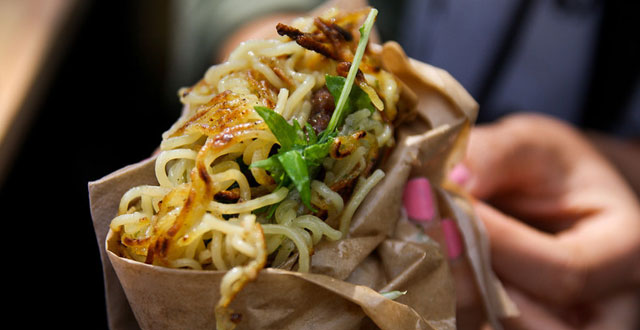 The San Francisco Street Food Festival returns Saturday with more than 80 food and drink vendors for what could be the last year at its current Mission District location.
Since its debut in 2009, the festival has been a breakout success, sometimes overwhelming the neighborhood and vendors with foot traffic and lines. Organizers say after the festival this weekend it's time to reboot with a new location and potentially a new concept.
"In a Mission that is changing, a food economy that is in constant flux, and a festival that still bursts to the seam, we've made the very difficult decision to move the festival … and look for grander, and equally urban, settings to feed you faster, better and with ever increasing attention to detail," said Caleb Zigas, festival organizer and La Cocina executive director, in an interview with the San Francisco Business Times earlier this year.
One must wonder if this signals a popular local event leaving SF for less expensive and problematic real estate, but for now we can celebrate another full day of street food and drinks on Folsom Street, between 20th and 26th Streets and surrounding areas. Admission is free with most dishes costing $3 to $8. Beer and cocktails will be available and "Passports" can be purchased to save time in lines (view the complete food vendor list below the photo gallery).
New for this year:
–A Friday Night Fried Chicken Family Meal at SoMa StrEat Food Park will benefit festival organizer La Cocina, the nonprofit incubator for low-income immigrants and entrepreneurs starting businesses in the food industry. The night will feature unlimited fried chicken from 11 local and visiting chefs—including Traci des Jardins (Jardiniere and the Commissary), Seattle's Huxley Wallace Collective and Hopscotch—and an open bar.
–A "Sunday Thoughtluck" will be held as part of La Cocina's Food and Entrepreneurship Conference with food entrepreneurs, city officials, culinary experts, community organizations, and more. The conference includes a variety of workshops, art and no one is likely to leave hungry. More info and schedule.
–Craft beer will be available for the first time at the festival with selections from from Calicraft Brewing Co., Drake's Brewing Co., 21st Amendment Brewery and Anchor Brewing Co.
–A bottomless aperol spritz brunch is available from 11am to 1pm, where diners can sit and enjoy food delivered from vendors, including Pao de queijo, Carnitas Vampire Tacos from Fritas Shack, KronnerBurger and the Chairman.
Street Food Festival photos from the SF Station archive:

The Confirmed Food Vendor List:
4505 Meats
A16
Alejandros Trade
Alicia's Tamales Los Mayas
Anda Piroshki
Azalina's
Basa Seafood Express
Beijing Restaurant
Bicycle Bánh Mì
Bini's Kitchen
Chef Pelle Nordic Food Truck
Chiefo's Kitchen
!CHINO!
Cholita Linda
Crumble & Whisk
Curry Up Now
D'Maize
Delicioso Creperie
El Buen Comer
El Huarache Loco Inc.
El Nuevo Frutilandia
El Pipila
El Sur
Endless Summer Sweets
Estrellita's Snacks
Fine & Rare
Frita's Shack
Frozen Kuhsterd
G.G Tukuy
Gerard's Paella
Good Foods Catering
GrilledCheezGuy
Gyro & Cheesesteak Trolley
Heirloom Cafe
Hella Vegan Eats
Il Cane Rosso
Indian Bento
Kama Food Lab
Kasa Indian Eatery
Kika's Treats (Roaming Cart)
KoJa Kitchen
Kronnerburger
La Luna cupcakes
La Victoria Bakery
LERS ROS
Liba Falafel
Little Red Riding Truck
Los cilantros
Minnie Bell's Soul Movement
Mozzeria
Namu Street Food
Nojo Restaurant
Nombe
Nosh This
Onigilly
Osha Thai
Pinx
Radio Africa & Kitchen
Rasoi
Rice Paper Scissors
Sabores Del Sur
Salumeria – Central Kitchen
Secret Scoop
Seoul on Wheels
St. Anthony Foundation
Stones Throw
Sugar & Spun
Sweets Collection
Tacolicious
Taino's Puerto Rican Food
The Chairman
The Creme Brûlée Cart
The Other Guys SF
The Whole Beast
Three Babes Bakeshop
Three Twins Ice Cream
Yvonne's Southern Sweets
Zella's Soulful Kitchen