SoMa StrEat Food Park Now Open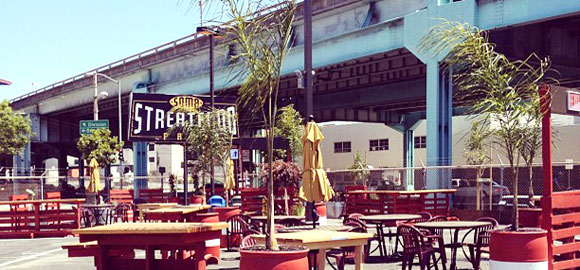 The official grand opening of the SoMa StrEat Food Park is scheduled for next week, on Wednesday, June 6, 2012. And we have the list of food trucks featured that week.
The long awaited food truck park is now open to the public. If you have no plans for lunch this week, you can check them out during the soft opening period starting today Thursday, May 31, with just a few food trucks from 11 am to 3 pm, until Tuesday June 5. Initial full time hours will be 11 am to 9 pm, for the official opening day on June 6. See our previous post for additional details about this upcoming food truck stop. Permits for the beer garden section are still in process.
Below is the finalized list of food trucks for next week, submitted to us yesterday, by event publicist Tracey Buck. Specific truck details and links provided by me.
– Sunrise Deli is the mobile version of the popular falafel shop from the Sunset district.
– Newcomer truck Slider Shack, brings grass fed beef, Kalua pork, BBQ pulled pork and panko crusted chicken sliders, from the culinary team of John Cade & Gian Patel.
– Eire Trea is the only Irish Eritrean food truck in the world. It's not fusion food, just a partnership of both cuisines, because chef owners Alan Hyland and Absulam Abdai, live in the same building.
– La Pastrami is a brand new pastrami food truck from Rochelle Green.
– Pete Fraser is Mr. Nice, he will be grilling organic beef, pork, chicken or vegetarian sausages served on Acme bread, and 6 flavors of Three Twins organic ice cream for dessert.
– Mayo and Mustard is the hoagies on wheels version of famous corner grocery shop Roxie Food Center.
– Marin's Garden Creamery vegan sorbets and push pops mobile trailer first visited SF, during last weekend's Golden Gate Bridge's 75th anniversary. Erin Lang's line of sorbets can be found at a few retail groceries.
– Golden Waffle will feature their popular cast iron baked Belgian Liege waffles.
– TopShelf Boutique is the only non food truck, featuring women's clothing and fashion accessories by Christina Ruiz. It even has its own dressing room inside.
Photo Credit: SoMa StrEat Food Park.