21st Amendment Celebrates the Arrival of Hell or High Watermelon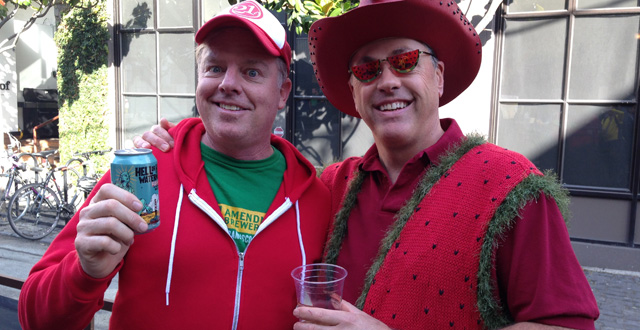 It was a watermelon massacre at San Francisco's 21st Amendment Brewery yesterday evening as co-owners Nico Freccia and Shaun O'Sullivan celebrated the seasonal release of Hell or High Watermelon beer with a sacrificial watermelon toss from the brewery's roof.
A hearty happy hour crowd celebrated the occasion in the brewery's beer garden with cups adorned with watermelon wedges while a special tap poured the brew through a modified melon.
We talked with Freccia about the origins of Hell or High Water Melon. Listen below:
And the best way to enjoy the beer? "In your underpants, in the kitchen on a summer afternoon, singing a Journey song at the top of your lungs," Freccia says. Cheers!
Photos from the party courtesy of Plus M Productions: