The Commissary Brings Spanish-Influenced California Cuisine to the Presidio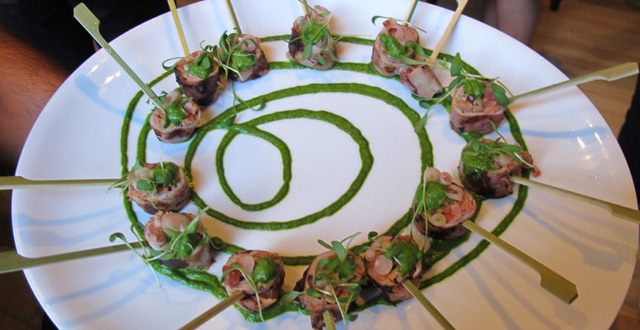 San Francisco diners have a new destination to add to their list this week with the opening of the Commissary, a Spanish-influenced restaurant making its debut in the Presidio under the leadership of chef Traci Des Jardins.
Jardins and the Presidio Trust (the federal agency managing the historic former Army base) welcomed friends and the media to a tasting this week, where they were greeted with samples of what diners might find on the changing, seasonal menu.
"It's Spanish influenced California cuisine, so it's seasonal products with a Spanish twist to it," says Jardins, who has more than 20 years of experience in the Bay Area restaurant scene, including overseeing Jardiniére, Mijita's two locations and Public House at AT&T Park.
A delicate octopus dish with potatoes, olives and pimeton, and grilled squid with garbanzo beans, fennel and aioli were highlights from the tasting. For dessert, a decadent olive oil almond cake topped with rhubarb, peach and caramel packed amazing flavor without being too heavy.
"We'll have octopus, squid, anchovies and sardines—all of those things that you find in Spain a lot that are also part of the culture in the Bay Area," Jardins says.
The restaurant features a wine list split with mostly Spanish and Northern California wines and a specialty cocktail menu, but we were most impressed with the sangria. The blanco and rojo were both delicious and one of the best blends we have experienced in San Francisco.
"I went and tasted every sangria in San Francisco," says Malcom Brownson, general manager and beverage director. "It seems like kind of a one-off at most places in town … it's sort of a throwaway and a way to get rid of last night's wine by the glass. Instead of making a throwaway sangria, I wanted to take it and elevate it."
Complementing the local and sustainable ingredients from the kitchen, the cocktail menu is composed of liquor from mostly local companies and other regional ingredients. A few local beers are also offered at the bar.
In addition to the 112-seat restaurant—an open dining room, a separate room with bar seats surrounding an open kitchen and a private dining area—the Commissary takes advantage of the adjacent open space and lawn with a mercantile where visitors can purchase wine or snacks to eat on the patio or off-site in the Presidio.
"We'll have a nice selection of happy hour and bar snacks," says culinary director Robbie Lewis, a long-time kitchen collaborator with Jardins, who previously served as executive chef at Jardiniére for eight years. "We're hoping that people lounge on the patio and drink rosé."
Located in a former barracks building on the Presidio's Main Post, there is plenty of room (and parking) for visitors to enjoy with the sprawling Parade Grounds lawn across the street from the restaurant and views of the San Francisco Bay.
The Commissary is offering lunch and dinner service with soft opening hours through May 30 before opening for light breakfast, brunch, lunch and dinner beginning in June (details below).
Photos from the Commissary and the media preview:
Soft Opening Hours
Tuesday, May 20 through Saturday, May 24
Dinner: 5:30-9:30 pm
Monday, May 26 through Saturday, May 31 (including Memorial Day)
Lunch: 11:30 am-2:30 pm
Bar and Limited Menu: 2:30-5:30 pm
Dinner: 5:30-9:30 pm
Tuesday, May 27 through Friday, May 30
Lunch: 11:30am-2:30 pm
Sunday June 1
Closed
Regular Hours (Beginning Monday, June 2)
Monday-Friday
Coffee + Light Breakfast: 8-10:30 am
Lunch: 11:30am-2:30 pm
Bar: 2:30-5:30 pm
Dinner: 5:30-9:30 pm
Saturday
Dinner: 5:30-9:30 pm
Sunday (Beginning June 8)
Brunch: 10:30am-3pm