Anchor Brewery Brewmaster Shares History, Details on New IPA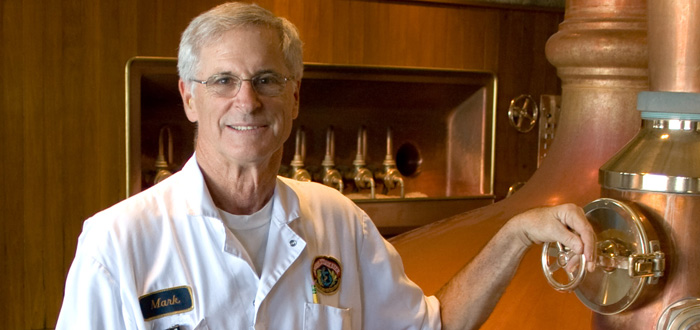 Since joining Anchor Brewery in 1971, Brwemaster Mark Carpenter has had a role shaping the beer scene locally in the Bay Area and also nationally with unique beers that helped influence the craft beer movement.
Under the guidance of former owner Fritz Maytag's, who bought the struggling brewery in 1965 and owned it until 2010, Carpenter's career at Anchor started as the brewery grew from producing only Anchor Steam beer to producing more than 10 varieties.
Last week, Carpenter and Anchor Brewery celebrated the brewery's first official IPA. We spoke with him at the brewery during a launch party for the beer.
You started working at Anchor Brewery in 1971. What has changed since then?
I started at the brewery because I was looking for a change with my life. I took a tour of the brewery for some free beer and it was such an interesting place, I thought why not apply for a job.
From a beer standpoint, there were four breweries in San Francisco—Lucky Lager, Burgermeister, Hamm's and Anchor. All of the others were big breweries and at the time Anchor was the smallest brewery in the U.S. I was lucky enough to get hired and Fritz Maytag was in the process of reviving Anchor and building brands. He wanted other beers besides steam beer.
In 1973, we had just come out with our porter and he said, "Down the road there are going to be hundreds of little beers around the country and I don't just want to be known for Anchor Steam—I want to be known for Anchor Steam, and porter and ale," and on and on.
He had great foresite.
I was thinking, what is he smoking? There was not one indication on the horizon of what was going to happen. It was us, period. He just had such long vision and clear foresite.
Those are the changes: the number of breweries and the number of beers. So many of our beers that were the first of their varieties in the U.S. have gone on to be huge. Liberty Ale is probably the most copied beer in the world—cascade hops are used everywhere now, and we were the first. Old Foghorn barley wine was the first barley wine in the U.S., and we created the first wheat beer. That was Fritz; he was really an amazing person.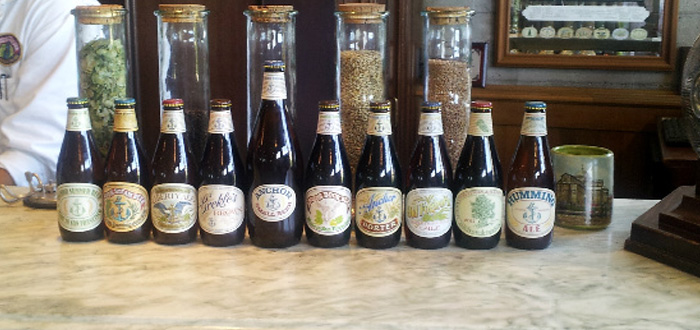 You said Anchor was the new kid on the block in the 70s, and now it's probably the beer most associated with San Francisco. What spurred that change?
In those days, Fritz couldn't sell it to people in the city. The only accounts we had were counter-culture accounts—the Keg on Clement St., Greensburg Irish Pub on Bay and Vesuvio—a very typical counter-culture place—and few others.
Somehow we made the transition. In the early 80s, the women who sold us labels said she wanted to take me to a bar that was serving Anchor. It was Harry Denton's on Fillmore St. In those does what we call the 'techies' were called 'yuppies,' and it was a yuppie bar—everyone was nicely dressed and they had a band playing in tuxedos.
They were going through a boat load of Anchor Steam. I looked around and knew I had job security (laughs). I don't know why it happened, we were growing and just becoming hip and we made that leap.
And you have another big change now with the IPA launch.
Yes, that's certainly a big deal for us. It's a category of beer that's hugely crowded, and we've made so many beers that we could have called IPA but we never did. Our Liberty Ale and our Humming Ale, certainly qualify as IPA by definition. Our harvest Ale also would have qualified.
Maybe we missed the boat, and should have named them IPAs, but recently [co-owner] Keith Greggor wanted to put out an IPA so we decided to go for it. It was kind of intimidating because it's not coming out as a one-off or a seasonal. It's a full time product, so we hope that people like it.
What do you like to drink when you are not working?
The vast majority of beer I drink is Steam beer. That's the only beer we made when I started here and I always thought it was great beer. After that, I love all the beers we make but if I had to name my favorite beer it would probably be Liberty Ale.
Outside of our brewery, I'll drink whatever is out there. I'm a beer drinker; I like beer. These days there are so many breweries and it's hard to keep up. So often you're disappointed, but you have to keep trying them because every once in awhile you get a really delicious beer.
Do you have any favorite spots to go out for a beer?
I live up in favorite Petaluma, and when I first moved there in 1982 I met Ken O'Donnell who owns McNear's. I'll drink there a lot because I like Ken and it's just a nice place. There's also Taps in Petaluma now and a lot of other old traditional bars that are fantastic.