Shopping: AETHER Pop-Up at The Proxy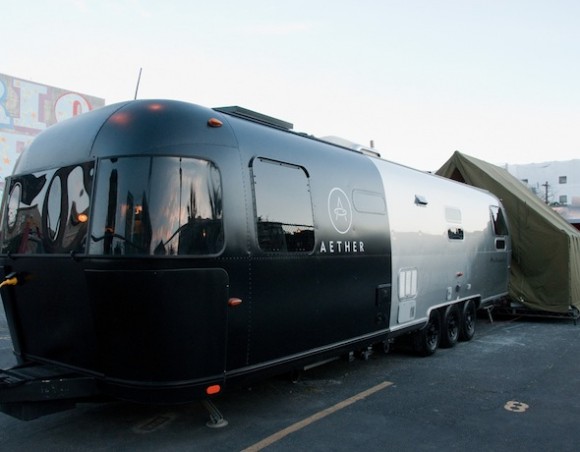 AETHER Apparel is the latest pop-up to join The Proxy in Hayes Valley, and currently the only apparel supplier in the two-block lot. It's also arguably the best-looking mobile retail vehicle yet to grace San Francisco.
Housed in a sleekly customized Airstream that exemplifies the brand's streamlined, minimal aesthetic, the AETHER trailer will only be in San Francisco until mid-April. A canvas tent marks the entrance into the made-over 2007 Airstream PanAmerica. This model was designed with a garage intended to haul "toys" a la motorcycles or ATVs, but it's been completely redone into a modern yet rustic-feeling space.
Splitting the boutique down the middle is a long utility table topped with neatly folded henleys, shirts, hoodies and cashmere beanies. On the table and throughout the trailer, knickknacks including framed photos, a vintage typewriter, an antiquated wrench set and various books contribute to the homey feeling.
The entrance and left side of the AETHERstream feature men's clothing from the Winter and Spring lines. It's a collection of sportswear that marries technical fabrics with modern design for those who don't wish to sacrifice style to function.
AETHER founders and LA film producers Palmer West and Jonah Smith created AETHER to fill a gap they found in the market: clothing for outdoor enthusiasts that weathered the elements and supported movement without looking too technical or youthful; not everyone wants to (or should) wear youth-oriented snowboarding clothing when the weather turns wet and chilly.
For Spring, the men's "Transit Jacket" is a lightweight, breathable urban cycling jacket featuring jet black reflective fabric and piping ($395). The "Slub Hoodie" features an earphone pocket and valve and is available in five neutral colors ($145).
Though AETHER's apparel is mostly men's, the whole right side of the trailer showcases their women's clothing line. The stylish "Stormy" is AETHER's stylish interpretation of the classic Mackintosh trench, made of bonded Italian fabric ($495). The signature slim-fit "Space Hoodie" is made of silky ripstop fabric and manages to insulate without bulk or boxiness ($295).
In addition to clothing, the boutique also carries duffel bags and utility totes as well as AETHER Sigg water bottles and a few Mission Workshop bags (SF's Mission Workshop also carries a small selection of AETHER clothing). There are a few local shops that also carry AETHER (Taylor Stitch, Rolo), though none of these spots carry as much of the line as is showcased in the AETHERstream.
AETHER's aesthetic is sophisticated and minimal; red is the pretty much the only non-neutral color they use. Anyone who appreciates clean design and utilitarian style should make sure to stop by AETHERstream at The Proxy before they depart in mid April. The AETHERstream's next stop will be Santa Barbara, followed by Chicago and then Japan.
The Proxy is temporary two-block project in Hayes Valley comprised of a rotation of food, art, culture and retail within renovated shipping containers and food trucks.
Inside the AETHERstream//Photo by Jialin Luh