Organizers behind the Treasure Island Music Festival have released the daily schedule for all the music this weekend. As always, no overlaps between the acts of the main stages is one of the great characteristics of the two-day event.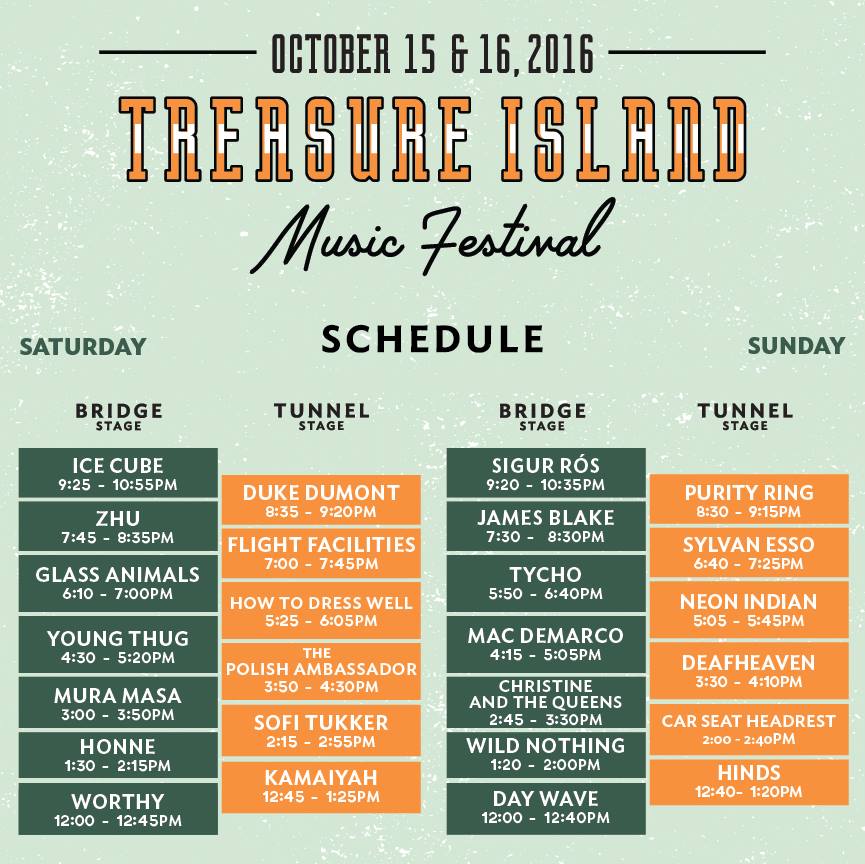 In addition to the schedule, local artist Tycho has announced a night show on Friday, October 14 at the Independent to kick-off the festival weekend. Tickets for that show go on sale today at noon. Tycho, who just released a surprise album last week, also performs at Treasure Island on Sunday.
One other noteworthy development is that Los Angeles-based vocalist and songwriter Kelela has been forced to cancel her appearance. Fortunately, she has been replaced by The Polish Ambassador and Dirtybird Records founder Worthy will be joining the Saturday lineup!
RELATED: Treasure Island Music Festival Survival Guide
This is the final year Treasure Island Music Festival will be held on Treasure Island and the first year it will be held on the east side due to the current development underway. However, the organizers have promised the the festival will live with the same name, but at a new, undisclosed location. Don't forget there's no parking on Treasure Island this weekend, so be sure to take one of the shuttles from San Francisco or the East Bay. Otherwise, arrange for alternate transportation.
See y'all on the island!