Tycho Just Dropped Full Album 'Epoch' Today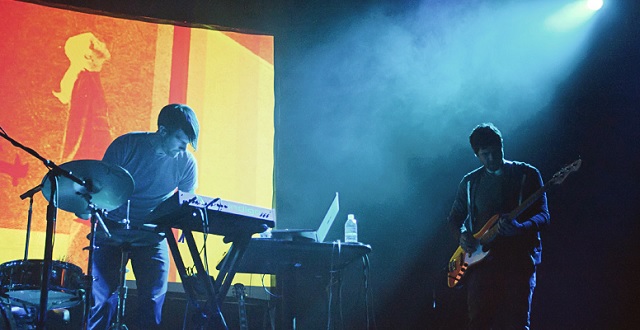 Ambient music project Tycho, led by former San Francisco and now Berkeley resident Scott Hansen, unexpectedly unveiled a new album today. The last installment in a trilogy, Epoch, is the culmination of more than a decade's work that has seen the band evolve and mature.
An epoch is defined as an extended period of time typically characterized by a distinctive development or by a memorable series of events. Fittingly, Tycho saw significant growth and maturation between the full-length debut album Dive (2011), followed by the record Awake (2014), and now the arrival of Epoch. All three of which were released on the label, Ghostly International. Throughout this stretch, Tycho developed from featuring Hansen as a delicate solo performer, to a powerful multi-layered live band with Hansen as the iconic frontman, performing on the world's largest stages.
Listen to the full album below. Fans also have the great opportunity catch Tycho perform live at the Treasure Island Music Festival on Sunday, October 17.
Hansen initially attempted a more traditional recording process at Panoramic Studios in Stinson Beach, but ultimately opted to do the majority of the recording in his home studio in Berkeley, California. This followed his relocation from his former home base of San Francisco.
"I've been in the same (San Francisco) house the last 11 years. I made the last two records in the exact same room. I figured it was time for a change. There were a few other factors. I wanted to get some more space, be relaxed, and not be living in the middle of a crazy city. I wanted to have a more chill environment where I wasn't bothered by noise or people. Mostly just for the isolation."
Hansen continued to divulge, "I like to be alone and focus. The best place for that is the house. I also don't like moving around too much. It's nice to be able to dig in and do everything in one place…This time, I moved the whole setup to Berkeley a year ago across the Bay kind of up in the woods. As you get further and further north east in Berkeley, it becomes a forest. I wanted a more rural, relaxed environment for this one. So I spent the past year there working on it." This new and creative space was an effective way for Tycho to unleash an atmospheric barrage of auditory prowess.
Once complete, it was important to Hansen to release Epoch as a surprise album. "I've never been fond of handing in an album then waiting 4 months for it to be released. I wanted to be more connected to the people consuming the music. There is a kind of visceral fulfillment you get from sharing something that you've just created with other people. That's a very satisfying feeling as an artist."
Epoch was arranged alongside Zac Brown, a long time collaborator and partner in the Tycho project. Brown contributed bass and guitar parts to the songwriting process, while Rory O'Connor played drums. O'Connor was brought in during the Dive tour cycle. Hansen has known Brown since their Sacramento upbringing.
Hansen sees Epoch as a multi-dimensional artistic vision at the confluence of his graphic design work via ISO50 and music with Tycho. The graphic presentation of the album artwork is as important as the music itself. The keystone is the central image of Epoch and the color scheme red and black. This is a stark contrast to the almost rainbow palette of Awake.