End of an Era: 'Terminus' Party Celebrating the Artist Community of Treasure Island's Building 180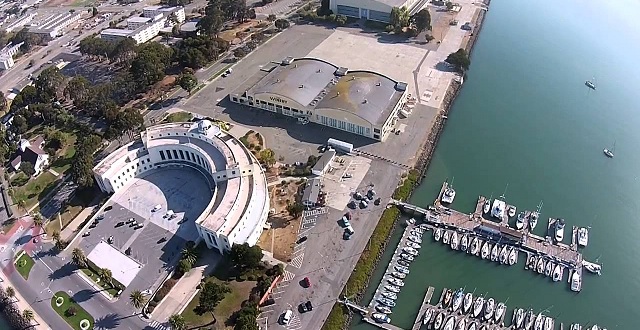 The one-of-a-kind organic artist community situated inside Building 180 on the 393-acre man-made Treasure Island will be forced to close this month. To commemorate their historical creative run, the crew of designers behind the Burning Man Disco Space Shuttle art car are hosting one final 'Terminus' warehouse party this Friday.
Building 180 has a tremendous 75-year history in San Francisco, built originally as an airplane hangar to house the Pan Am Clipper and Navy planes during World War II. More recently, this high-ceiling space served as the birthplace and storage area for many large-scale art projects for Burning Man, decorations for Ghost Ship Halloween events and New Year's parties at Bill Graham Civic Auditorium, as well as exhibits for the Exploratorium's Spring Gala.
Seminal works by artists Marco Cochrane (creator of the 'Bliss Dance' statue) and Peter Hudson (creator of the 'Charon' kinetic sculpture) were conceived inside Building 180. Innovative Burning Man art cars like the Disco Space Shuttle, Tie Fighter, and Landspeeder were also created within the walls of this building.
On Friday, May 13, Building 180 will host 'Terminus,' the last Treasure Island warehouse party before the building is razed to make way for redevelopment. The event's musical lineup features Burning Man fixtures Thugfucker, the Scumfrog, and DJ Kramer. Appropriately, there will also be large-scale art on display including Peter Hudson's "Eternal Return," art cars, and much more.
More than the artwork, Building 180 housed a tremendous energy, thanks to the people that worked inside the space. Their collaborations and willingness to share ideas among each other contributed to a unique atmosphere within the warehouse walls.
The potential of these artists was limitless. As artist Dayna Gilbert explained, "the diversity of people in that space and what they can do is anything…this group could build an entire city, with their collective knowledge. When I came in, I was just volunteering. I started in graphic design school and was a singer working in art school. As a designer, that building procured my life. I can say that without a doubt. That building and the people in the building taught me everything."
Dayna recognized the remarkable attributes of Building 180 as soon as she started volunteering there. "I loved what was happening there. I walked around the space and  thought—I want to be part of this community." There was just this feeling, "if you keep showing up, they will continuously welcome you with open arms. That feeling is really comforting because there's a lot of competition we encounter as artists."
World class artist Marco Cochrane helped open Building 180 with his business partner Todd Coons. He moved into the space back in 2009 to start his trilogy of 'Bliss' sculptures. As Marco put it, "I probably put in six years…[and a total of] 18,000 hours in that building. I work too much…'Bliss' took one year, but it was a really great year. I was working 80 to 100-hour weeks. That was unsustainable. The next two [Bliss sculptures] took two years each. And then I did a car ('Sil-vi Bojon') in 2012. That was also a one year project."
We asked Marco about Building 180, what he will remember about the place…"The people. The other artists…[and] the view. I had the corner that had the view of the city. I was one of the first people in their so I picked the good spot."
Artist Katy Boynton also started at Building 180 as a volunteer, helping Marco with 'Bliss.' She ended up renting her own space in 2012, in order to build her first sculpture, 'Heartfullness' for Burning Man (now publicly placed in Fremont). She shares similar sentiments…
"Building 180 was great because of the community of people. Peter, Marco, the other people. The Cardboard Institute of Technology. We were all a family in there. We used each other's tools. We shared metals. We helped each other out with whatever we needed…I got to use Peter's welding table and welder to make the heart because I didn't have those things. Its that type of camaraderie that allowed us to reach that full capacity of creativity. Having each other around to inspire and collaborate on pieces."
Peter Hudson started getting involved in Building 180 by visiting Marco after work, to watch him build 'Bliss Dance.' "That was phenomenal to watch him build. Seeing him scale the piece. Even the jigs, the things to make his support for his pieces…he's just a genius, a wonderful artist."
Peter also has a supreme respect and thankfulness for the opportunities provided by Building 180. "It was an unintentional artist community. It's not like anyone ever planned to make it an artist space. They were sharing  resources, but more so knowledge, bouncing ideas off of one another and it just came together…[It was great] to be around that vibe…The view, you can't fucking beat this. It's the most amazing space. To be out here every day. I got to see them build the whole [new Bay Bridge] every day. It's a very inviting space for people to come and collaborate with you. I'm very, very, very lucky. It's turned into a high rent area but I'm lucky to have been a part of it."
We asked Dayna Gilbert: What's next for the artists who owned studios inside Building 180? "A lot of people have already gone their separate ways. A lot of people in this community are also very, very involved with world traveling. Peter Hudson is currently focused on the Terminus party. Everyone is trying to find a different space. There is  no way for all for us together to move to a separate space. I make large-scale stuff, like Marco and Peter, we need space…people have been moving into their own spaces and finding new space recently, so that's really wonderful. Macro sold one of his pieces. It was in Las Vegas. So many people flew out. The amount of support that has grown from that whole system really shows when you get together elsewhere."
As the San Francisco and East Bay housing crisis continues, with prices rising to meteoric levels, Building 180 has been forced to be re-developed. The current proposal promises 8,000 new units (25% at below-market rates) on Treasure Island, leading to a population swell on the island, from about 2,000 residents to an estimated 19,000. Treasure Island will also gain a ferry station, up to 500 hotel rooms, and a surprising $50 million in public art. The San Francisco Art Commission has a master plan to make Treasure Island a premier art-world destination.
May 29, 2015 marked the first major transfer of 270 acres from the Navy to the city of San Francisco, beginning the long-awaited development process of the "Magic Isle" under the direction of the Treasure Island Development Authority (TIDA). Architectural design firm Skidmore, Owings & Merrill LLP (SOM) helped create a bold new vision for Treasure Island. A development partnership started work just a few months ago, which included demolition of 40 existing structures, new roads, utilities, and parks. The first phase includes the 2,100 residential units, up to 500 hotel rooms and 90 acres of parks, built on around 45 acres on Treasure Island's western shoreline and the 80-acre Yerba Buena Island.
Photo Credit: TIDA, Overview of 'Treasure Island and Yerba Buena Island Design for Development
In addition to homes and hotels, the development plan includes basic infrastructure updates to Treasure Island's streets, landscaping, an urban agricultural park and a new area of natural habitat called "The Wilds." Land transfers will continue over the next seven years, and at some point, the community is expected island-wide treasure hunts, dance performances, light displays, wind-activated art, and sculpture gardens.
Photo Credit: Treasure Island Community Development, A rendering of the future plans for Treasure Island/Yerba Buena Island
It is very unfortunate and bittersweet to see the end of this terrific artist community. Building 180 offered extraordinary opportunities to many creative individuals, who were able to create, grow, and learn from each other—all within the same steel space. The artists' contributions will never be forgotten, and more importantly, the relationships formed inside Building 180 will be everlasting.
+++ Come join the magnificent final act at Building 180, tickets are available here.
https://youtu.be/gxNe_GAzD3o