Dance Act Goldfish Climbs Aboard Ghost Ship Halloween 2015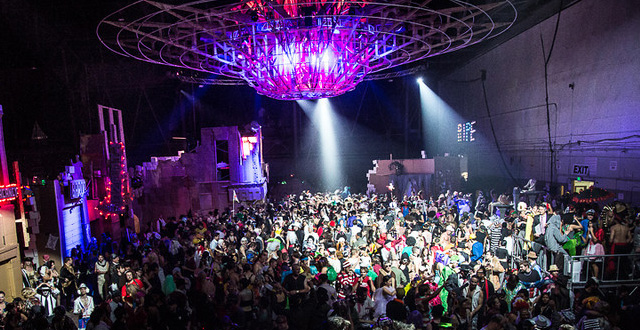 One of the Bay Area's biggest Halloween events, Ghost Ship Halloween, returns for its 8th year with South African electronic duo Goldfish on Friday, October 30 at Pier 70 in the Dogpatch.
For the past seven years, Ghost Ship Halloween has dropped jaws and thrilled thousands with original art installations built from scratch using recyclable materials. This year, the event has been themed "Annihilation at Ghost Ship Halloween 2015" and will again feature large-scale production art and numerous art-cars.
The soundscape of Ghost Ship on Halloween night will be electrified by Goldfish, as well as Filipino turntablist and San Francisco resident DJ Q-BERT and English breakbeat producer Krafty Kuts. There will be multiple stages featuring more than 70 talented musicians from the Bay Area, including dozens of DJs from the following crews: Motown On Mondays (M.O.M.), HUSH, Space Cowboys, Pink Mammoth, Janky Barge, and Trapeze.
Two-day tickets for Annihilation at Ghost Ship Halloween go on sale beginning Friday, July 31 at 11am. A complete music lineup is still to be determined, but will be released when one-day tickets go on sale sometime in August. Prices increase as tiers of tickets sell out meaning best to snag tickets well in advance. As always, attendees provide the final touch of artwork with original costume culture, so start planning your costumes now.
Previous events have boasted a Victorian-era Ghost Ship, a 1930's cruise ship, an alien space craft hovering over a zombie ghost town, a massive nuclear submarine, and a 40′ tall clipper ship, the "Make Big Art" team's plans for Ghost Ship 2015 are more daring than ever.
Photos from previous Ghost Ship events