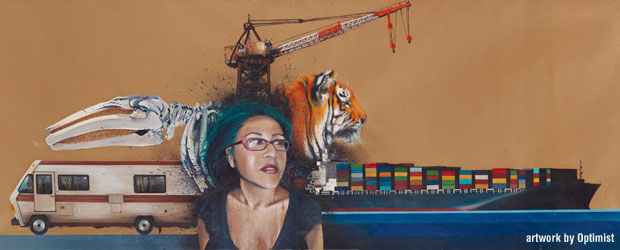 NEW FEATURE
Local DJ Pages
The largest database of DJs dedicated entirely to the Bay Area scene. Each DJ page features tracks, video, a bio and relevant links.

View list of DJs
Bass, Beer, Bikes and Burlesque
One of the Bay Area's biggest dance music success stories returns this week with Bassnectar hitting the stage in Oakland and San Jose. Trouble & Bass celebrates its seven-year anniversary with Drop the Lime and Trap City welcomes Kool Keith. New Belgium's Tour de Fat brings bikes and brews at Golden Gate Park and Glamorama is back with a night of fashion and performances at the Orpheum Theatre. The Do-Over Block Party hits the streets with a lineup of mystery special guests and the Lights Down Low crew parties with Gigamesh at Mezzanine. The Polk Street Blues Festival is one of the last free street parties of the year and its Oktoberfest in September with the 14th Annual Oktoberfest By The Bay.

Weekly Giveaway: Enter to win one of many pairs of tickets to upcoming shows at The Fillmore.
Thu Sep 19 at Fox Theater

Trailblazing DJ Bassnectar comes to the Santa Cruz Civic Auditorium for one wild dance party. Bassnectar, also known as Lorin Ashton, has established himself as one of the most innovative freeform...
Thu Sep 19
at SHN Orpheum Theatre

Macy's Passport Presents Glamorama, the iconic fashion show and HIV/AIDS fundraiser, celebrates this year's theme Fashion in a New Light with captivating performances by multi-talented singer, songwriter, and producer Sheryl Crow, daring troupe Cirque du Soleil...
Thu Sep 19 at DNA Lounge

Emily Reo takes things slow. In 2009 she put out Minha Gatinha, an album of narcotized dream-pop that sounded like she'd been on a steady diet of Neil Young's honey slides...
Sat Sep 21 at Golden Gate Park

Tour de Fat is a daylong festival in the park that celebrates the bicycle, showcases New Belgium beers and provides eclectic and engaging entertainment...
Sat Sep 21 at Treasure Island

Enjoy a tail-wagging day with your dog, while raising funds to help save the lives of shelter pets in the Bay Area. Join thousands of people nationwide...
Sun Sep 22 at Mighty Alley

You can expect the unexpected and the vibes to be as strong as the sangria...
Sat Sep 21 - Sun Sep 22
The Festival will feature two main stages, a merchant marketplace, arts and crafts, gourmet food booths, a large family area, cafe seating areas, and much more...
Sun Sep 22 at The Independent

Having been nominated as one of the BBC's sound of 2010 contenders, he spent the year playing shows around the world with Caribou, Health, SMD and Autolux...
Fri Sep 20 - Sun Sep 22 at Pier 48

Enjoy the finest German cuisine, world's best beer, and authentic German music that the whole family will love. Non-stop entertainment from the world-famous 21-piece Chico Bavarian Band...
Tue Sep 17

Wed Sep 18

Thu Sep 19

Fri Sep 20

Sat Sep 21

Mon Sep 23

| | |
| --- | --- |
| | by Carlos Olin Montalvo |
| | |
| --- | --- |
| | by Matt Crawford |
| | |
| --- | --- |
| | by Martin Malloy |