SF Sketchfest Presents Halloween-Themed Cinematic Titanic: The Farewell Tour at Castro Theatre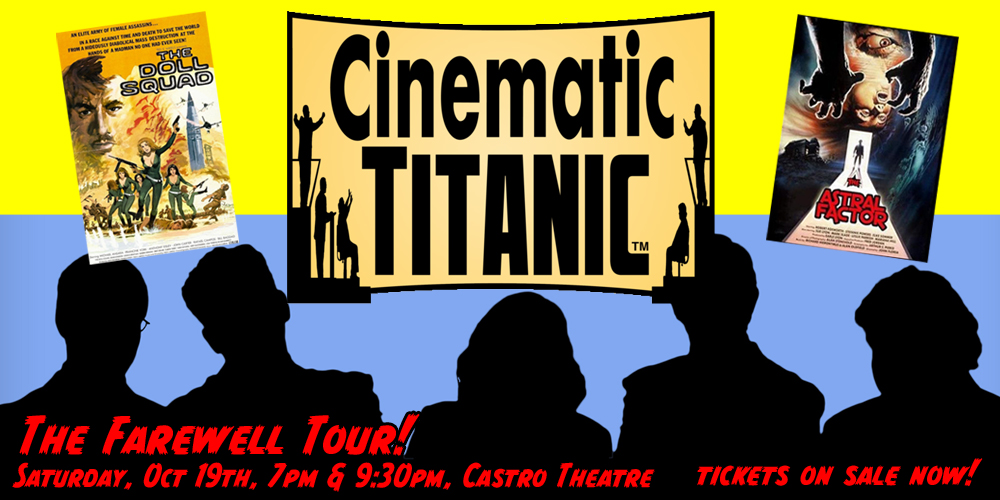 The original cast behind Mystery Science Theater 3000, including creator Joel Hodgson, have been touring their newest live riffing show Cinematic Titanic and will be making a stop at The Castro Theatre on October 19 for a full night of Halloween filled roasting.
Starting things off in the afternoon is a Monster Squad 25th Anniversary Screening, a film about Dracula rounding up all of cinema's famed monsters to take over the world, only to be challenged by a group of kids. Director Frank Dekker, who also co-wrote the script with Shane Black (Iron Man 3, Lethal Weapon), will be in attendance following the screening along with cast members Andre Gower (Sean), Ryan Lambert (Rudy), and Ashley Bank (Phoebe).
Cinematic Titanic kicks off at 7pm with a double feature. Creator Joel Hodgson has brought back much of his original Mystery Science Theater 3000 cast for the show including Trace Beaulieu, Frank Conliff, Mary Jo Pehl, and J. Elvis Weinstein. Special guest David "Gruber" Alan of Freaks and Geeks fame will also be in attendance.
First up is The Doll Squad, an uber low-budget flick from director, writer, editor, and producer Ted V. Mickels. The plot involves a CIA operative wrangling a bunch of sexy female agents to stop a madman from destroying the world with a rat-transmitted plague virus.
Following that is The Astral Factor, aka The Invisible Strangler, at 9:30 pm. This 1976 bomb tells the tale if a prison inmate who figures out how to become invisible, escapes and hunts down the women who testified against him in court, all while a police lieutenant attempts to hunt him down.
Promising to be light on screams but heavy on laughter, this is a great alternative to most Halloween-themed movie nights. It'll also be your last chance to catch Cinematic Titanic in San Francisco before the show is retired. Make sure to head over to SF Sketchfest's website for tickets because it will definitely be a packed house.