Ghost Ship Halloween Party Rebrands as LoveBoat, Fatboy Slim & Moby to Headline Final Show at Pier 70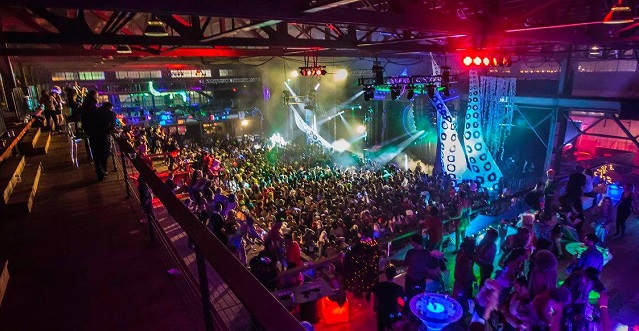 Two-night Halloween costume rave Ghost Ship announced its final holiday event at Pier 70 location. This large-scale annual event returns October 27 and 28 for its 10th consecutive year—and now with a brand new name. The spooky party, officially called LoveBoat Halloween, to avoid any confusion with the deadly warehouse fire tragedy in East Oakland last December. LoveBoat also announced dance music legends Fatboy Slim and Moby as their headliners.
September 13 Update: The entire leinup has been revealed (see poster below), which includes some heavy hitters and familiar faces like The Polish Ambassador, Fort Knox Five, and All Good Funk Alliance. There are also some noteworthy local talents on the bill, like Aaron Axelsen of Popscene fame and SF's own Deejay Theory, and San Francisco-based non-profit artist collective Pink Mammoth from Burning Man lore.
Ghost Ship, the Oakland warehouse space which was the site of the horrific fire, is not affiliated with the Ghost Ship Halloween party in San Francisco. For the past decade, this Halloween event has been promoted by Andrea Lundquist (formerly of the Space Cowboys collective) and Pete Glikshtern (Liquid, Club 6, co-owner of Mighty, Public Works, and Jones). As a duo, they partnered with Sunset SF back in 2009, moved the event to a seaplane hangar on Treasure Island the following year, and added multiple Burning Man artists as collaborators. In 2013, Ghost Ship Halloween relocated to Pier 70 to attract a larger audience, while also expanding from one to two nights.
Tickets for LoveBoat Halloween went on sale today for $110 each at the event's website. Single-night tickets will go on sale in the near future. Fatboy Slim will headline Friday and Moby is the main man for Saturday. Prices will go up as tiers of tickets sell out.
Credit: LoveBoat Halloween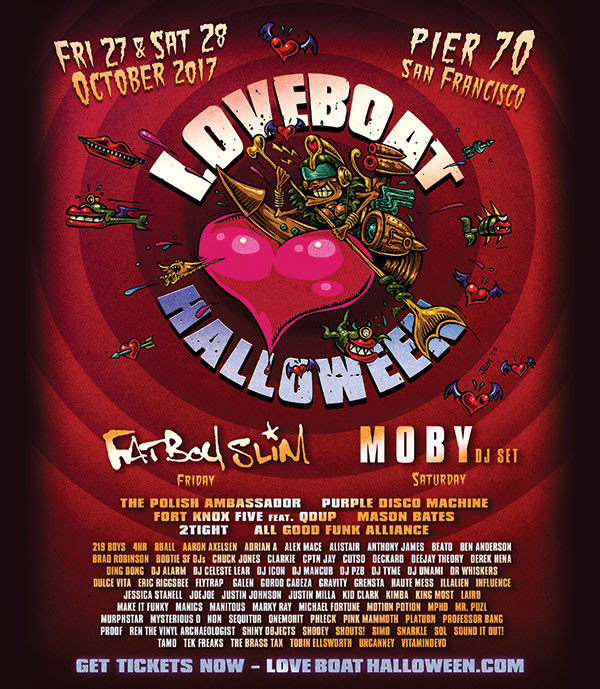 Last year's party, Ghost Ship Halloween: Atlantis, hosted more than 10,000 people and included performances by The Orb, DJ Dan, and Justin Martin, among others.
LoveBoat Halloween
October 27-28
Pier 70, San Francisco