Q&A: Justin Martin (Dirtybird) Shares How the Stars Aligned for 'Hello Clouds'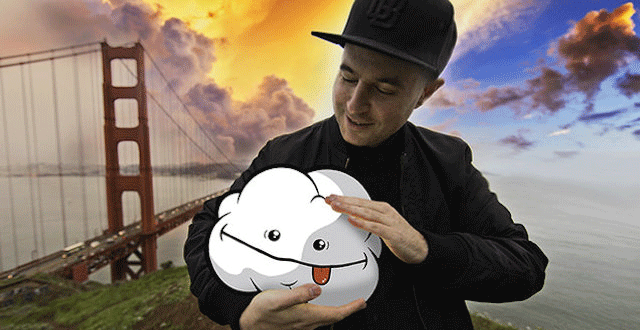 In the early oughts, a San Francisco record label we've come to know and love was brought into existence from renegade parties in Golden Gate Park. Today, Dirtybird Records is an international label and a staple of the Bay Area's house music scene. The father of the label is Claude VonStroke, and Justin Martin–one of his earliest recruits.
The playfully grimy Dirtybird crew upholds a bulletproof just-have-fun ethos. But behind the scenes, they are some of the hardest working DJ's in house. Justin Martin—well known for his singles, "Get Low" and "Don't Go," and his debut full-length album Ghettos & Gardens—is no exception.
While bouncing across the globe during much of 2015, Justin Martin feverishly chipped away at his sophomore album, months past its deadline.
I was scrambling to try to get my album out before I did this massive… well, what ended up being a year long album tour without an album.
Airplanes and terminals were his frequent yet less-ideal office. Once in a while taking a pause from his outstanding work, Justin flipped the window shade at cruising altitude to greet some familiar friends. Hello Clouds, the aptly named album of interest, then came together magically. It dropped last month and the timing could not have been any sweeter.
The official release party landed in Los Angeles on Justin's birthday, in between his headlining sets in the Yuma Tent for his Coachella debut. After that album launch and birthday party—and before heading back to Indio for Weekend 2—Justin hopped up to San Francisco to host another Hello Clouds release party in line with the Dirtybird Quarterly at Mezzanine. For the sorry few who missed him that week in Indio, Los Angeles, San Francisco, and then again in Indio, Justin returned from the stratosphere to shuffle our feet at the Symbiosis Stage during The Bay Area's iconic How Weird Street Faire. And, while it all came together in a comically-clumsy-yet-wildly-successful, Jack Sparrow sort of way, there was no doubt there was a lot of hard work put in behind the scenes.
To make a great understatement–it has been an incredible couple months for Justin. To add to it, we heard chatter about an Olympic-caliber guest surprising Justin on his birthday, tagging along to spin back-to-back at an after-party until sunrise. To confirm the rumors, to find out what went into making Hello Clouds, and hear more about this last month, we tracked down Justin Martin to get the latest.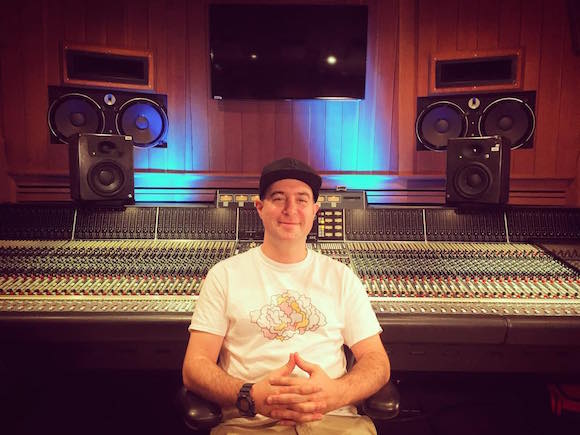 You've seen one helluva success bender with Coachella, the Hello Clouds release, your birthday party, the Quarterly, then your How Weird set at the Symbiosis Stage… Congratulations!
Thank you very much! I appreciate you saying so. It's been crazy! I've definitely been taking the time to pinch myself and enjoy it.
Word is, you had an insane birthday. Is it true? An impromptu B2B DJ-set with Mikey Lion and Skrillex?
YES! It was crazy. I was running around Los Angeles the whole day. From sitting in a kids ball pit to sitting in front of the most expensive mixing board in an amazing studio called The Village. The whole day was fun and completely surreal. That night, a bunch of friends flew down from San Francisco to surprise me. It was rockin'. Skrillex FaceTimed me like, "Hey man, what are you doin'?" Justin Jay had set up an after-hours at some frat house, so I told him we're going to an afterparty. He was like, 'Cool. Can I come?' I said 'of course', and he pulled up right as I hung up the phone. So, we all went to Justin Jay's party and we played 'till 6:30 in the morning. Me and Mikey Lion, Skrillex, and Ardalan, all back-to-back. It was absolutely bonkers.
How big was the space?
I would say it fit 150 [people], like a garage. Super intimate. Then, the next few days after that were surreal because of all the feedback that came in from the album. I'm really happy with what's been coming in from my fans. It's been one of the best years of my life.
The album was delayed a year. Do you think you would have met the same success if you had stuck with the original plan?
Oh man, I feel like the stars just aligned within the last year. I mean, a year ago I was scrambling to try to get my album out before I did this massive… well, what ended up being a year-long album tour without an album. I was very close to finishing the project and then I got a little bit derailed. If I had released my album a year ago, a lot of the things that happened in the last month wouldn't have been so special. It made me realize that everything is meant to be. All those bumps in the road ended up making sense in the end. Every little stress and all the hours of sleep lost were worth it because everything worked out in a magical way.
How was the project derailed?
I wasn't happy with it. I wasn't telling people what tracks were mine when I was playing them. So, along the course of the last year, I was able to take a lot of the songs on the road, fine tune them, and find some friends and peers who I really trust for feedback. I'm such a perfectionist about the way it sounds on the big system and feels when you're just listening to it with headphones. So, getting the tracks to sound and feel a certain way delayed it the most. I wanted to create something you could listen to from start to finish.
You've said that you learned a lot from Ghettos & Gardens, which made writing a second album easier than the first. What did you learn? How did Hello Clouds come easier?
A lot of people don't realize, I was working on Ghettos & Gardens for probably over six years. There's stuff on there that I'd written not even realizing that it was going to end up on an album someday. Hello Clouds was a lot more focused. Actually, I was ready to do a second album while I was still touring Ghettos & Gardens. I had more of an idea of how I wanted it to feel. I knew the tracks I wanted to write.
What was the next step from there?
The next step was making a list of vocalists I wanted to work with, reaching out, then seeing who got back to me. I really lucked out. All the vocalists that were on the top of my list ended up working with me.
Were there any specific moments that left you totally blown away by one of your collaborators?
All of them. Meeting Femme got the ball rolling and gave me confidence. I fell in love with her as soon as I heard her voice. We met in this little recording studio in London and recorded a general idea of how we wanted the song to go. Luckily, she ended a tour with Charlie XCX in San Francisco and stayed an extra day for the final vocal take. When I felt the chemistry between our sounds in the studio—I knew right away—it was going to be the title song for the album. Everything was really quite natural and easy. Then, when I met with Charlotte, we wrote everything in a day and she nailed it in one take, which is incredible. Everyone on the album is just so talented. I feel really lucky to have worked with such amazing artists.

Dirtybird was built on the philosophy of not taking yourselves too seriously. But you do produce the Campout, the Quarterly, and the label. There are a lot of business components. How do you find the balance between having fun and buckling down to remain so successful?
There's no way without Claude VonStroke. He's been the perfect mentor for me from the beginning. He is one of the most hard-working people I know. He's also one of the most fun people that I know. He's the perfect example of someone who has a good balance between business and fun. And they're both necessary. If you do too much of one or the other, then you can really get lost. You can lose the reasons you're in it in the first place. We've always done Dirtybird because it's what we love. From the start, we were throwing renegade parties in Golden Gate Park. We called it a Dirtybird Barbecue because we didn't want the chance of people thinking, aw well this party's not that rocking. Barbecues will always be rockin'—as long as there's food on the grill and there's music playing. One of the keys to life is just to enjoy it along the way. It helps that we have a good family. We all bring out the best in each other. When we all get to hang out, it's just the ultimate payoff. The big events that we do are for us to enjoy as much as for others. So why not enjoy it!?
Do you find yourself forced to work on the go?
I don't work well in the headphones. I can get ideas down in the airport or sitting on the plane, but a lot of the work is getting the mixes right. On the go, I don't really trust my ears. I find myself at home, listening to whatever I'd started and think, oh man that sounds atrocious. So instead of getting new ideas down, I'd be backtracking and trying to fix what I'd already worked on in the headphones. Not ideal. But when you have a real solid idea just come to you, it doesn't always come to you when you're sitting in your nice studio. It's gonna come to you in the middle of the night, when you're in some random hotel in Brazil. You pop up and hopefully you've got the tools in front of you—a laptop or a recorder—to get that idea out so you can expand upon it.
Overnight in Brazil? Is that a real example?
No, but I'll give you one example. There's a weird chime sound that you hear in Rabbit Hole. I was preparing for a studio session with Charlotte [OC]. I was gonna give her a few different track options that she could work on. So, I had a bunch of ideas down. I would play her three or four tracks and see which one she would gravitate toward. But I didn't have the time to properly prepare for the session—because I was on the road. I was in London. I remember pulling the headphones out of my laptop. The coiled headphone cord sprung out and hit the wine glass I had sitting on the table next to me. It made this beautiful chiming sound right on the beat of the song I was playing. I was like, oh my god! That's perfect, that's it! I recorded it on my iPhone and ended up using that recording. The chime sound in Rabbit Hole, right before the beat drops, is the iPhone recording of the headphone cord hitting the wine glass. So you just don't know when you'll stumble upon some happy accident like that.  You have to be prepared to use it and be creative.
+++Justin Martin brings his Hello Clouds release party series to a secret warehouse in Brooklyn on June 17th. Hello Clouds is also available to hear on iTunes and Spotify.