The cutting-edge multi-use event venue Halycon opened its doors in SoMa just a couple months back. Since then, the intimate space with a big club vibe is quickly growing its reputation as a SF nightlife destination. Located in the former BeatBox space, just down the street from the long-standing DNA Lounge, it offers a refreshing burst of new energy to the area.
When owner Gina Milano saw the opportunity to take over the five-year-old gay nightclub BeatBox and launch her own world-class venue, she took it. Over the past two decades, Milano has owned and operated a number of restaurants and nightclubs. These included the faux members-only club Le Club in Nob Hill, the Asian fusion spot Bambuddha Lounge, and Restaurant Maroc in the Upper Haight. All three spots have since closed, but more recently she has helped run Audio and Bergerac, both still going strong. With her past experience in tow, and a new vision and challenge ahead, Halycon was brought to life.
In addition to holding one of the city's scarce licenses for 24-hour parties, Milano has gathered top international talent from the lighting and sound design world. The state-of-the-art facility has a 400-person capacity and easily transforms from one wondrous manifestation into another based on the theme or mood of the night. DJs are brought in on the weekends, Wednesdays are cabaret nights, plus semi-live performances by local and global techno and electronic artists also make the club's packed calendar.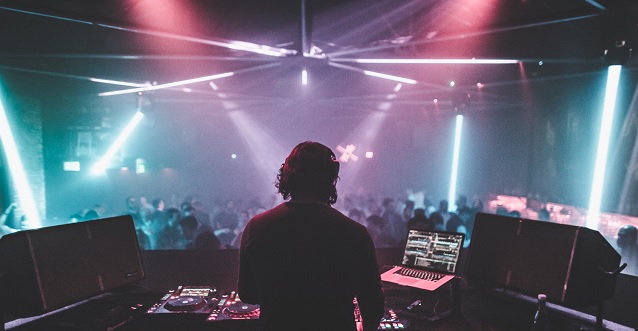 "We are Pioneer Pro Audio's flagship in San Francisco Bay Area," says Milano. "Renowned sound engineers Andy Kayll and Rich Walsh will craft the aural experience, as they did at the legendary DC10 in Ibiza. Geniuses Mike Oku and Willy Nolan have teamed up to fuse the latest technology into bespoke light shows, utilizing cutting-edge tools, including a laser projection mapping system and pixel control super flat on the original industrial beams. Every show will be different–tailored to each individual act."
Some of the names that have performed so far at Halcyon include Dubfire and Fritz Kalkbrenner. On Friday, February 3, Halcyon will be hosting the first-ever Heist Records Label Showcase, bringing Detroit Swindle, Adesse Versions & Nachtbracker to San Francisco.
To learn more about this new destination, we spoke to SF nightlife guru and Halycon owner Gina Milano about how the club came to be, as well as her thoughts on the current real estate situation in SF and its relationship to the local entertainment scene.
Growing up in New Orleans, how did you end up in the Bay Area?
I met some people at (New Orleans) JazzFest who were from San Francisco and told me all about it. At the time, it was the early 90's. I went to all these crazy underground parties in the South of Market district. They were these illegal, underground events. I was completely enamored. I went back to New Orleans, worked a summer, made $1600, and I got into my car and drove to San Francisco in 1992.
My mom always said I was a pioneer with the pioneer spirit. I love New Orleans. I love returning there. I love visiting with friends and showing them around but I didn't really belong there. It made sense to move to San Francisco because it was so liberal, it was growing exponentially at the time, and it had a great underground scene.
What was your path to pursuing a career in owning and running venues?
Basically, I enrolled at San Francisco State and I needed to work to make money. I started tending bar when I was 19. There was a place on Haight Street I realized I could get into when I was underage and they didn't card us. One day the bartender walked off the job. The regulars told me to get behind the bar and told me how to do it. I just figured it out from there and they gave me a job cocktailing.
I was into the live music scene and I was more into shows at the I-beam and Paradise Lounge. There was a gal that worked there as a cocktail waitress who was really into the underground scene. She was going to Osmosis, and going to all these crazy dance underground…she got me involved. I also tended bar at 1015 Folsom, DV8, and DNA lounge, that's also how I got into the nightclub and nightlife scene.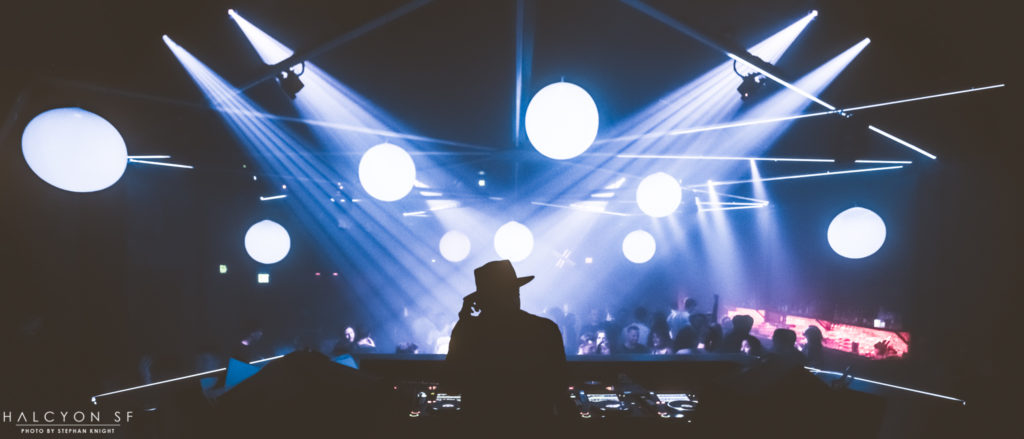 What does Halcyon's interior space look like now?
It's exactly the same (as BeatBox). It still has brick walls with the wooden dance floor. We dressed the stage up a bit and put in a proper DJ booth. The most important change we made would be the sound system and lighting. The lighting rig is insane. There are nine lazer projectors on the walls, and the area above the DJ booth has additional projection screens. We also added next generation pixel tape throughout the space. People go bananas for the wall and the ceiling displays. It's the star of the show, so to speak.
How does the lighting help to morph the ambiance of the space?
With the lighting and layout, it does miraculous things. It can be a super sexy boudoir warehouse with red lights. Or it can be an EDM nightmare with tons of LED pixels going, or a really underground look, with dark and stormy effects. The feel of the space moves from vibe to vibe very easily. It's been great to have such a malleable space.
Also, we love props. We hang things from the ceiling. We recently had LED balloons that change colors. For Lee Burridge, we're doing gigantic clouds on the ceiling. It will be an ethereal sky with clouds creating an atmospheric vibe.
How have the musicians responded to the vibe so far?
I've been there every night. There hasn't been a single event where the vibe in there wasn't amazing. The response has been great, especially from the guests and DJs. Through reputation, things are ramping up organically, and as a result, agencies are offering us the first run at talent. We're thrilled about the feedback.
Do you know why the owners of BeatBox wanted to sell the space?
BeatBox had been there for five years and none of them had been in the nightclub industry. Two of the original owners were promoters and they ended up taking over this available, vacant space. They went through the steps of getting a liquor license and brought in a guy from NY as the third owner. It was their first time running a nightclub. I think people don't realize how difficult it is to own, operate, and make a profit in this business. They all had other jobs. They were working full-time for Apple and Adobe. They were working for huge corporations and also owning a club.
Are you still involved in Audio and Bergerac?
I left in October of last year. I was the neighbor of the guys who owned BeatBox. They would borrow sugar, paper products, soda. We just became friendly. They saw how we were killing it at Audio and Bergerac. They talked to me about getting involved with BeatBox before taking over the business, so I always knew BeatBox was an option.
I then took the opportunity to travel. I went to Miami and then Ibiza. When I was in Miami, I went to a tiny club, about the same size at BeatBox. It had great visuals. They had cool drag queens and performers–they were a little club with a big club style. I came back on a Monday and on Wednesday the owners of BeatBox reached out to me. They said they had an unsolicited offer [to buy the club], someone outside of town, and they asked me if I would be interested in bidding. As luck would have it, we overbid the other offer. They wanted to run the space through Pride, at the end of June. Then we took possession in August. I had five to six months to have fun and figure things out before I had to go back to work.
When I came back, we knocked it out pretty quickly. It was more work than anticipated. We did a lot of soundproofing on the building and the lighting install was a bit more complicated than we had expected. October 28 was the first day we opened.
How did you get the name for the club?
This is a true and hilarious story. I was with my hairdresser (a 3-hour ordeal) and I could not come up with a name for the club. I Googled cool words. I wrote down all the cool words. Halcyon came up, and I googled the definition: 'a time in the past that was idyllic, a golden era, a feeling of prosperity, peace, and happiness.' It's also a Greek mythological bird. It was an antidepressant in the 70's. It's also a name of a Orbital song (a group consisting of Paul and Phil Hartnoll). My business partner did not like it, but in the end, Halcyon won out.
How would you describe the current San Francisco entertainment scene?
When I left Audio and Bergerac, I wanted to do it my way and incorporate a very European style with lots of entertainers and crazy lighting. I wanted the talent to be treated well. I want my whole staff to be on the same program, which is we're here to have fun.
One major challenge is that every venue has one of two neighbors that complain about noise on the streets. As these landlords get more aggressive with their rent prices, and they have the option to rent buildings to dot-coms, rather than restaurants or clubs, which is a threat to our city's nightlife.
Clubs that are in business, are permitted, and have liquor licenses really need to be preserved. People should be enthusiastic towards the people who are putting blood, sweat, and tears into creating a place you can staying out until early in the morning.
+++ Halycon, 314 11th Street, SF