Walking down 11th Street you pass by DNA Lounge, Butter and Slims among other late-night spots in the grey area between the Mission and SOMA. It's sometimes hard to notice Audio with it's simple, and perhaps classic, orange neon sign and plain glass and concrete façade. For those who know what lies within, this nondescript entrance only serves to cloak one of San Francisco's most underrated nightclubs.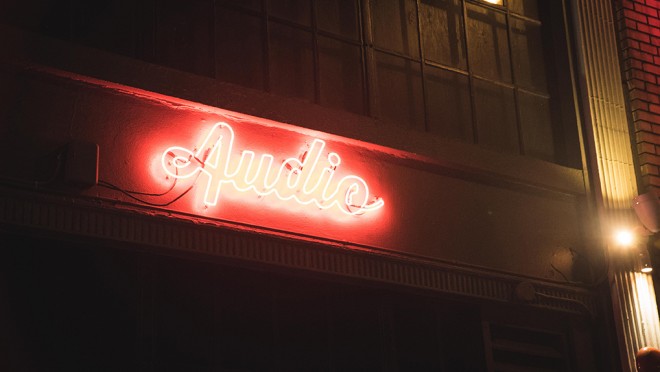 In 2013, UK transplant David Brinkley along with business partners Anderson Pugash and Bruce McDonald started putting together this intimate little venue taking care with each detail. The inside is modeled like the interior of an old school Cadillac with its upholstered panel walls and brass tones. Industry-leading Funktion 1 speakers were the only choice for Brinkley, a fanatic when it comes to sound quality.
The DJ booth, a mere foot above the dancefloor, ensures the DJ is connected to the crowd right in the middle of the action while bars on either end keep the libations flowing. The physical space set it up to be a successful venue, but booking top DJs was the other integral piece.
Chris and Peter Doukakis – brothers from the Bay Area with an ear for up-and-coming talent – had a vision for the club that steered them more toward an underground line-up for bookings, leaning more towards nu-disco and pure house music than commercial EDM. At the time, niche sub-genres of house music weren't as big with the nightlife in SF, a fact that made the brothers' artist choices riskier.
Since its opening, Audio has seen a return on its investment packing their intimate, 400-person venue weekend after weekend to some of the most sought-after names in underground house music. These are usually artists that enjoy spinning for a smaller group of dedicated fans; think Tube and Berger, Lenno, Shiba San, Blonde, Amtrac, Moon Boots or Hannah Wants, to name a few. I sat down with Audio's booking agents to understand the club through their lens as the suppliers of its main attractions.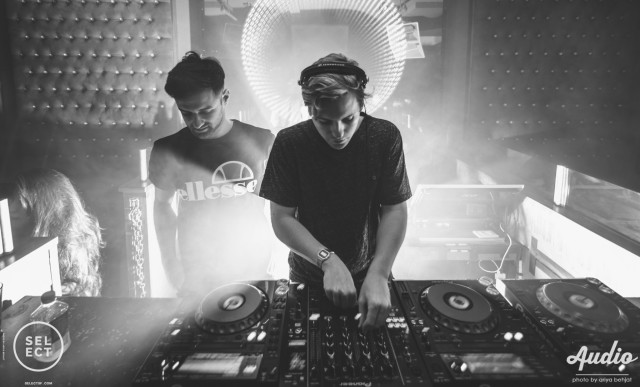 The Doukakis brothers grew up on the peninsula around Foster City. Their Greek father started taking them to his homeland during their early teenage summers. There they were exposed to the bliss of house music, the energy of the all-night club scene and the beauty of the dance music community. Upon arriving back to the Bay Area, they were dismayed to find a dearth of house music in the Bay's nightlife which tended towards hip-hop and R&B. They did what felt natural: throw their own parties with the vocal, soulful house they craved.
"We started throwing parties with DJs we knew. Friends of friends would come and ask, 'are you gonna play techno all night?' And we would say, 'this isn't even fuckin' techno, and if you don't like it you can leave.' It was a crazy process building it back then."
Now with their own promotion company, SelectSF, they have the privilege and the challenge of choosing top talent from around the world to play at Audio. Yet, as Chris notes, "We don't really pay attention to the charts that much. We do our research and listen to music all day. We pay attention to who is on the festival circuit and what other clubs are booking around the world, but it's mostly a combination of being lucky and doing your due diligence to find guys that peak at the right time."
You might be wondering why you haven't heard of this venue before. Chris and Peter don't do mass marketing campaigns. What some might see as a mistake they view as a strategy: "We want to make sure the crowd is really there to see the artist. It's kind of a blessing we aren't a bridge and tunnel venue. If you're going out to 11th street, you're going for a reason."
The result is a crowd that is as diverse as it is passionate. A range from burners, to students, to hipsters, to house veterans. The crowd varies based on the DJ spinning. One reason they cast such a wide net is, as Chris comments, "We don't have a dress code. We never wanted to tell people, 'you have to fit this mold.' We welcome everybody."
The clean bass, sharp mids and crisp highs from the acoustically accurate Funktion 1 speakers mix with multicolor LED panels on stair verticals to create an atmosphere that consistently delivers.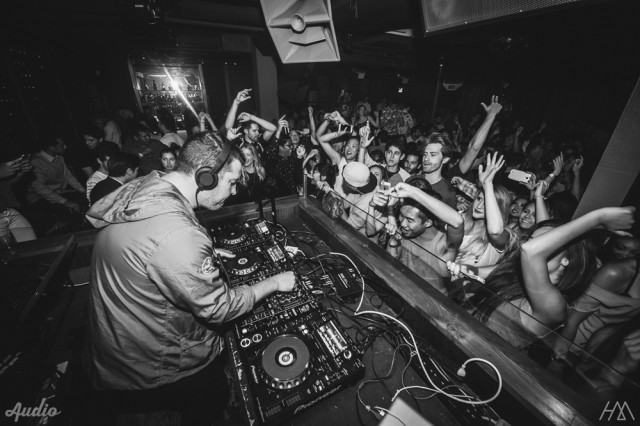 DJs who play the room agree. Spanish duo Chus & Ceballos rank Audio in their top five clubs in the world, while legend Mark Knight states, "I don't want to play anywhere else in San Francisco". The space feels distinctly intimate – it's not the type of place you spend hours circling to reunite with your friends. You get lost staring into the iconic infinity mirror behind the booth and see what tricks the DJ has up his sleeve. This is a place where true fans of the underground come out to support artists. And while the bar closes at 2:00 a.m., loyal fans know the club never kicks out a DJ who wants to keep playing.
Audio may be on the smaller end of the capacity spectrum, however, it doesn't put a damper on booking: "You know, it might limit us from going after the biggest names in the world," says Peter, "but once we get someone to play there, they fall in love. It's magic."
The Doukakis brothers are also owners at the recently closed Vessel. They plan to reopen the club later this year under a new name: Love and Propaganda. They claim it won't be competing with Audio in terms of musical crossover, and frankly that would be a tall order. Audio has a charm that is rare in typical SF nightlife, and with trendsetting DJs every weekend, it will continue to be a late night institution.