With tickets officially shipped, the next big excitement for Coachella attendees has been made public with the arrival of the Do LaB stage lineup. This year, trip-hop act Paper Diamond, chillwave artist Big Wild, and electronic producer Sweater Beats highlight the massive collection of artists dropping blissful beats for two weekends at the Do LaB stage.
Whether you need to take a break from the heat and get sprayed with water guns, or just want a more intimate bass music experience, the Do LaB stage always provides great vibes. Other noteworthy performers scheduled to appear at the Do LaB stage include former San Francisco resident Kraddy, PANTyRAiD (made up of Josh Mayer of The Glitch Mob and Marty Folb of MartyParty), as well as house duo Hotel Garuda (consisting of Manila Killa and Candle Weather). In addition to the announced artists, the Do LaB always has special surprise acts that pop up each year. The stage design should be another spectacle, after last year the organizers took things to the next level with intense lighting and colorful spires.
Unlike the other stages at Coachella, the Do Lab has different musicians performing on its stage each weekend. Check out the complete lineup below. Artists in yellow are performing during Coachella weekend 1 and acts listed in white will play during weekend 2.
The Do LaB is a Southern California based collective of party producers, who put on hundreds of live shows throughout the state. They are the organizers behind the upcoming Lightning in a Bottle festival and contribute art installations at Coachella.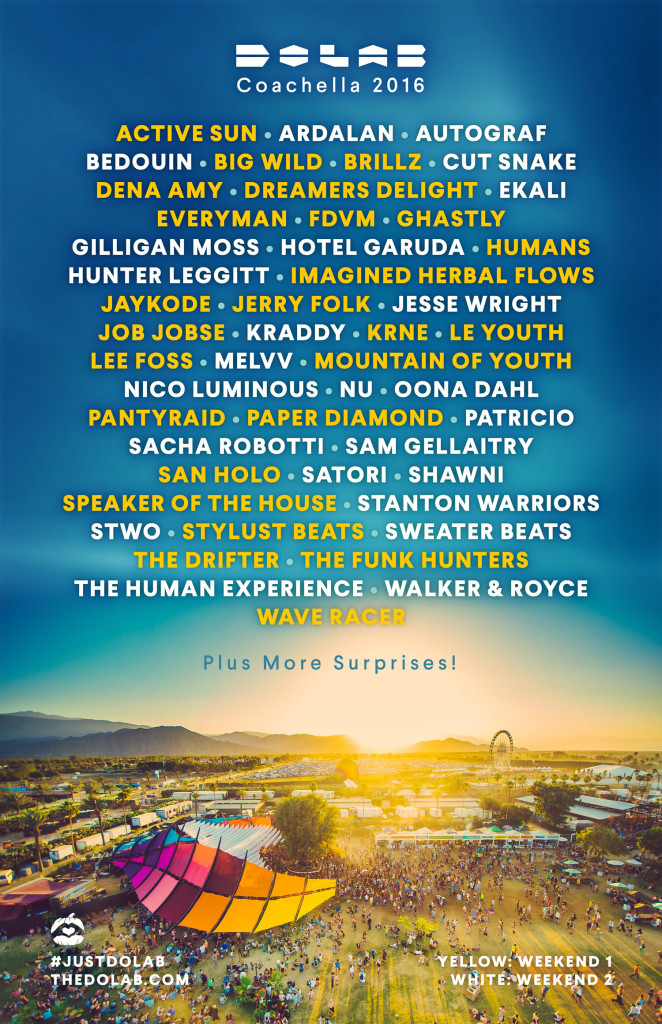 RELATED: Bass-Heavy Lineup Released for The Do LaB's 2015 Coachella Stage