Q&A: Making it 'Rain' With Paper Diamond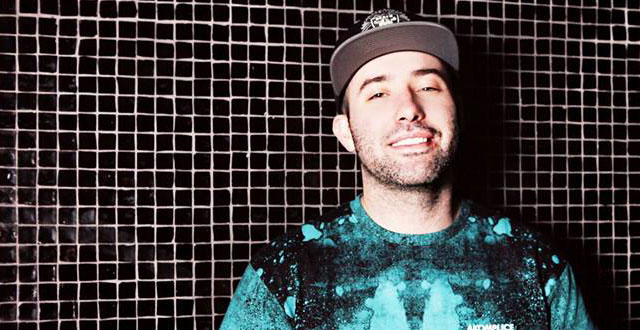 Paper Diamond, formerly known as Alex B, is a producer, DJ, manager, art director, and label founder. Last year he narrowed his focus and solely worked on Paper Diamond music, creating a new beat or idea nearly every day.
We spoke with him about the release of his new Raindrops EP, a recent tequila-fueled mishap and plans for more new music before his Ruby Skye performance on March 12.
Let's talk about Raindrops, which you just released on March 6. What went into making the EP?
I've been performing and recording music under the name Paper Diamond for about three and a half years. At the beginning of that I was managing bands like Cherub and Two Fresh. We had a record label Elm & Oak, an art gallery and a design firm. I was basically still making music but multi-tasking a lot.
Starting in 2014 I stepped back from the managing role and started just focusing on making music and art for my own project. In 2014, I wrote a different song, idea or loop almost every single day. I was traveling and meeting with all these singers in LA but also working in London, Amsterdam and New York.
The Raindrops EP is me narrowing all of that work down to about 10 or 12 songs that feature different singers or rappers and developing those songs until they were great—until they were something I could be proud of for years to come. The EP is the first four of those songs.
This is just the beginning. I'm about to release so much music this year. We're a good way into the next EP already so it's pretty much about to be a steady stream of music from me.
Is there any one track that you feel stands out or that you have a soft spot for?
Honestly, I feel that way about all four of them. That's why it's only four songs, because I feel real good about all of them. It's different than what people are going to expect from me, but there will be more different kinds of music down the line. I still feel that you can really tell it's me through the music.
If you search you're old moniker, Alex B, on Google now, you get this 15 year old pop star out of Philly whose Facebook bio reads: "I'm just a normal kid who enjoys playing video games, skateboarding, hanging out with friends and of course the girls." What do you think about this Bieber-esque star taking up your old stage name?
Yeah, get it little boy! That's hilarious. Thank you for bringing that to my attention. I'm definitely about to change his image to my profile pic.
You've given most of your music away for free. Is this something that's philosophically important to you as an artist? What's prompted all the free music?
I'm most interested in people hearing the music. There's no financial gain for me and there never was. Music comes first and everything else is secondary. Music has done so much for my life in general that I want to give back. Making people happy by giving people a release or an escape—that's what it's all about for me.
I heard you wrecked your ankle getting crunk on stage last month in Philly.
That definitely happened.
How did you mess it up and are you fully recovered?
I am partially recovered—not 100 percent, but it's good enough to get around on stage. The stage was slippery and we were jumping over speakers and I just landed on my ankle wrong. It swelled up to the size of a grapefruit!
I still stayed up there and finished the last song and then the ambulance came and took me to the hospital. To be honest, I had drank a fair amount of tequila. I got my X-ray and they said my ankle wasn't broken, so they released me and I went straight from the hospital to the airport and flew all the way home to LA. It was kind of like a funny, shitty experience.
People are pretty excited for this "Dead Rocks" show you have coming up with Zeds Dead and Dillon Francis. As a Coloradan, does Red Rocks Amphitheater hold a special place in your heart?
Yeah, fans should be excited it's gonna be insane. My house in Boulder, prior to moving to LA, was 25 minutes away from it. The music really feels different in that place. It's special.
You worked with Loudpvck recently on this track "Wylin." How did that collaboration come about, and how much weed was smoked during production?
[Laughs] Copious amounts of weed! I asked them to open up my "Cold Crush" tour for me last year. They were on the bus with me for two months and we had some speakers set up in the bus and in different venues every day. We basically wrote that song on the road, mixed it down, put it out, and have been wylin' out ever since.
You really built your name and career from the ground up. These days, many up and coming artists have to be their own manager and do a lot of the business/marketing side of things for themselves. Is this a sustainable model for the music industry? Do you have any advice for younger producers on the rise?
I do think that it's sustainable. I think it's about just getting people around you that you like working with. As far as social media stuff, if you're yourself, then that's all you gotta do. As far as everything else, you just find people you like working with that you respect and you try and come up together. That's the point – helping to elevate the people around you and bringing your friends up with you. At least that's what I've done.
Last time you were in SF, you played with Keys N Krates at the Regency Ballroom. Now you're coming back to Ruby Skye with Ganz. How do you feel about SF and what can the fans expect for your upcoming show?
I love San Francisco. It's always great coming back and it's been one of my favorites for years ever since I got to play Outside Lands. That was a big jumping off point for me. It's gonna be an amazing show; I have a whole new set of music and I'm going to be debuting a lot of the music from not only from the Raindrops EP but all the other stuff that I'm working on along with visuals and all that. So I would just tell people to expect and amazing night of music especially in Ruby Skye which sounds great from what I hear.