L7 Brings the Stink Back to San Francisco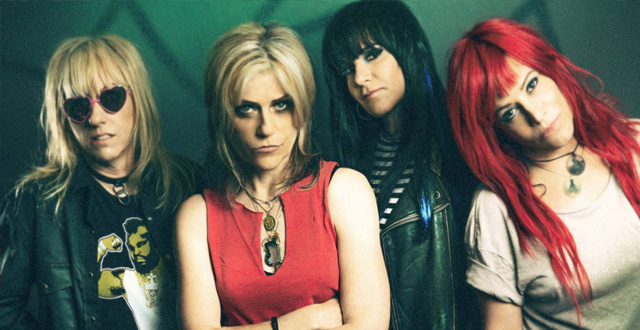 Way back in 1985, an all female punk band emerged who inevitably influenced the onslaught of female fronted grunge rock bands, paving the way for groups like Hole, Bikini Kill and Babes in Toyland.
The band was L7, a group of shameless vixens from Los Angeles created by Donita Sparks and Suzi Gardner with bassist Jennifer Finch and drummer Demetra "Dee" Plakas. Their sound was unique and unforgiving, mixing a punk rock attitude with heavy sludge metal similar to Neurosis or Sepultura. While Gardner contributed backing vocals for Black Flag on the song "Slip It In," they didn't play that speedy and furious style that was trending in 80's punk rock and metal, instead they dropped their tuning and played thunderous bar chords with Sparks' and Gardner's shrilling vocals dueling back and forth.
L7, a slang word meaning "square," set the precedent for their facetious and comical attitude. They reveled in outwardly offensive behavior; playing under the moniker "Camel Lips" in the John Waters film Serial Mom, titling one of their album's "Hungry for Stink," and throwing a used tampon into a restless crowd at the 1992 Reading Festival, which they were stalling for time during technical difficulties.
Throughout all the controversy in their career, they also exploited their popularity to promulgate the issue of women's rights, starting Rock for Choice, a series of benefit concerts that lasted over the span of ten years with the support of Nirvana, Bad Religion, Foo Fighters, Pearl Jam, Rage Against the Machine, Hole, Joan Jett, Red Hot Chili Peppers and many others. The origin of the concert came during an interview with Sue Cummings for the L.A. Weekly, in which L7 said they were going to advertise one of their shows as "Rock for Coat Hangers" and donate the proceeds to a pro-choice group. Cummings urged them to consider pursuing the idea on a larger scale to raise funds for abortion access, and with the help of feminists organizations and Feminist Majority group, the rest became history.
While they were respected around the rock and grunge world for their politics, they were also recognized for their musical talents. Their third album, Bricks Are Heavy, produced by Butch Vig (Nirvana, Smashing Pumpkins), was featured in Rolling Stone's May 1999 list of 'Essential recordings of the 1990s', while 1994's Hungry For Stink produced one of their biggest singles, "Andres," and featured the song "Fuel My Fire" that was later remixed by the Prodigy on their critically acclaimed album, Fat of the Land.
Their last album, Slap-Happy, was released in 1999 to meager success. They attempted to promote the record by having a plane fly over the Lilith Fair and the Rose Bowl with a banner that read, "Bored? Tired? Try L7." The following day, they tried the same tactic with a banner over the crowd at the Warped Tour in New Jersey with a banner that read "Warped needs more beaver…love, L7." That same year, ex Nirvana bassist, Krist Novoselic, released a pseudo documentary containing actual concert footage, of L7's trials and travails being a "punk-like band in a pop-like marketplace."
In 2001, they posted on their website that whey were no longer touring and were on "indefinite hiatus." And in December of 2014, they announced that they were reuniting with their original lineup with a tour and a documentary on the way.
Catch L7 at the Regency Ballroom on Friday, August 28th.