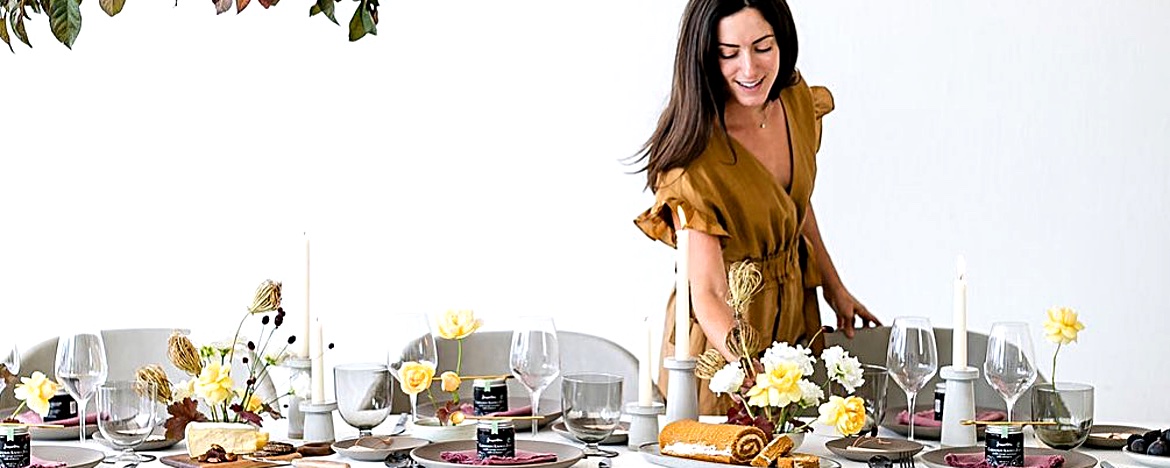 Add These December Eat and Drink Events to Your Calendar
December is no time to fight cliches and traditions. Why bother? This year, instead of ranting about the holidays, embrace the caviar and bubbles, welcome the gifting and receiving, enjoy the occasional festive workshop, and the once-in-a-lifetime celebratory dinners. For those who want spend December doing all of the above, here are some of the best food, drink, and shop events out there.
~~~~~~~~

December 5th: Start Your Month with Butter
It's just a matter of time before you get hooked on Daily Driver's bagels and dairy products. On the 5th, between 6:30-8:30 pm, the on-site creamery's head dairy maker Hadley Kreitz is hosting a hands-on butter paddling workshop, making all of your butter dreams come true. Make the product, take some home, learn all about the proccess and nibble on bagels while you do it. $100 a person, tickets available.
~~~~~~~~

December 5th: Indulge in Caviar and Cashmere
What pairs better than delicious caviar and soft cashmere? On December 5th, between 6-8 pm, The Caviar Company in the Marina is hosting a holiday pop-up with designer Frances Austen, offering caviar bites, %20 off Austen's new collection and the store's caviar selection, and a $45 wreath-making workshop with Matilda's Bloombox. Free to attend, more details.
~~~~~~~~

December 7th: Make Your Own Gingerbread
Prairie chef Anthony Strong is a quirky person. This holiday season, together with the restaurant's pastry chef Alison Sullivan, he's teaching a gingerbread-making workshop, with a special twist – the design is Mid-Century Modern. Join Prairie between 10:30am – 1:00pm to craft a sweet masterpiece, while nibbling on whipped uni and sipping a kombucha bellini. $150 for one house (up to two people, if you can share the joy) – tickets available. Additional workshops are available on December 14th and 21st.
~~~~~~~~

December 9th: Celebrate a San Francisco Institution
In the whirlwind of recent restaurant closures and dramas, it's nice to recognize a local institution that's celebrating a 10-year anniversary. Frances, Melissa Perello's classic Castro spot, is doing just that in December and January, with a series of celebratory dinners featuring female chefs and wine makers. On the 9th, local legend Traci Des Jardins joins forces with superstar April Bloomfield, and the dinner will benefit La Cocina. Tickets are a whopping $250 a person (with wine pairings) but once in a while, the occasion is worthy of the price tag. More details.
~~~~~~~~

December 14th: Go All Out with a Cheeseboard
The holiday season is a pressure cooker, so combining a cool workshop with some holiday shopping makes perfect sense. At the upcoming Head West holiday market, you can peruse artisan gifts and learn how to make a badass cheeseboard, taking home a wooden board and some cheese to go with it. While there, why not throw a furoshiki class into the mix, hosted by Bestowe Gifting. $70-90, tickets and details here.
~~~~~~~~

December 22nd and 23rd: Celebrate Hanukkah a bit differently
Comal in Berkeley is an crowd favorite for a reason. Once a year, the restaurant puts a Mexican spin on the Jewish holiday of lights with a not-to-traditional Oaxanukkah dinner. Feast on tequila-cured Salmon avocado, potato-jalapeño latkes, braised brisket in ancho chile adobo, and finish with chef Matt Gandin's sweet Buñuelos. $80 per person excluding drinks, 1st night tickets and 2nd night tickets here.
~~~~~~~~

All Month Long: Do Amaluna the VIP Way
By now, all your friends have bought tickets to see Amaluna, the opulent Cirque Du Soleil show. Up the ante by subscribing to the VIP experience, which includes premium seats, a cocktail reception with Hennesy Black, a gift bag, hors d'oeuvres and a private terrace. The best perk, perhaps, is the private restrooms, so you don't have to endure long lines in your festive shoes. Tickets available.
~~~~~~~~

All month long: Enjoy the new menu at White Rabbit
The whimsical Marina bar is adding new items to its menu this month, alongside a new live music program on Wednesday nights. Highlights include a fun twist on High Tea, the Mad Platters – an indulgent board of treats like Prosciutto with Point Reyes Toma cheese and fig spread. New drinks are also on the itinerary, with cocktails like Down The Rabbit Bowl, and Banana Flambé, the perfect drink to cozy up with in the rain.
Image Credit: Sarah Eichstedt of Bestowe