Q&A: K Theory Ready to Rage at Oysterfest in Golden Gate Park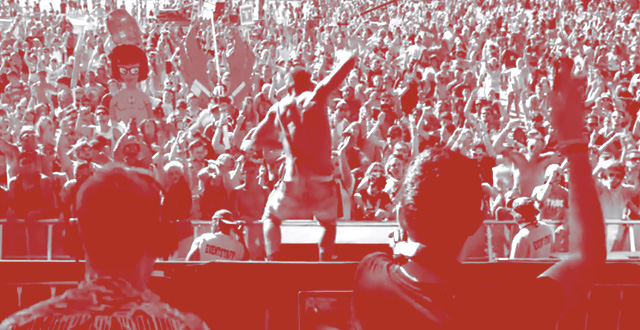 Two noteworthy and local acts performing this year at Oysterfest in Golden Gate Park on Saturday, May 9 are San Francisco-based electronic hip-hop group K Theory along with member Dylan Lewman's side project, deelanZ.
K Theory consists of vocalist Malcolm Anthony and live conductor Dylan Lewman, who samples in partnership with keyboardist Dustin Musser. Rowdy live shows at Coachella the past three years including a memorable Do LaB stage appearance a few weeks back during Tasty Treat's thumping set have all contributed K Theory's meteoric rise.
Also playing a huge role in their recent success is the miraculous return of a healthy Dylan, who had a freak medical emergency a few years ago that nearly cost him his life. Now with a clean bill of health, K Theory will continue touring this summer and intend to stay prolific with new music for the rest of 2015 and beyond. To preview Oysterfest, we spoke with Dylan about growing up in the Bay Area, his side project deelanZ, and the group's craziest shows this year. Check out our conversation with him in addition to the full Oysterfest lineup below.
What music genre best describes K Theory?
We want to claim that we'er pioneering the electronic hip-hop movement. We're truly the only organic group doing electronic hip-hop all in house, not featuring other artists. Pushing this new genre. There's a lot of people looking into the idea of it. I'm seeing invitation groups coming up across the country as we tour. That's something we really want to push heavy is that electronic hip-hop brand.
The beats vary from trap beats to hip-hop beats to club beats. The beats are secondary. There's obviously trap heavy sounds and the remix work is like that. But the majority of our original content is going to be electronic hip-hop.
How has living in the Bay Area shaped your perspective of live music?
I relocated to Berkeley recently. The last five years I've lived there. I've been in the Bay Area my whole life. Both Dustin and I have been in the Bay Area. Malcolm is from New Jersey, so he brings an East perspective and we bring a West coast perspective.
Speaking for the Bay Area in general, you get exposed to all kinds of stuff. Very diverse. My mom was a radio DJ for 99.7 before they were pop, they were a rock station called KFRC. I have her whole vinyl collection and got a whole bunch of good stuff from that. I've been free-flowing through the different avenues of music in the Bay Area.
What do you like most about living in Berkeley?
There's this donut store called King Pin Donuts. We probably go there every night. There's lots of good food and culture. It's kind of city-esque, but you're in a little suburb too. We got a chill place and our neighbors let us bump.
What's your favorite donut?
Well it depends. If its fresh, the donut holes are just so on point. Or, If I'm feeling really turned up, I'll probably get an Apple Fritter.
Where are people most likely to find you in the city on the weekend?
I'm in SF everyday. My vocal coach is out there. I love to write in San Francisco. I go to different places to write, just to get creative and meditate in pretty spots. There's so many pretty spots. I love to ride my bike in the city, it's excellent and really adventurous.
Did you make it to Coachella this year?
I'm actually on a writing retreat in Utah. I'm just writing up here in the mountains in a studio. So it's pretty cool. Malcolm went out [to Coachella] and performed with Tasty Treat. He killed it and said it was really fun. We played at the Do LaB last year, so it was cool to have him special guest there this year.
What was your highlight from Coachella last year?
We played at 5pm and it was like 100 degrees. I'm pretty sure it was the first day we played too. It was sweltering and they had these hoses they were spraying the crowd with. At one point Malcolm hit his head on the canopy or cabana over the DJ booth, which was built out of wood. He was bleeding out of his scalp. He could barely see, and I told him to go rap. So he rapped with a potential concussion and we still killed it. That was a fun time. I was surprised that that stage turned it up so much. I had never been to that stage before at Coachella.
Have you been listening to any of the SF/Bay Area bands recently?
SF bands, that's a good question. I like K.Flay; she's killing it now. She's been grinding for years and really starting to get some good traction. I like A-1, he's a rapper from San Francisco as well. He's one of my favorites. There was this band Local Hero. They're broken up now, they were one of my favorites too.
I have to admit, I'm a little out of touch as far as music goes, locally and just in general. We're working so much on projects and in the studio. Consuming music has become less of a priority with this rigorous schedule. I try to see a show or two when a friend is in town. I'm relatively in a cave a lot of times.
What can we expect this year from your new music project, deelanZ?
I've been working on this project for a long time now. I've been stacking demos. Now I'm sorta plotting this release plan for some singles. I've been playing at these small shows randomly in the Bay Area recently, testing the waters and not telling anybody. It's been really good. I figure it's time to bust it out on the proper stage. I've got enough material for several albums, but just gonna push the singles, make some videos, and have a lot of fun with it.
With K Theory we have a lot of pressure to deliver and hit deadlines. Having a project that's fun with the music is really reinvigorating creatively. I'm excited about it. It's gonna be a good year. It's a different approach to the music than I've taken the past five years.
We've got our own label now and we're 100% independent. Malcolm has his own stuff dropping this year. Dustin has his own stuff dropping this year. All of our friends pushing out their music too. Doing what we want, not being bound by some long release plan. We can actually methodically place it how we want to place it.
There's no egos between us. It's the best group dynamic I've ever experienced. That's the one thing I was worried about when we first introduced Malcolm. It was such a natural connection between all three of us. It was almost fate. There's no egos here. We're just trying to propel everybody up to the top. Doing different stuff, all collaborating on everything. Malcolm on my first single. Dustin and I produced his first single. So we're all working together.
When did Malcolm join K Theory?
In 2013. I met him through a middle school friend. We reconnected, and he said "I have this fire rapper, you have to hear him." I heard him and thought, I need these stems. So we originally started off with a couple remixes. The tacks were so sick, so we thought, why don't we do a live project together? Then we did 18 projects in six weeks. Then he moved to the Bay Area and dropped out of school. We crushed out like hundreds and hundreds of tracks.
It's hard with rappers because they come with big egos, or front-man in general. He was super chill, dropped everything for it, and has been all about the project. Now we're trying to facilitate his growth. He has a vision he wants to be able to achieve as an artist, as we have a vision for what we want to achieve as a collective.
Where was the craziest show K Theory has played so far this year?
It has been a pretty good year. I'm gonna say the most hyped show we played this year was Colorado. We played at the Gothic Theater in Denver on the Crizzly tour. That shit was unreal. Insane!
The weirdest show I've done was when Flava Flav was the promoter and he still owes me $400. I want to get that out there publicly. Flava Flav owes me 400 bucks. It was a festival in the middle of nowhere Arizona. The organizers said the money was in Flav's account and it was gonna take time to transfer. All of a sudden, he shows up at the festival, eating a hamburger, with a clock on. Everybody knew he was a promoter, but it turned out he was the main investor. We're expecting a residency offer for a yearly contract from him.
What changed during your medically induced coma in 2013 that led you to come out of it having the most prolific songwriting year of your life (over 1,000 last year)?
The gravity of nearly dying shifted a lot of priorities for me. Something got lost in the coma, I literally had a spark in me. When I first came out, I couldn't read or write. I couldn't write a melody for the life of me. I couldn't walk. It was fucking terrible. I was like, what the fuck is going on?
The last thing I told myself was that I was way to young to die cause I have so much to say. It was universal will that pushed me through that. So inspiring. Songs, prose, book ideas, philosophy, an unlimited creative life force. It has really put my priorities in a different place.
You didn't reach your goal for your online health bill fundraiser. How were you able to overcome that scary challenge?
My management setup the online fundraiser for me when I was in a coma. It definitely helped a lot. To put in in perspective. To save a life, it costs half a million dollars. It's really expensive. I nearly died four times. All the treatment and everything. That's how they value it. Shit was super crazy. Luckily I'm in a good situation. Financially I'm good cause I had insurance. It didn't wreck me.
——————————————————–
About Oysterfest
Oysterfest is the largest Oyster festival on the West Coast. Beyond the wide variety of oysters brought from farms throughout the Pacific Coast, the festival offers beer and other food options from some of San Francisco's finest restaurants. All food vendors at the event place a huge emphasis on providing healthy, local, sustainably farmed product.
Last year, Oysterfest had Edward Sharpe and the Magnetic Zeros as headliners, with additional performances by electronic day-time disco project Poolside, indie rockers Ra Ra Riot plus up-and-coming soul crooner Crash.
Oysterfest Lineup
Thievery Corporation
K Theory
deelanZ
Grandmaster Flash
GZRUS featuring Opio and Tajai of Hieroglyphics
Late Night Alumni
The Schmidt
Warren G