Madonna showed up, but Coachella didn't have as many surprise guests this year compared to previous years. However, what the festival lacked in surprises, it made up for in authentic, quality sets that rocked the Empire Polo Fields for a weekend of wild debauchery.
FRIDAY
Gorgon City
The Brits brought their A-game for this show, playing a variety of songs from their recent album, Sirens, they took the crowd by surprise with an intricate setup.  Their band consisted of one performer on keys, one drummer and two singers that lit up the room.  The group opened with "Coming Home," the first song on their latest album and proceeded to take the crowd through other hits "Unmissable," "Here For You," and "Imagination."  For their track with Jennifer Hudson they brought out the Grammy winning vocalist to bring the song to life with her soulful lyrics. They also brought Jess Glynne out to do a new track. Chandeliers lined the ceiling of the Gobi tent, as the group mixed in flairs of acid house to their infectious set that had the crowd singing along to their emotive anthems. (Zach Reisler)
ALSO SEE: Photos From Three Epic Days at Coachella 2015
Nero
This duo and vocalist Alana know how to put together an electrifying set. Possibly the best performance of the entire day, they dropped all their old classics, including "Guilt," "Crush on You" and "Promises," while giving the crowd a taste of their upcoming sophomore album, Between II Worlds.  With one intense, satisfying, bass drenched hit after another, Nero inspired a fierce energy in the crowd with a mix of dubstep, electro and complextro. Alana's vocals haunted the space as the beat had crowd swaying and dancing. (ZR)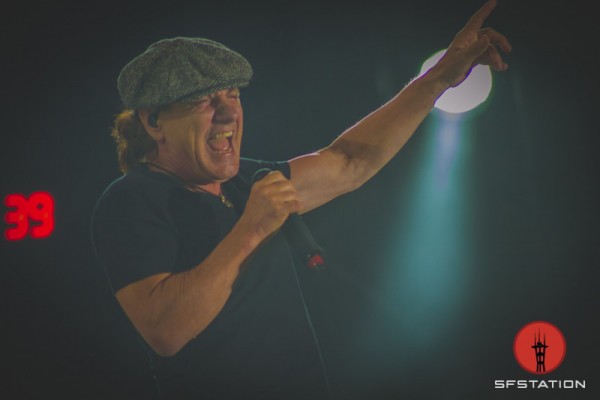 AC/DC
Australian hard rock band AC/DC set the tone for the weekend with a hit-filled closing night set on Friday that included  "Back in Black," "Thunderstruck" and "Dirty Deeds." Despite the band having not performed a full set in six years, guitarist Angus Young still shredded until his knees started bleeding, while vocalist Brian Johnson had no issue hitting all of his dynamic notes. Their encore of "Highway to Hell" was near perfect except for the pyrotechnic climax of fireworks that exploded a few minutes after the band had already ended.  (Carlos Olin Montalvo)
Tame Impala
Another Australian Friday night act, Tame Impala, cruised through a psychedelic performance just before AC/DC took the stage. Their bombastic version of "Elephant" ignited a dancing frenzy with thunderous guitar chords and heavy percussion. In addition, Tame Impala played a couple new tracks from their upcoming album Currents ("'Cause I'm a Man" and "Let It Happen"), which were both happily received by the jovial, day one crowd. (CM)
SATURDAY
Duke Dumont
From the moment Duke started with "Need U," it was clear this set was going to be a fantastic.  Duke spoon-fed emotional and sexy vocals over bassy, deep house beats.  After leading us in with a hit-packed intro, he took it down to an ethereal, sensual vibe with some loungey chords on top of ticking high hats.  The crowd went wild for his remix of Tensnake's "Love Sublime."  This was one of the best Saturday sets. (ZR)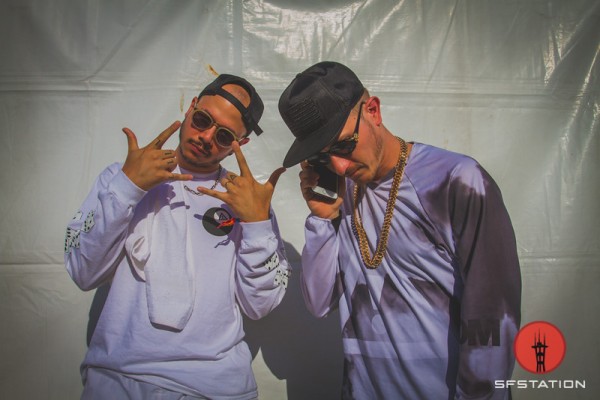 Flosstradamus
This was Floss' third time at Coachella but their first time playing at night. They had total command of the stage and incited a giant mosh pit front and center for their track "Mosh Pit." Before the show, we spoke with Josh and Curtis.  They admitted to staying up until 6 am working on their set.  When asked what it means to be back at Coachella for the third time, Josh said, "Coachella is the Glastonbury of the States —the premier festival. It's an honor just to be on the lineup."  (ZR)
SBTRKT
Manipulating a host of analog synthesizers, SBTRKT created strange, powerful sounds on the fly to mix together his set.  He played "Wildfire" right off the bat to get things going, and then brought out Denai Moore to sing "The Light" with her hauntingly beautiful voice. The set felt very experimental, with long stretches of random, arrhythmic noise in between tracks. The visuals were bright, displaying a moving version of his last album cover—a bright red background with moving chrome hands. (ZR)
Jack White
Saturday headliner Jack White stormed the Coachella stage with vigor. He held back on his notorious ranting about the big business of the music industry, but instead screamed, "Music is sacred!" to the rowdy audience. He played hits from his White Stripes days like "Hello Operator" and appropriately concluded with a rousing rendition of "Seven Nation Army," just as everyone hoped. (CM)
Ratatat
Electronic instrumental duo Ratatat had some technical difficulties getting their set started, and once they got going, the pace of the beats per minute may have been too slow to close the normally upbeat Sahara tent. A few highlights from their show were "Loud Pipes" and "Seventeen Years," but their visuals lacked in sophistication compared to their previous appearance back in 2011. The band did debut new material, "Cream on Chrome," which is the first single from Ratatat's fifth album, due this summer. (CM)
Gramatik
Gramatik opened with hard electro at a perfect mid-tempo BPM. His signature gritty funk and crisp horns got everyone rowdy during the middle of the hot afternoon.  With a wealth of soulful vocal samples chopped to perfection, he kept heads bobbing throughout the tent. The crowd went wild when he dropped a glitchy, bassy remix of Stevie Wonder's "Superstitious."  (ZR)
Chet Faker
Chet opened with a swaying hip-hop beat while he triggered different vocal samples on a drum pad, accompanied by a guitarist that supplied more funky riffs and a drummer/keyboardist.  Chet's sultry voice serenaded the crowd over resonant minor chords.  He picked up the energy with his "No Diggity" cover, doing a call and response with the crowd on the "hey-yos." The girls swooned over his soft voice for a chill daytime set sprawled out across the outdoor stage. (ZR)
Axwell / Ingrosso
Two-thirds of Swedish House Mafia delivered a fun set that unfortunately felt too much like Swedish House Mafia from a few years ago.  They threw it back to all the classic Swedish hits: "Leave the World Behind," "Don't You Worry Child" and "One." While not much has changed for the Swedes, it was a well-crafted set, taking the crowd soaring on progressive buildups and diving into euphoric drops.  Flashy pyrotechnics and confetti accented their big room tracks. (ZR)
SUNDAY
Claude Von Stroke
Dirtybird records founder and San Francisco local Claude Von Stroke played an onslaught of booty and tech house paired with trippy visuals of old movie clips interspersed with psychedelic birds. The Sahara tent was full early for the daytime set with loyal Dirtybird fans ready to support the label owner as he mixed current Dirtybird bangers like Justin Martin's "Function" and Kill Frenzy's "No Panties." (ZR)
What So Not
Ever since Flume broke away from What So Not a few months ago, uncertainty has surrounded Emoh Instead as to whether he could carry on the momentum of the former duo.  He proved that he could, deserving an honorable mention for his seamless mixing between different genres and BPMs.  He started off with some deep house before dropping walls of bass to a receptive audience with trap banger after banger.  From dark, moody deep house to 100 BPMs, Emoh kept it fresh and gave the fans a healthy dose of 808s. (ZR)
Kaskade
As the sky turned dark, Kaskade played to a packed main stage crowd.  He started out with favorites like "Atmosphere" and "Turn It Down" with an enthusiastic crowd supplying the vocals. Kaskade brought quite the elaborate stage setup, consisting of what looked like half of Stonehenge made of LEDs. The set closed with a personal note to the crowd: "I've been [playing Coachella] since 2006, and to look out on this ocean of people is amazing.  You are beautiful." (ZR)
Florence + the Machine
Florence + the Machine effectively navigated their Sunday night set with a mix of new and old tracks. Lead singer Florence Welch showed her enthusiasm for the moment by asking crowd to remove one article of clothing to spin it above their heads, and she herself participated by taking her shirt off as motivation. She got the crowd jumping during their hit single "Dog Days," but her peak moment could have been her slowed down version of Calvin Harris' produced single "Sweet Nothing." (CM)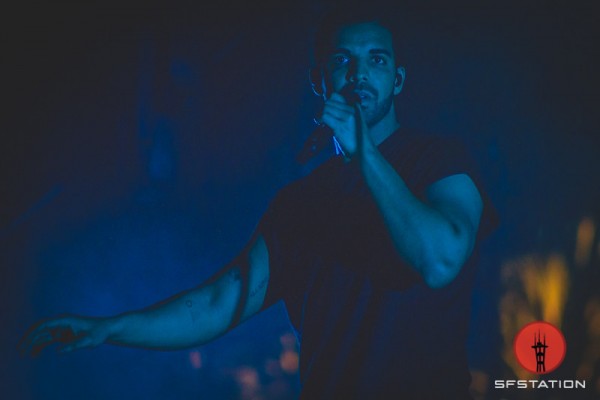 Drake
Playing the diva rapper role to perfection, Drake showed up 30 minutes late for his closing night Sunday set. He started with a simplistic stage setup with just him in a jacket and a bare blackness behind him. Eventually the stage began to shine with snowy and nature themed visuals as he ditched the jacket. Drake wove "Coachella" into a bunch of his raps and shouted a few brash, verbal jabs about how he was certain he'd slay the stage. The strangest moment of the weekend took place when he invited Madonna to the stage for a performance of his track "Madonna," a song off of his latest album If You're Reading This It's Too Late. Madonna thanked him for his graciousness with a passionate kiss that looked unexpected to Drake. (CM)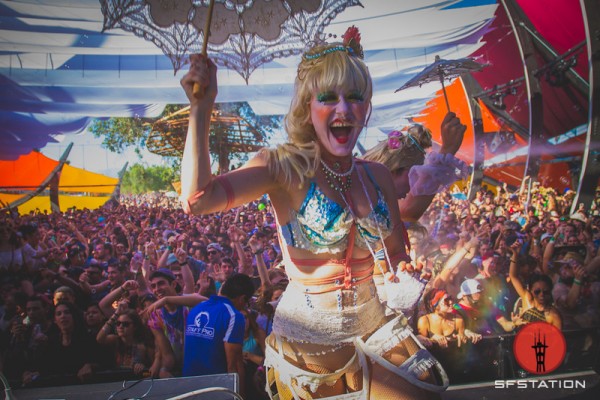 The Do Lab
The DoLaB took their stage's performances to new heights with an industrial metal frame, a wooden crow's nest in the middle for A/V crew, and LED lights running along the spires. Surprise act Bonobo closed the stage on Sunday night with a down-tempo electronic style that still stayed upbeat. Bubbles floated among the nighttime crowd that enjoyed a final dance of Coachella before the end of the festival weekend. (CM)
What were your Coachella highlights? Leave a comment below.