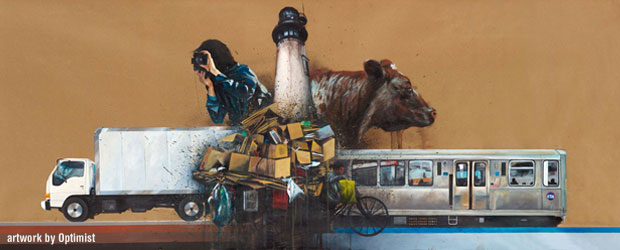 WIN TICKETS
Live105 Spookfest Subsonic Halloween Massive
Ft. Empire of the Sun, Sebastian Ingrosso, ATrak, Nervo and more!

Enter to Win
Treasure Island Paradise in SF
The sun finally sets on San Francisco's outdoor festival season with a spectacular view this week at Treasure Island Music Festival, featuring two days of music from acts like Atoms for Peace, Beck, Major Lazer and more. NightLife at California Academy of Sciences gets the party started early with Thao & the Get Down Stay Down and French Cassettes. Masquerotica pairs San Francisco's fascination with costumes and sex with a Halloween-flavored DJ party (visit our Halloween Guide for more options) and Brews on the Bay brings more than 50 breweries to San Francisco's waterfront. Karl Denson's Tiny Universe throws a Ray Charles Boogaloo Dance Party and Junip stops at Bimbo's. Public Works welcomes DJ Harvey and 80s icon Boy George is in the mix at Mighty for a DJ set with Marc Vedo.

Congrats to our Treasure Island VIP Ticket winner Marissa S!
Thu Oct 17 at Bimbo's 365 Slub

Founded in 1998 in Gothenburg, Sweden, the band is known for their driving motorik rhythms, psychedelic atmosphere, and dense synth textures...
Thu Oct 17
at Cal Academy of Sciences

Live music by Thao & the Get Down Stay Down and French Cassettes, DJ set by Push the Feeling.
Now - Sat Oct 19 at various locations

A mix of readings, panel discussions, themed events, and general literary mayhem - from a wide range of Bay Area authors...
Fri Oct 18 at Public Works

Best put by Harvey himself "You can't understand the blues until you've had your heart broken and you can't understand my music till you've had group sex on ecstasy".
Fri Oct 18 at Mighty

Boy George is universally recognised as one of the music industry's most iconic artists and for the past 30 years has maintained a strong position at the forefront of this ever-changing, multi- faceted industry...
Fri Oct 18 at Rickshaw Stop

"Sonically, the songs from these sessions are delicate and tight, yet thoughtfully open up to the rich lushness reminiscent of their older material. Lyrically they are honest and vulnerable, demonstrating the group's emotional growth and maturity..."
Sat Oct 19 - Sun Oct 20
Featuring Atoms for Peace, Beck, Animal Collective, Major Lazer, James Blake, Little Dragon, Sleigh Bells, Phantogram, STRFKR, Disclosure, Holy Ghost!, Japandroids, Tricky, Real Estate, Lord Huron, DJ Falcon, HAIM, Poolside and more!
Sat Oct 19 at SF County Fair Building

San Francisco will be forever known worldwide for the "Summer of Love," which was a defining moment of the 1960's. Come re-live this era and celebrate the psychedelic art of the 60's, as well as contemporary rock art...
Sat Oct 19 at Factory 525

Some of the world's top electronic acts perfect for a dance party w a sexy twist, including Brazilian electro house super duo Felguk, and long time playa favorite Freq Nasty...
Sat Oct 19 at Jeremiah O'Brien Liberty Ship

Enjoy over 50 different beers made by San Francisco breweries, while soaking up the salty air, sunshine, live music, food, and spectacular views...
Tue Oct 15

Wed Oct 16

Thu Oct 17

Fri Oct 18

Sat Oct 19

Sun Oct 20

Mon Oct 21

| | |
| --- | --- |
| | by Shaina Tsan |
| | |
| --- | --- |
| | by Keith Mizuguchi |
| | |
| --- | --- |
| | by Keith Mizuguchi |
| | |
| --- | --- |
| | by Martin Malloy |
| | |
| --- | --- |
| | by Keith Mizuguchi |
| | |
| --- | --- |
| | by Matt Crawford |