San Francisco's Dogpatch neighborhood is quickly emerging as a hot spot for restaurants, bars and breweries. One of those projects, slated to open next month, is The Third Rail from the team behind Range.
Range chef/owner Phil West and bar manager Jeff Lyon said the idea for a stand-alone bar, located at 20th St. at 3rd St., has been in the offing for awhile now.
"We felt this was the right time and the right place. This was a neighborhood we liked and this is a bar that we really wanted to do," Lyon said.
In fact, West said that before settling on the Valencia location for Range, he and his wife actually looked at the Dogpatch area.
West said The Third Rail will be the epitome of a neighborhood bar. "We really like the vibe of the neighborhood. It has a lot of similarities with the Mission when we first opened Range," he said. "There is so much potential in the Dogpatch and it is such a tight-knit neighborhood. When we've checked out the space, people have come up to us and asked about the bar and they've all been so friendly and welcoming."
Lyon's cocktail program at Range features seasonally and ingredient driven drinks, with an emphasis on "handling cocktails like you would handle food." But he said things will be a bit different at The Third Rail.
"First off, we don't have a kitchen, so a lot of the process in making drinks will be streamlined," Lyon said. "While we will have a seasonal section on the menu, the drinks will be more spirit driven. It will be a really focused list and might not change as much as some other cocktail menus do. Since there is no food aspect, I am being more aggressive with the cocktails, making sure they stand alone and seeing how far I can take certain flavors."
The only food on the premises will be a jerky bar —yup, a variety of dried meats.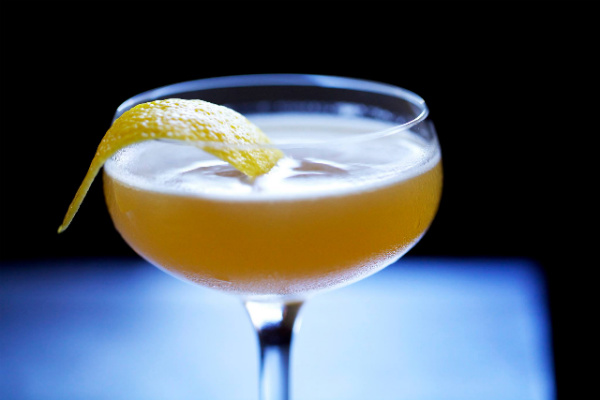 The design of the space is being handled by Paxton Gate, who have been charged with transforming the space into West and Lyon's idea of a neighborhood bar. The name of the bar not only comes from an early cocktail that made its way onto Range's menu (The Third Rail, pictured above), but also as an ode to the neighborhood, with the Muni T-line running down 3rd Street.
"There will be some ideas from classic train stations, but we also didn't want to make it a train-themed bar," West said. "It will have a mid-century aesthetic and almost an art deco feel." Lyon said there will also be several different seating areas, for those traveling solo or for larger groups.
The hope is for the bar to open in the beginning of November, though West and Lyon said the date could get pushed back closer to Thanksgiving. The Third Rail will be located at 628 20th Street, near 3rd Street.