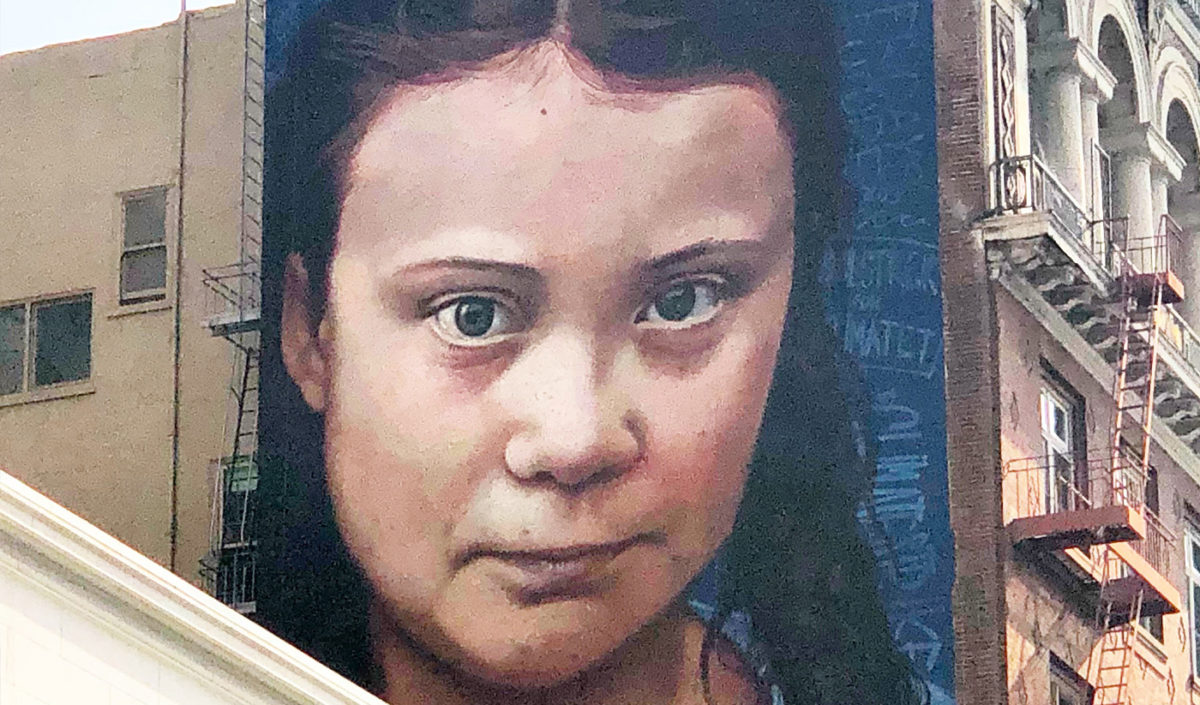 New Greta Thunberg Mural in San Francisco's Union Square by Argentinian Artist Cobre
Swedish teen activist Greta Thunberg is coming to life in downtown San Francisco today. The artist known for hyperrealistic eyes seen on his other local murals of Dali in Alamo Square and Robin Williams (now demolished) on Market Street has begun work this week on a massive mural in tribute to the climate activist just above the music venue August Hall on Mason @ Post Street.
On Tuesday November 12th at 6pm there will be a San Francisco's Greta Thunberg Mural Dedication with SF Symphony and Brass Ensemble: "For those interested in meeting the artist, organizers, and other participants, we will be getting together in the library on the eighth floor of the Native Sons Building at 414 Mason at 6 p.m. to say a few words. Then we will dedicate the mural at 6:30 out on the street. Event Details
The epic Greta Thunberg mural now being created in downtown San Francisco is a collaborative project between One Atmosphere and renowned muralist Nino Cobre, whose work has received high acclaim across the world. Greta's importance to the fight against climate change is unmistakable. She has given youth a more powerful voice than ever before, and her FridaysforFuture movement provides a clear message for how we can change for the better. One Atmosphere is also grateful to The Native Sons building, which generously agreed to make its prominent location in downtown San Francisco available for the mural.
See also:
One day last summer, Greta Thunberg skipped school, sat down outside the Swedish parliament—and launched a movement that's still going strong – WIRED
Robin Williams Visage Graces Market Street
8 New Works of Art Revealed Near Alamo Square Park
One Atmosphere is a registered 501(c)(3) non-profit organization dedicated to promoting the fight against global climate change and preserving our environment for generations to come. We accomplish our mission through projects that help everyone get involved by making changes in their everyday lives. – oneatmosphere.org