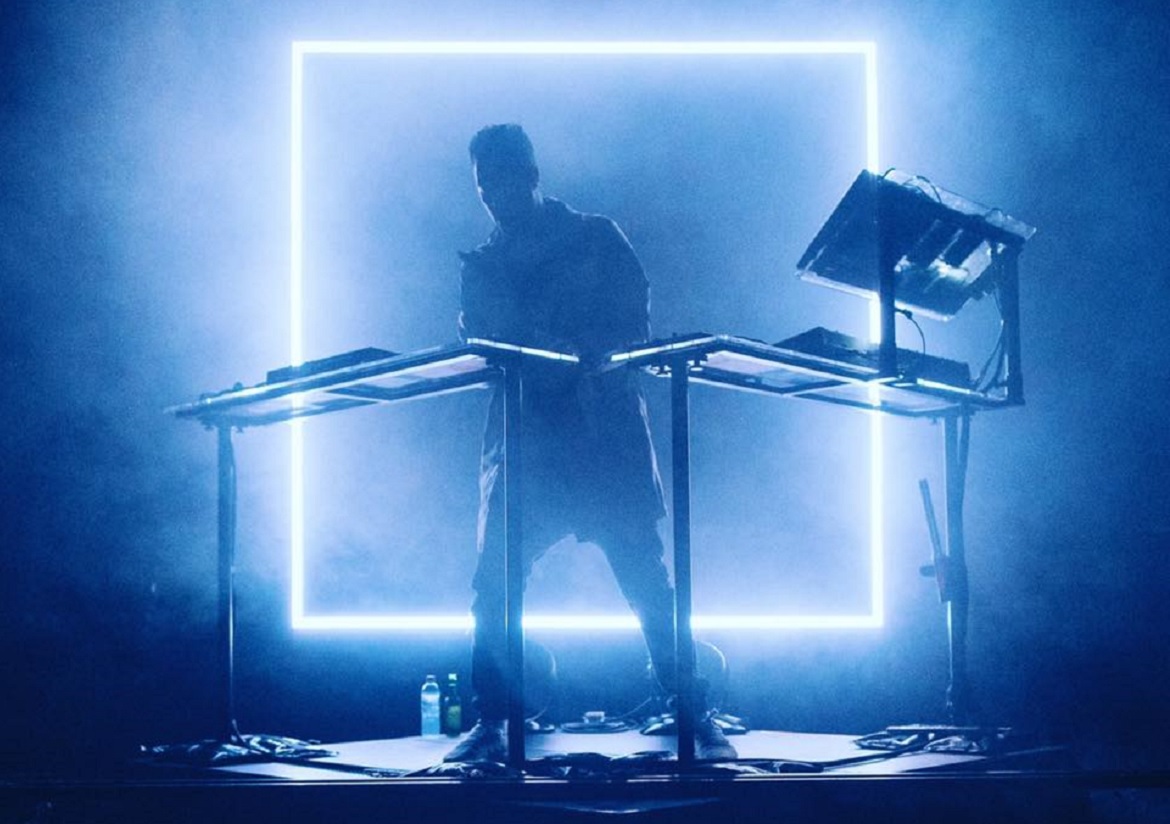 Q&A: Australian House Act Hayden James to Showcase Debut Album at Regency Ballroom
Australian songwriter and record producer Hayden James is visiting San Francisco this month as part of his headline tour. He plays the Regency Ballroom on September 13th in support of his debut album, Between Us.
Between Us was significant for James; it took years to develop. He contributed all of the original lyrics and collaborated with other artists like Panama, GRAACE, Elderbook, Boy Matthews, and Running Touch. His groovy electronic sound interlaced with pop elements makes for a perfect combination that creates ideally sensual club vibes.
To preview his SF show stop, we spoke to Hayden James and learned more about the origins of the album, his experience working with Katy Perry, and what he likes most about San Francisco.
~~~~~~~~

What were some of the stages you went through during the six years of developing your debut record?
It's been a long journey for me. The first album, for a lot of artists, is the most important statement. It's the first time you put yourself out there with a huge body of work. I needed to figure out exactly what I wanted to say and how I wanted to say it. There are some demos in there I wrote five to six years ago that were updated. Most of the album was written in the last 18 months to two years.
What's been the most surprising feedback you've received after releasing Between Us?
I'm just excited that one, people enjoy it, and two, people can listen to it from the first song all the way through and not skip through a track. That's another reason I wanted to release an album I was proud of. Some of my favorite albums are the ones I listen to the first track and you just leave it on. It's like a lifestyle record. That was really important for me to have fans and listeners engage in that way and enjoy every song. That's a big piece of feedback I love.
What makes Future Classic such a special label for helping to develop incredible music talent?
They are pretty good, aren't they? Their track record is amazing… Flume, Flight Facilities, Touch Sensitive, Chet Faker to name a few. It's great to be a part of an Australian label which has now branched into the U.S. and has an office in LA. The guys are super nice and very particular in who they sign. That's definitely part of their success. They aren't after the quick bump with that artist with just one song. They want to grow with you. I've been with them my whole career. I know the guys really well. Everyone is really professional and fantastic at what they do. Also, before I even signed to them, I'm a big fan of the label anyway. It's all working out with them.
What did you learn from co-writing with Katy Perry back in 2017?
That taught me a lot about songwriting. We spent two weeks in the studio just her and I. It taught me to get the idea out really quickly. You don't have to produce it up and make it sound amazing. It's more about getting that initial idea out first and figure out how it sounds later. It was pretty nervewracking the first couple of days being with her. Getting to know her over the two week period, we really clicked and wrote some great stuff. One of them ended up on her record that I was really happy about. There were about four or five tracks that we finished that I hope we see the light of day one day.
How did you get the idea to create 3D light squares for your live show?
I've been working for a couple of years with the same lighting designer. His name is David Phyllis and he'll be joining me on the U.S. tour. We've been upping the production every cycle, every time we go on tour. For me, it's really important to create theater when I tour. I think I get that from touring with the Odezsa guys and the RÜFÜS guys. It's about playing the music one, in a different, exciting way for fans. And two, when people see it live for the first time, it's quite exciting. We didn't want to do a huge production like LEDs. A lot of people do that. I've done that before. We're kind of thinking outside the box no pun intended. We created these squares that show a lot of different lighting design techniques and things like that throughout the set. I'm excited for you to see it. It's a good feeling.
What are some of your tactics for calming your nerves when performing on stage?
It's good I feel nervous because if I didn't, if I was walking on stage and just blasé about it, I would feel a bit disappointed. To be honest, I enjoy the nerves. It hypes me up. When I get on stage, it all makes sense. I feel excited to be performing. It takes time to get into a groove sometimes. If you're traveling and lot and things. It's more of an anxious excitement than being nervous. I don't have any great tips for getting over it. I guess it's just get on stage and then it disappears.
What advice would you give to aspiring musicians who might be looking to follow your path?
I've done a lot of different types of touring and DJing and not writing music and writing albums. I've done quite a lot of stuff in my career so far. I guess the one thing to say to people is just keeping going. Don't look at what other people are doing. Just keep being true to yourself. Just keep writing the music you want to write. Eventually, if it's good, people are going to listen to it. Send stuff out. Send stuff to labels. Send stuff to friends to play in their sets. Connect with people. Social media is so amazing these days. There's a lot of kids that hit me up on Instagram and say hey listen to this, whats your feedback, what's your favorite synthesizer. I always reply to them. It's just being proactive and social and just keep going.
What do you miss most about Australia when you're abroad?
One, my family for sure. My wife Jennifer travels with me and has travelled with me basically for my whole career. We just had a baby boy James. For the record, my last name is not James so I didn't name my son James. Missing my family because they aren't going to be on this tour with me. Also, just generally being in Australia. I live by the beach as well. Just the lifestyle we have here. I don't miss it too much because I get the opportunity to play music for people all around the world. It's just amazing to do that and meet people who like my music.
What do you like most about visiting San Francisco, California?
I've been many times. My older brother actually lived in San Francisco for eight years. Before I even started writing music, it was a goal of mine to be able to travel to San Francisco and perform and have him and his friends come watch me. I've done that a few times now. The last show I played was at Mezzanine and then at 1015 Folsom. It's a really special city for me because it's got some of my family members that live there. I just love the city as well. I say my favorite part is where he used to live. It's in the Mission. We used to go to Dolores Park a lot. I'm a big fan of the city, a big fan of the people, and I'm so excited.
~~~~~~~~

Hayden James
Friday, September 13th, 8pm
at The Regency Ballroom, 1290 Sutter Street, San Francisco