Q&A: RÜFÜS DU SOL Play Back-to-Back Sold Out Shows in Berkeley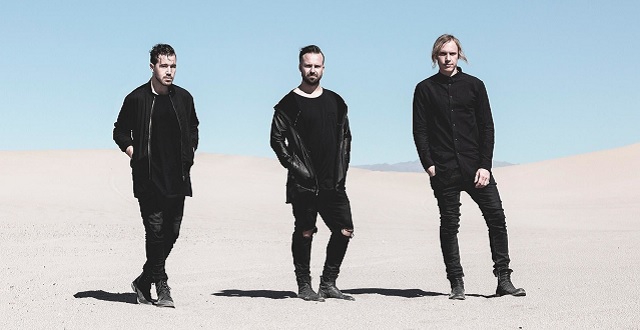 Australian live electronic trio RÜFÜS DU SOL has two global tour stops at the Greek Theatre this week in support of their third album, Solace. The band consists of lead vocalist Tyrone Lindqvist, keyboardist Jon George, and drummer James Hunt. Collectively they create anthemic, house-inspired music.
Solace was released late last year and the group has been touring worldwide since its release. Although the new material is darker than their previous efforts, it still maintains a retrospective, soul-driven sound that's become signature to the band's success.
As a preview for the two upcoming shows at Berkeley's Greek Theatre on July 19th and 20th, we spoke to James Hunt to learn more about the band's history, live performance elements, and why San Francisco is a special place for RÜFÜS DU SOL.
~~~~~~~~

What's the story behind the band's formation and how did you guys hone your initial sounds?
I guess we've been together for almost ten years now. It blows my mind a little bit. I've known Tyrone the singer since I was like 13. We went to the same high school together in Sydney, Australia. We were always seeing each other around the music department at our school, playing in different ensembles and different bands. We knew each other through some mutual friends who were also into music.
There were probably five or six years where we knew each other existed and see each other around at different band competitions and stuff. But then after school, people were playing in different projects. One of our friends, his older brother, Jon, is the third member of the band. It's a series of friends who knew each other from different schools in Sydney. We all figured out we were into the same live electronic brothers. Like the Chemical Brothers, we all have a lot for them. Different types of house music. From there, we just kept it rolling.
Do you participate on the vocals or is it just Tyrone singing?
In a way, the entire writing process is really diplomatic. Tyrone sings, but we allow anyone to contribute any sort of vocal melodies toward the vocal. In the same way the drum programming, I play drums in the live show, but if anyone has any rhythmic ideas, they contribute.
When we're writing a record, I probably spend most of my time writing synth parts and chord progressions. It's a really cool, open-ended process. It's been really cool working with Tyrone. He has really great intuition and very cool vocals ideas. It's definitely his strength. It's cool that we allow each other to contribute. It keeps it fresh.
How does your performance style differ in a live environment vs. playing a DJ set?
Inherently, when we play live, it's a live band. We've always sought to make the live show very much a band experience. A three-piece band. It's also really cool. We get to play in between two worlds. Purist electronic and also purist band music. Having live drums, live guitars, handle all the synthesizers, live vocals. That's the live show experience realm. We get to play in that realm and have little breakdowns and jams. From night to night the paths are slightly different. I'm not always playing the exact same part. Little insulars jams. We allow our musicianship to come through. It keeps us on our toes a bit.
Conversely, when we DJ, we get the opportunity to play music we're inspired by. Stuff that's more dance-oriented where you can sink into a groove. It's more about curating a vibe and sharing music. In the same way, when we're writing music, we're constantly sharing stuff that we find that's really inspiring. We get to do that, all three of us, when we DJ.
Solace is your darkest project yet. How did you emerge from that darkness and detach from those emotions while you've been on tour lately?
Definitely, this was darker and the more emotionally raw experience of making an album and end product. In that same way, it was also the most cathartic experience of making music we've had. It was more each of us drawing on our personal experience and putting it on a canvas. Firstly, putting that out into the world in October last year. Also, in turn, playing the new songs in front of people, that has had an extra catharsis for us.
It's kind of easy to emerge from it. A really big light. A sense of positivity seeing this kind of music. Even though some of the music is darker and more somber, it has such a euphoric reaction that people seem to be relating to it somehow. In the live show, you see people singing along to it and crying in the front row, which is just a really ridiculous experience for us. Especially when we first started playing these songs live. Are they going to translate? Some of them are not as high energy as our previous stuff? In a way it's been as high energy. It's naturally evolved and it allows the live set to have light and shade… Meander[ing] through different moves and space. We've enjoyed playing it.
Do you have plans to pursue more interactive experiences like the 360-degree short-film inside Coachella's HP Antarctic Dome?
I definitely think after doing that, we are way more open to a different way of interacting with music or a style to approach it from. We really loved it. In a way, when we're writing music, we're leaning into cinematic expanses [and] spaces. Doing that 360-degree HP dome at Coachella was purely leaning into that and the sound designer element of it. Mixing the thing with the audio engineer in the tent with surround sound. It definitely opened up our horizons a bit. We've discussed since then, other ways of doing little projects like that in the future, from like, scoring films and other interactive spaces. It's definitely something we're really open to.
Are there any types of venues or environments you want to play in the future?
The cool thing about the past few years, We've been having the opportunity to play iconic outdoor venues in the U.S. Like playing Red Rocks. Playing outdoor amphitheaters. We played the beautiful Santa Barabra Bowl recently. There's another one our friends is telling us, Meow Wolf in Santa Fe. Apparently, it's an amazing installation based weird wonderful extravaganza. It has live music inside of it, like an electronic wonderland. Those types of interactive spaces are really interesting. We're constantly pinching ourselves that we get to play amazing venues that five years ago would have never thought we would play. We're actually doing this now.
This is your 7th show in the San Francisco Bay Area, and obviously the biggest. Do you have favorite memories from previous visits or places you like to go while you're here in SF?
In general, San Francisco is one of the lynchpins of touring the U.S. The first official headline show we played in SF was at Rickshaw Stop back in 2014. Before that, we had only come to the U.S. once… There's clearly a very big array of iconic music venues like the Fox Theater in Oakland and playing The Fillmore; that was amazing… seeing all the posters of all the bands that had played there. It's very much a big part of our story of coming to the U.S. and starting to tour over here. We have a lot of friends in San Francisco there now. It's a really special place.
~~~~~~~~

RÜFÜS DU SOL
with The Acid and Willaris. K
Friday, July 19th & Saturday, July 20th, at 7pm
at Greek Theater, 2001 Gayley Road, on the Cal Campus in Berkeley