Day 3 Recap of Outside Lands 2019: DJ Koze, Kacey Musgraves, Leon Bridges, Bob Moses, Toro y Moi, Anderson .Paak, Kygo, Paul Simon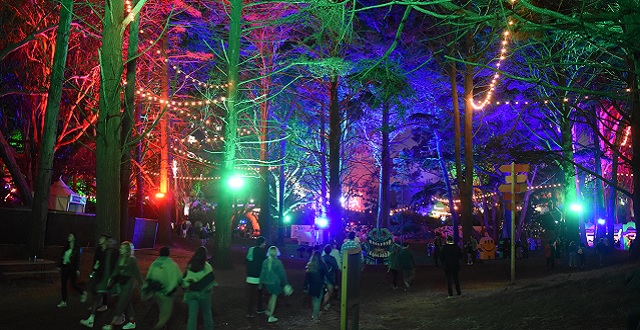 The Sunday Funday scene celebrated the culmination of a lovely festival weekend, and loyal patrons that made it to all three days deserve a gold star simply for effort. Check out our last summary of highlights from third and final day of Outside Lands 2019 (as well as recaps from Day 1 and Day 2).
Mr. Sunshine shined bright over Golden Gate Park for a good majority of the afternoon and the evening hours were nowhere near as chilly as the night before. Crowds were significantly smaller than Saturday, which made maneuvering grounds a manageable task. However, fatigue was a real factor for fans and staff, as evidenced by the gassed faces of three-day attendees, plus a few more unexpected undulations in audio volume and quality. Nevertheless, it can't be understated how tremendous a success it is to have over 200,000 people collectively over the course of the weekend come together as a community to embrace the power of music and love, with zero significant incidents.
Alternative rockers Judah the Lion took control of the early afternoon with an upbeat set at the Lands End stage. Their hit track "Suit and Jacket" sounded strong, but even more welcome were a couple of unexpected cover tracks like blink-182's "All the Small Things."
DJ Koze delivered the disco goods at the Sutro stage, using a no-nonsense stage design with a few plants next to his turntable setup. He kept the afternoon audience in good spirits thanks to his funky, uptempo beats with wispy and lengthy transitions. A bubble machine spraying colored orbs to float above the center crowd helped maintain a fun atmosphere.
Country songstress Kacey Musgraves, decorated in all black with rainbow rhinestone cuffs, started her string of tracks with some sensually slow tunes like an extended edition of "Golden Hour." Her in-between song commentary with the audience included a sincere thank you for all the recent support and an acknowledgment her silly Coachella chant, which she then proceeded to effectively re-enact the exercise for which everyone knew the drill: I say yee, you say haw, yee-haw. Kacey brought the energy to the next level when she sang a powerful rendition of "I Will Survive," and concluded her day with her groovy tune "Space Cowboy."
Soul act Leon Bridges looked confident showing his musical and stage prowess with a comfortable series of songs matching the afternoon vibe perfectly. Armed with a fancy haircut, mutton chops, and dressed in a custom denim jacket and pant combo, Leon and his crew of backup singers brought a Jazzfest-like vibe. They really got everyone swaying during his emotive track "Beyond," but then brought back the beats with his funky tune, "Smooth Sailin'."
Downbeat electronic duo Bob Moses, experimental chillwave act Toro y Moi, and rapper Anderson .Paak each had good-sized audiences for their back-to-back-to-back sets at the Sutro stage. The first two secured a relaxed vibe despite intermittent changes in speaker volume. .Paak had some audio challenges as well, but he brought the most energy of the three acts plus some pyrotechnics. His most important contribution came in the form of a poignant delivery of his track "6 Summers" echoing calls for gun control.
The Panhandle stage had moments throughout the weekend that felt like Coachella's Do LaB stage, and the Sunday performance by The Funk Hunters was definitely one of those. They crushed it hard with multi-genre explorations of techno, glitch, and dubstep. Their super fun and groovy remix of Justin Timberlake's "Suit & Tie" had the intimate but energetic group bouncing off the walls. The ultimate hammer drop came when they capped off their set with an explosive remix of The Beatles' "Come Together," which felt perfectly-fitting given that's exactly what Outside Lands is all about.
Kygo had no fear taking over all the screens and space on the Twin Peaks stage, navigating a 75-minute mega set, reminding fans just how many hit electronic and house anthems he's created in his young career. His piano play, along with serenades by his guest singers, helped make the experience feel special, particularly so when the fireworks, smoke cannons, and other pyrotechnics were activated. The cherry-on-top moment of his set came when he dropped a powerhouse remix of AC/DC's "TNT."
You couldn't have asked for a better Sunday headliner than Paul Simon, not only because of his incredible talent but also his high caliber human character. He seized the moment forcefully, dazzling fans with just the right vocal notes and percussive tempo. Everyone lost their minds when he started singing "You Can Call Me Al," and the pinnacle moment could be felt when the horns blared during the song's iconic chorus. A surprise appearance by Bob Weir of the Grateful Dead felt extra special when they performed a duet rendition of "The Boxer."
See more: Outside Lands Festival Sunday in Photos