Day 2 Recap of Outside Lands 2019: Santigold, Big Wild, Flume, Justin Martin, RL Grime, Childish Gambino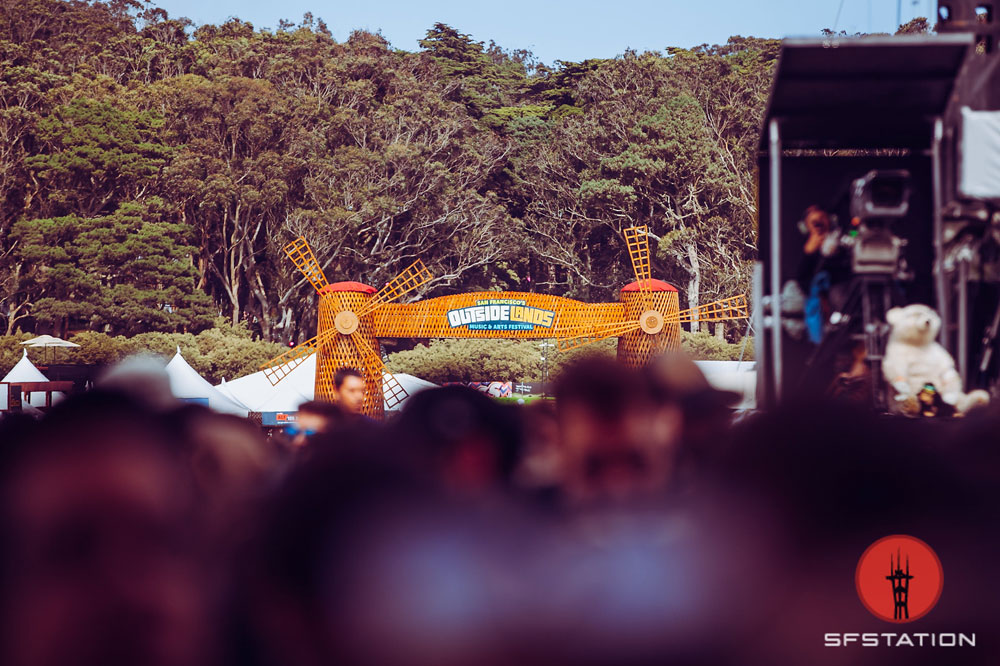 Saturday of Outside Lands always takes it up another notch given the full weight of the weekend, and this year was no exception. Below is a summary of highlights from day two and we'll back tomorrow with one more recap. Everybody better dig deep for day three…enjoy the final day of frolicking and dancing!
As expected, the sold-out crowd made navigating the festival grounds much more difficult than Friday. Karl the Fog remains undefeated in August and had a complete takeover of the park beginning in the early afternoon. Of course, the colder outdoor scene made for a more authentic San Francisco experience. A few audio issues at some stages persisted into the second day, but they were minor compared to the start of the festival. The Saturday scene of thousands of people was inspiring – not only did everyone happily co-exist at the mega gathering without too much tension but more importantly, most attendees proudly embraced a community spirit crystalized through music and friendship.
Dancehall-inspired singer-songwriter Santigold was unable to start on time due to challenges with stage audio, but she made a bold decision to get started without everything working properly, acknowledging to the crowd that she'd rather play for them than make the fans wait. The bet paid off big-time with a strong, raw performance for the first few minutes that not many have witnessed before from the eclectic artist. After a couple of songs, the sound kicked back in and she was able to tear it up with favorites like "L.E.S" and "Say Aha."
The heavy dose of electronic music acts on Saturday dialed up the energy, beginning with Big Wild, who started his set with some sounds that seemed slightly soft. Wearing white pants, he danced across the stage and led a few call-and-repeats with the Twins Peaks crowd. His pinnacle moments came when he breezed through an appropriate rendition Steppenwolf's "Born to Be Wild" as well as when he dropped back-to-back hit tracks "When I Get There" and "Afterglow."
Experimental electronic producer Flume already had a history of crushing Outside Lands, so fans were eager to see how he was going to enhance the experience on the Lands End stage. He definitely didn't disappoint, donning a white jumpsuit and a couple of orchid plants for decoration. A camera above pointed directly down at his decks projecting on the big screen behind him to show he wasn't just pushing play. He had his Who moment when he decided to put on a pair of black gloves and poetically smashed some of his equipment. Flume wove together a great blend of new tracks like "Let You Know," older favorites such as "Sleepless," and his dirty remix of Lorde's "Tennis Courts."
Local product and Dirtybird co-founder Justin Martin was the real MVP of day two, striking just the right chord with his uptempo set on the Panhandle stage. The intimate environment could barely contain Justin's near-flawless performance with baller visuals and a super hyped crowd. He maintained a gigantic smiling grin on his face throughout the bouncing set, showcasing how San Francisco continues to maintain a creative music ethos. By the time his set was in full swing, darkness had arrived making all the lights on and around the stage pop like cosmic bursts.
Bass boss RL Grime had the volume turned to 11 throughout his Twin Peaks set, and even brought out the big toys in the form of massive smoke cannons and flaming torches similar to a setup more common seen at Electric Daily Carnival or Ultra Music Festival. By this time in the night, everyone was ready to rage and RL Grime delivered with bombastic beats along with ravey visuals. His quintessential moment came when he smashed his top track, "UCLA," pulsing most of the audience with an array of beats, serving as a healthy escape from reality.
Musician, actor, and headline act Childish Gambino secured the largest crowd in Outside Lands history, a surprise nugget he was able to share with the crowd as he took the stage at the start of his show. He also instructed the audience to love each other and put phones down during his show in order to live in the moment. The shirtless persona sang and rapped his way through a chilly, 90-minute set, complete with a multi-level stage and a backing band. He concluded his formal set with "This is America," followed by a welcome 20-minute encore.
See more: Outside Lands Saturday in Photos